Trends In Covid-19 Affected Organic Search Results
The Coronavirus, officially named Covid-19 has swept over the world and what started as a health crisis, has now snowballed into an economic crisis due to the global shut down. While many businesses are employing work from home policies, others have to shut down entirely, and it's affecting everything, even search for traffic, something I specialise in and think I'd take a look at how search trends are shiting.
As you can well imagine the searches for Covid-19 and Coronavirus has skyrocketed of late of which Coronavirus has a 75 times higher usage than the official name, according to google trends.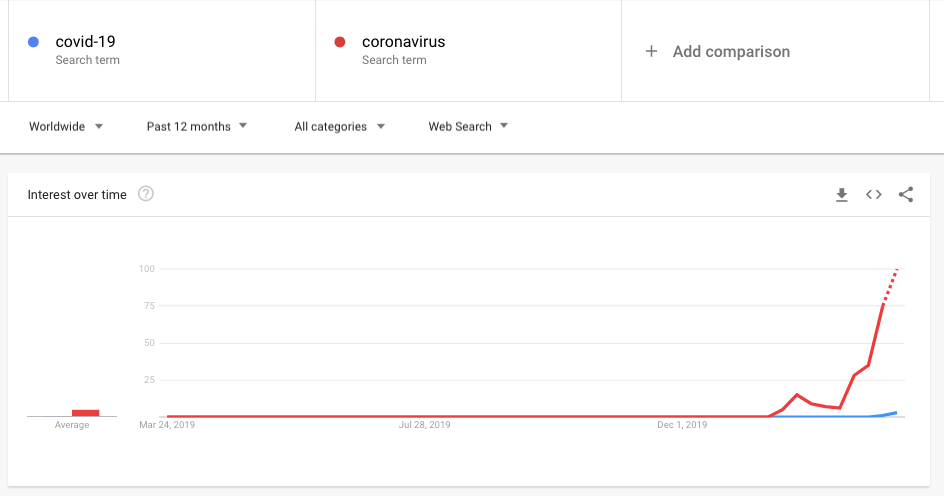 Coronavirus and Covid-19 search trends
But apart from this outlier, what else is changing in search? Let's have a look, shall we?
The decline in search locally
When looking at general impressions from local search traffic in South Africa over several verticles, I do notice a distinct drop in traffic from search. I do attribute it to the lack of access to the internet as a large percentage of South Africans conduct their searches on their work laptops or desktops for apparent reasons.
South Africans at home may not have WiFi or internet speeds that they can get at work as while as having sky-high mobile data costs does leave them with less access and would in term perform fewer searches.
Home office
It's no surprise that as social distancing is our only combat to reduce the spread of the virus and flatten the infection curb that working from home has become a popular option. The internet has afforded us this luxury that many tech and digital nomads have enjoyed for some time. Now due to the outbreak, it's becoming a necessity for many of the world's workforce.
Looking at the latest search trends, you can see from the graph below its almost a "hockey stick" level of interest peak and well worth pursuing.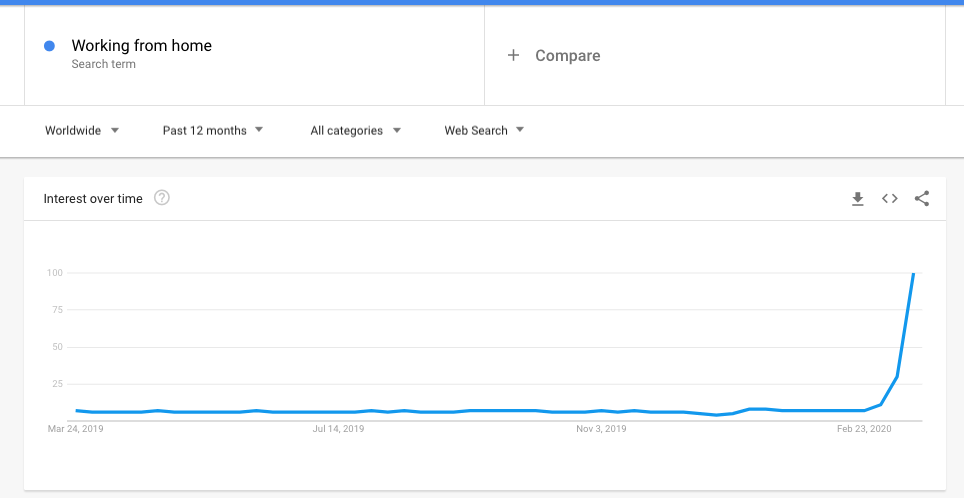 Working from home queries have boomed of late
How to leverage this trend
The demand for this type of content is high as people look to start setting up home offices. While sales of office products will do well such as desks, office chairs, monitors, computers and the various adapters, there is also room for things like stationery, internet packages, laptop stands and more.
If you're in the furniture, office supplies, consumer electronics and stationery niche, this is an opportune time to pivot your content strategy to focus on this new search and purchase trend.
You could also leverage this interest if you offer digital cybersecurity, data storage, remote IT support, cloud services, VPN services, work log tools and conference call technology and much more as work completed offsite requires additional oversight.
Essential goods
Specific trends may be broader globally and transfer to local markets all with different levels fo impact and e-commerce sites that sell essentials and fast-moving consumer goods have seen considerable spikes in impressions and traffic.
This spike in traffic comes from the famed panic buying we see with empty store shelves and people looking for toilet paper, hand sanitiser, wet wipes, thermometers and any prevention or test kids and other product searches that are related to the pandemic.
This massive surge in demand, as well as product shortages, have even created new queries like "toilet paper near me" and "hand sanitizer near me." as people look for stockists for essential items outside their usual shopping spots or turning to online vendors.
How to leverage this trend
Demand is high right now, but that demand has shifted mainly to products that people need to avoid and deal with the pandemic issues. Ecommerce SEOs should consider optimising essential value items for pandemics as well as creating stand-alone pages targetting prepping and pandemic products and curate relevant products for users.
As products also run out of stock, eCommerce sites should use those product pages as recommendation tools or lead generation tools to bring more users into your direct communication lines like email or social media.
Health and wellness
It's no secret that idea of boosting your immune system to combat the virus is an idea that is starting to take hold as people are desperate for any protection. The health search vertical is no stranger to volatility, but the COVID-19 spread is by far the biggest we've seen. Firstly people want to know what the virus is, the latest case numbers, the symptoms and ways to prepare.
While there is an uptake in over the counter remedies, this hasn't stopped there and queries for natural treatments like "antiviral herbs," "antibacterial essential oils," and "antiviral foods." have also begun to see rapid growth.
The self solution has also turned users to other wellness trends like home exercise, buying home gym equipment, or how to train from your home.
Improving your immune system has become a hot topic
How to leverage this trend
These queries are dangerous to target if you're not an authority on health and YMYL queries are taken very seriously by Google and should be handled with care.
Striving for expertise, authoritativeness, and trust with this type of content is more important now than ever. Make sure you cite your sources and be honest about the possibilities of prevention and protection by any remedies or tips you provide.
Creating variant FAQ's and leveraging FAQ schema based on the virus versus your produce or service is a great way to leverage the uptake in search traffic.
Recipe and food
Recipe website and food blogs have always been a highly competitive niche and had quite a strong serach presence, and yet we still see an increase in impressions and clicks.
As people are forced to cut the eating out, they're looking for new and creative ways to prepare dishes as well as making food with the ingredients they have available. We're also seeing a shift towards more healthy meal preparation ideas and how to store items and hold them for more extended periods.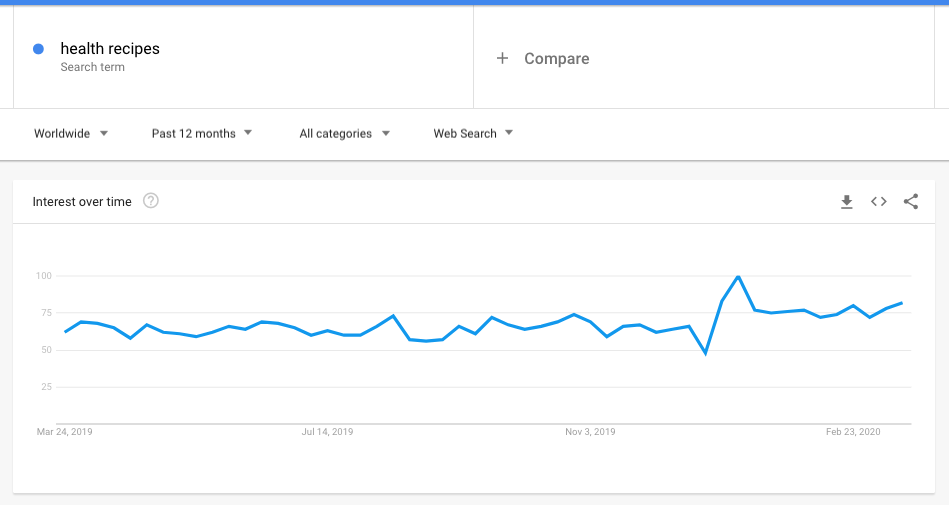 Eating healthy has started to slowly pick up along with meal prep ideas
How to leverage this trend
First, you should always leverage the recipe structured data schema to enhance the way your recipes show up in search results to capture some of that increased demand for methods. Consider publishing or promoting recipes that utilise fewer ingredients and ingredients that are easier to get right now.
Consider meal storage ideas and how to prepare meals best to stretch and for longevity. Concentrate on healthy snacks and various dishes that can be made with a particularly popular item like a canned good that many people are purchasing.
Local restaurants and delivery services may also want to tap into this trend by offering meals that meet these requirements or as a "break" from the quarantine meals and get people to order take out meals to be delivered.
Publisher sites
It's an absolute no brainer that news sites, medical sites and publishers are getting the "lions share" of this uptake in search traffic. People are looking for updates in all forms, especially hyper-local queries. They are looking for case numbers, infections, infographics, who is affected and maps of the spread.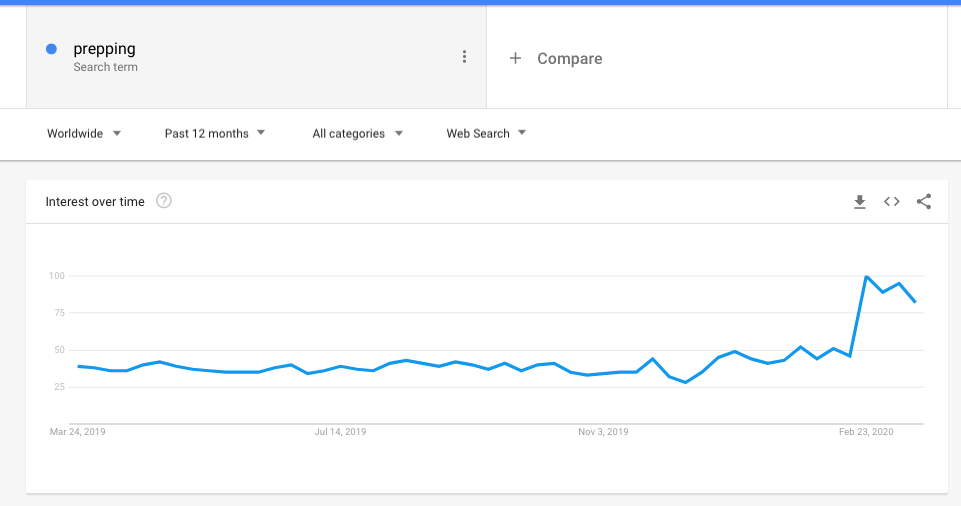 The spike in prepping searches since the outbreak
How to leverage this trend
As journalists continue to report on coronavirus news and updates, publisher SEOs can offer support in a few ways such as looking into how the virus affects a specific niche, industry, policy, celebrity,s sporting event and more.
A worldwide pandemic of this kind has long-lasting ramifications and provides for a wealth fo content, especially as new data continues to come in your articles will have new life as you can consistently update them.
While content is one part of it, you can also use technical SEO such as:
Moving to AMP pages
Fixing any 404 pages
Interlinking all your related articles
Monitor pages by publish date to make sure search engine bots are crawling new pages as soon as possible.
Use search data to inform where the public interest is at any given time.
Coordinate evergreen content to compensate for seasonal and news-based volatility.
Using article schema on your pages
Upgrading to instant articles on Facebook
Make sure your XML sitemaps are properly formatted and updated
Streaming sites
As with gaming entertainment is now a key release for people stuck at home, especially for those who cannot work from home and cannot be constructive with their time. Streaming video sites have seen substantial uptake in traffic as well as sign-ups with the giants like YouTube, Netflix, Disney+, Hulu and more all welcoming the trend with open arms. People now have more time to watch movies and series and are willing to consider various suggestions and even back catalogue content as new productions are put on hold and cinemas are shut down as well as live events and live sport.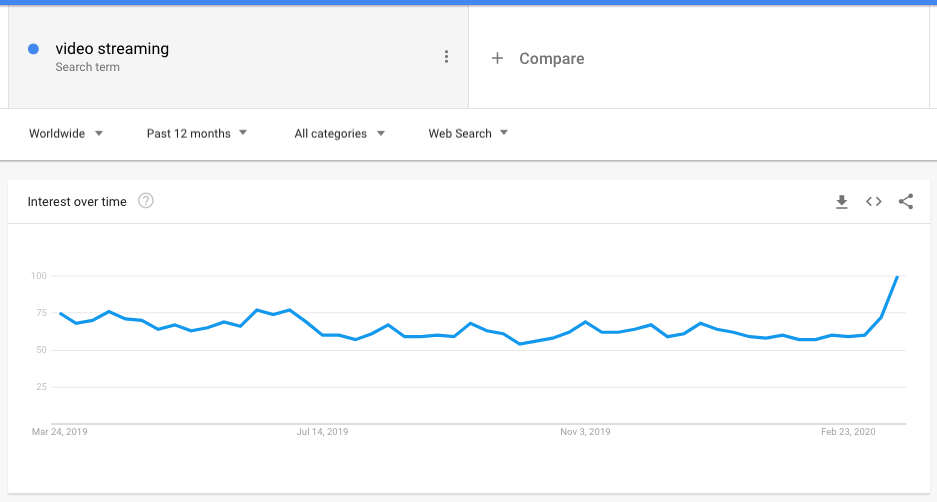 Video streaming sites are enjoying a spike in traffic
How to leverage this trend
Depending on your niche, you may want to advocate streaming or offer an alternative; for example, toy stores could move with the narrative of games you can play with the family such as board games. Alternatively, you could opt for how to make your home entertainment area cosy with furniture or dining in front of your favourite shows with specific snacks, crockery or snack ideas. You could also look at creating content that recommends movies and series based on particular events, ideas, actors, locations and more.
Online gaming
As the younger crows are stuck indoors, they are turning to screens for entertainment. The majority will opt for social media while others looking for more in-depth stimulation are looking into gaming and online gaming at that, to release bordem and connect with friends or make new friends.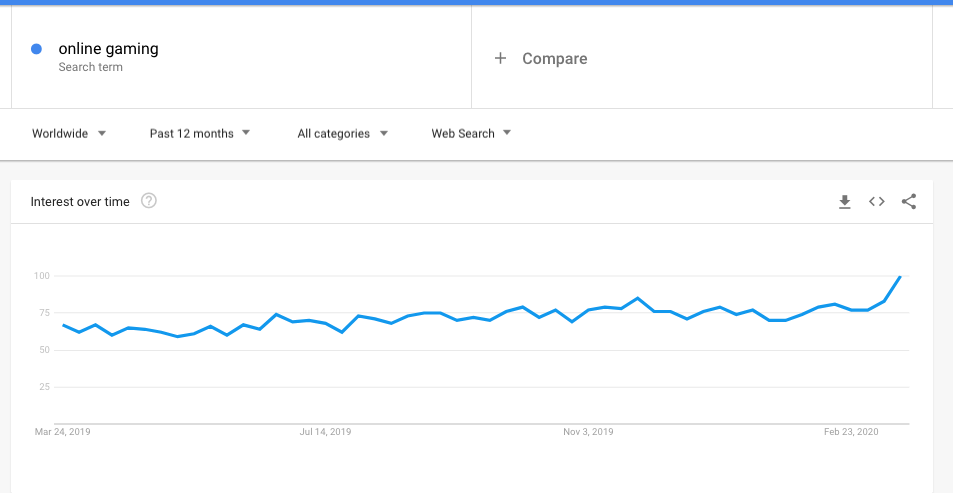 Online gaming has also had a reasonable pick up since the virus started to spread
How to leverage this trend
Many online gamers now moving into space come from the casual gaming sector and are looking for something to pass the time and appeal to their interests. Gaming review, gaming recommendations, best games for a specific genre or device, gaming lists, gaming-related books, movies and lore and even merchandise can all be used to rope in a potentially new set of consumers.
Consumer electronics brands or furniture stores can also leverage their products for the ideal gaming setup as well as snacks for gamers.
Websites will close down
The longer this pandemic continues to cause disruptions on the global economy, the more businesses will have to call time on operations permanently. It's unfortunate to think about, but we will see a series of company shutdowns and with it so goes their websites and their share of traffic will be up for the taking. There will be a significant push for traffic consolidation in several sectors, and this could be an opportunity for those some webmasters.
How to leverage this trend
An option would be either to purchase the domain and migrate the content to your site and then do a domain consolidation redirect. Along with the organic presence, the now-defunct site has built up; you will extract the link juice from the sites backlink profile too.
Granted it may be somewhat diluted, but it could provide a massive boost in traffic as well as an opportunity to get media attention and mentions due to your absorbing of another brand as well as leveraging that brand traffic.
Organic efforts may count for more
Organic has always been a powerful traffic driver, but with brands having to focus their spend on specific keywords. We will also see a reduction in overall their spending on paid search and paid social traffic we will see high levels of volatility in the various traffic channels and a shift to organic traffic.
While it may be tough times ahead, investing in an organic search strategy may help cushion the blow and level out the troughs of your drops and help you weather the uncertainty ahead.
Have you seen a change in your search traffic? How are you handling it? What niche do you service? Let us know in the comments below; we'd love to get more data on these changes.
Contact us
If you would like us to improve your content marketing or SEO for your site or want to know more about digital marketing for your business, then don't be shy we're happy to assist. Simply contact us
Are you looking to promote your business?
South African Business owners can create your free business listing on nichemarket. The more information you provide about your business, the easier it will be for your customers to find you online. Registering with nichemarket is easy; all you will need to do is head over to our sign up form and follow the instructions.
If you require a more detailed guide on how to create your profile or your listing, then we highly recommend you check out the following articles.
Recommended reading
If you enjoyed this post and have a little extra time to dive deeper down the rabbit hole, why not check out the following posts on content marketing & SEO.
Tags: Search Trends, Organic Search, Search Engine Marketing
You might also like
5 Reasons To Start Using Electronic Signatures
A look at the key benefits involved in switching to e-signatures and why so many businesses worldwide have started to adopt the practice in their ope...
Read more
A Man's Guide To Summer Essential Wear
We take a look at the items every man should have in their wardrobe come summertime and why these items should be part of your style this upcoming su...
Read more