What Are Google Discover Ads & How To Use Them
Mobile marketing and mobile advertising are on the rise, as users continue to spend more time on their mobile devices, brands and businesses are continuing to throw ad spend behind getting their attention while they're staring down at the palm of their hands. Google has done a fine job of monetizing mobile, with its acquisition of Admob to drive in-app ads, then they launched AMP page ads and a host of new responsive ad sizes for publishers to use.
Google is constantly looking to drive more value for advertisers by reaching out to users while using their mobile phones with an extensive ad network that keeps getting bigger. So just when you thought your mobile device had seen enough ads, Google has decided it was not yet enough and has decided to monetise another part of its growing digital ecosystem.
Discovery Ads are on their way to a mobile device near you. So what are discovery ads, what do they do? How do discovery ads work? And finally, why should brands and businesses care about this new advertising option within the Google Ad suite? Let's review the announcement and possible implications for this new form of mobile-first advertising.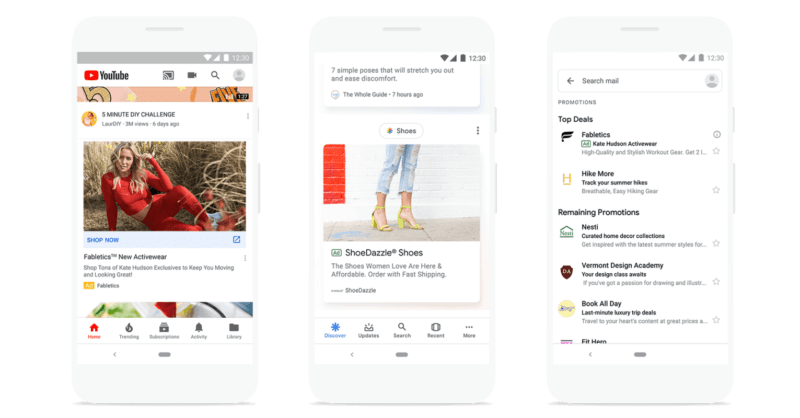 What Google Discovery Ads will look like on a mobile device
What are Google Discovery Ads?
Discovery ads are a new native advertising experience that will appear in multiple Google feed environments. Google's VP of Product Management Brad Bender said at a press briefing that Discovery ads are "visually rich, mobile-first and use the 'power of intent.'"
Here, "power of intent" means signals Google derives from consumers' past site visitation, app downloads, videos watched and map searches. These are essentially the same signals Google uses for its In-Market audience targeting.
To get started, advertisers must specifically create a Discovery campaign and upload ad copy and creative assets. Google will then optimize the best performing combinations using machine learning.
Discovery ads appear in the Google Discover feed (iOS, Android Google app and mobile Google.com) on the mobile YouTube feed and in Gmail (under the social and promotions tabs).
Google also revealed that the Discover feed now reaches 800 million users globally. The company added that Discovery ads will become available to advertisers later this year, worldwide.
The Purpose Of Google Discovery Ads
Google Discovery Ads provide marketers with a more useful and visually appealing format to advertise their business and services. It is a shift from text-based ads to more visually compelling promotion. Discovery Ads aims to allow businesses to not only reach their prospective audience before performing searches as well as to gather information regarding their most preferred product or service.
Where can you find Google Discovery ads?
Though Google Discover was launched just a few months ago, the platform has already gained more than 800 million users. This reflects both high interest and belief in its effectiveness.

Google Discovery Ads will not just be limited to these 800 million users. Advertisers will be able to use Discovery Ads on Gmail and YouTube as well. These ads will be shown on the social and promotions tab on Gmail, while the respective ads will be shown on YouTube's Mobile Home Feed. This expands the reach of Google Discovery Ads to more than a billion prospective customers.
How to create a Discovery Ad Campaign
You will need to login to your Google Ads account and start a discovery campaign to use discovery ads. From what we can tell so far the process lookings very simple with adding an image as well as the URL, text and a title just as you would do with your standard Google ads.
Once you create the campaign and input the required information, you can sit back and wait for Google to perform its magic as the majority of the heavy lifting and optimisation will be done via Googles Advertising AI.
Google looking to widen their funnel
Google for all its revenue spinners has traditionally relied heavily on paid search text ads as its primary source of revenue, they continue to optimised the delivery and placements but realise that this is running thin. They cannot expand their text-based ad real estate without completely obliterating SEO which is why they are looking to augment it with new real estate which as discovery ads.
These visual rich ads will be ideal for eCommerce product sales as well as various brand campaigns the way display and remarketing has been used in the past. I see discover ads as more of a reach campaign strategy for many brands who will be looking to increase their click funnels over time.
Tell us your paid advertising story
Have you been frustrated with returns from ads targetted on mobile devices? How did you or the company overcome it? Are there any tips you would like to share on improving your reports? Share it with us in the comments.
Contact us

If you would like us to set up your Google Ads account or want to know more about digital marketing for your business, then don't be shy we're happy to assist. Simply contact us
Are you looking to promote your business?
South African Business owners can create your free business listing on nichemarket. The more information you provide about your business, the easier it will be for your customers to find you online. Registering with nichemarket is easy; all you will need to do is head over to our sign up form and follow the instructions.
If you require a more detailed guide on how to create your profile or your listing, then we highly recommend you check out the following articles.
Recommended reading
If you enjoyed this post and have a little extra time to dive deeper down the rabbit hole, why not check out the following posts on Google Ads.
You might also like
How to Avoid Business Name Rejection
A simple guide to help you avoid wasting time and money applying for a business name reservation and getting a rejection for that name
Read more
Why Are Electric Cars So Expensive?
A review of the various costs that impact the manufacturing of electric motor vehicles and why it has become so expensive to create these EVM transpo...
Read more