LinkedIn June 2019 Algorithm Updates Aim To Broaden Engagement
LinkedIn is often forgotten by businesses as a social media platform with Facebook and Instagram being the darlings due to their large volume of users and their advanced advertising services built into the system. As Facebook and Instagram continue to keep their users in-house, marketers have to look at building a presence on other social media platforms with the goal of extracting traffic.
LinkedIn paid ads are notoriously expensive when compared to other social media platforms due to the quality of users you can reach via their paid tools.
However, its paid tool service has never been as popular. LinkedIn continues to be a source of trickle traffic for those who cross post or create content for the platform but it has never been a real traffic driver. Until recently, we started noticing a spike in LinkedIn referral traffic for our own site as well as various client sites, which came as a bit of a shock as these modest LinkedIn traffic numbers became a little more substantial.
I decided to do deep dive into why LinkedIn may be sending sites more traffic and the heart of this was a new algorithm update that favours a certain type of content.
So what is this update all about and how does it affect the way you create content? Well, let's have a look under the hood, shall we?
LinkedIn Algorithm update
Over the past year, LinkedIn has reported that it's seeing 'record levels of engagement' as well as the rise of influencers on the platform, while similar to Instagram these LinkedIn influencers have "cracked the code" so to speak, to increase their reach with organic content and build an audience for themselves, this is due to the focus on engagement by the platform.
LinkedIn has this week outlined some of the specific changes that it's made to its feed distribution algorithm in order to maximize member response and boost activity among users.
A diagram of how LinkedIn's feed algorithm works LinkedIn was motivated to change its algorithm after finding that its engagement metrics were largely weighted towards the top users on the platform, and disproportionately saw those with fewer followers get, for the most part, ignored.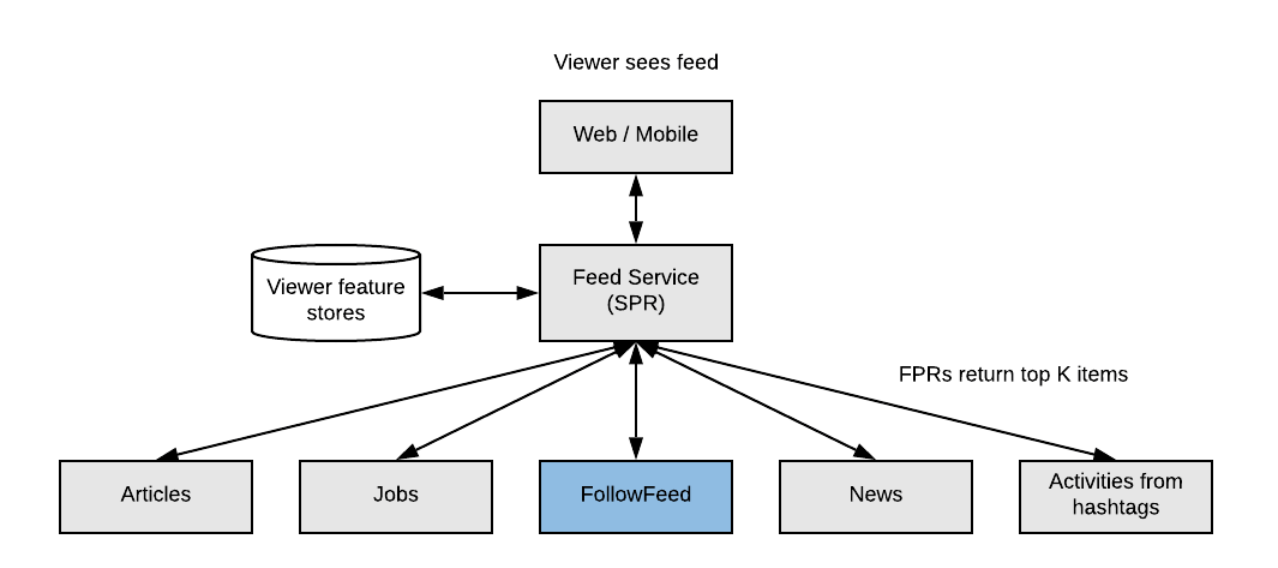 How LinkedIn Ranks content for its feed
As explained by LinkedIn last October:
"More and more people are using the feed and giving feedback to their network's posts: our members generate tens of millions of viral actions (likes, comments, and reshares), and the number is increasing more than 50% YoY. However, we found that these increases weren't equally distributed. In fact, at the beginning of 2018, we were in danger of creating an economy where all the gains in viral actions accrued to the top 1% power users, while the majority of creators who don't receive much feedback were receiving less than ever."
That's obviously not ideal for improving user engagement and retention, so LinkedIn sought to re-work its algorithm, and better promote posts from more users, in order to encourage discussion among a broader set of people.
Specifically, LinkedIn notes that:
"To facilitate professional conversations in LinkedIn's feed, we have introduced "contribution" as an additional objective in the candidate selection model. Probability of contribution captures members' intent to share, comment, or react to a particular feed update. The model also takes into account timely feedback to content creators, which is a clear signal for cultivating and retaining audience builders on LinkedIn."
In other words, LinkedIn has built in an element which rewards content creators ('audience builders') on the platform, as opposed to merely showing users the most engaging content to maximize response.
Why LinkedIn has reworked its content ranking and ratings
The idea of this is to encourage more activity from across the board, and make LinkedIn, in general, a more engaging and active place of discussion. That, ideally, will keep members coming back more often - more users seeing more response equates to them posting more often, essentially re-distributing all that top-level engagement that was going to the top 1% and spreading it more evenly to foster broader participation.
And it's clearly working, as demonstrated in the aforementioned engagement stats. So what does that mean for content creators on the platform? First, if you're looking to post on LinkedIn, and build your on-platform presence, it's worth noting the changes to its algorithm to maximize your performance. As explained by LinkedIn:
"We have rebuilt our machine learning model for candidate selection from scratch, with new objectives and different algorithms. As part of this, we introduced the prediction of professional conversation contribution into our model to capture the community-building aspect of each feed update."
Community-Focused Feed Optimisation
So LinkedIn's system is now not only working to amplify the most engaging posts from the most prominent creators, but it's also looking to build its on-platform sub-communities and groups. So if you want to maximize your appeal and performance, consider your specific audience niche, use relevant hashtags, and raise questions which can help drive the discussion.
"The goal of feed ranking at LinkedIn is to help members discover the most relevant conversations that will aid them in becoming more productive and successful. Relevance is determined by our objective function which optimizes for three main components: The value to the member, the value to the member's network (downstream effects), and value to the creator of the post."
How to leverage the LinkedIn engagement Algorithm
Now that we have all the technical talk out of the way what does it mean for users and more importantly marketers wanting to leverage the platform for branding or traffic? Well, there's still no magic formula to apply here, but these are the specific elements that LinkedIn highlights as its objectives to try and encourage the uptake of its algorithm.
If you're keen on growing your LinkedIn you should look at applying the following tactics to maximize your reach and engagement on the platform:
Post things that encourage a response - For example, if you're posting a link, express an opinion with it.
Think about using the best type of post for the topic - Despite the rumours, the algorithm doesn't favour any particular format. We have video, images, multi-images, text and long-form articles. More are on the way.
Use @mentions to pull other people you know into a conversation - When you think you know someone who'll have something valuable to add to the discussion, @mention them.
Be thoughtful: only mention people that you think are likely to respond, max five is a good rule of thumb.
Engage in the conversation - Respond to commenters and encourage back and forth.
Davies also suggests that users 'go niche' and focus on a specific aspect or subject, and add hashtags to their post - though no more than three per update. Of course, these are fairly broad guidelines, but focusing on these elements will help you improve your LinkedIn performance, and maximize the response to your updates and posts.
You can read more specific detail about LinkedIn's algorithm updates on the LinkedIn Engineering Blog.
Tell us your LinkedIn story
Have you started to see an increase in LinkedIn traffic and engagement? How have you leveraged LinkedIn? Share your experiences with us in the comments.
List your local business for FREE
Don't have a place to send your LinkedIn traffic? Create your free business listing on nichemarket. The more information you provide about your business, the easier it will be for your customers to find you online. If you require a more detailed guide on how to create your profile or your listing, then we highly recommend you check out the following articles.
Contact us
If you want to know more about social media for your business, don't be shy we're happy to assist. Simply contact us
Recommended reading
If you want to know more about growing your Instagram and have time to dive deeper down the rabbit hole, then we suggest you check out the following articles about LinkedIn marketing:
You might also like
3 Steps For Your Company To Go Paperless
How to take the steps to reduce your businesses dependency on paper, maintain your operations in a digital world and become a greener and leaner oper...
Read more
Why You Need Barcodes For Your South African Business
We review the benefits of having barcodes for your South African business (Big Or Small) and why you should consider having your own barcodes set up...
Read more