How To Use Googles New Removal Report
Google is notorious for not giving SEOs much to work with, I mean why should they? It's in their interest to keep us guessing and for them to focus on complicating their core algorithm updates and making sure their paid ad marketing suite gets updated with fancy new bells and whistles so we flock to pay for traffic.
So when Google does give us SEOs new tools, its time to stand up and shout from the rooftops that we now have something new to play around to keep our SERPs pretty and improve our click through rates. Am I right SEOs?
What is the removals report?
As of this month Googles, only SEO tool good old Search Console has been given a nifty new report in its latest update. The Removals Report in Search Consoles primary function is to enable site owners to hide a page from appearing in Google Search results temporarily.
While the latest update also provides information on pages on your site that have been reported via other Google public tools or flagged for certain reasons.
Their current removals report offers you three different reporting functions namely temporary removals, outdated content and SafeSearch filtering requests.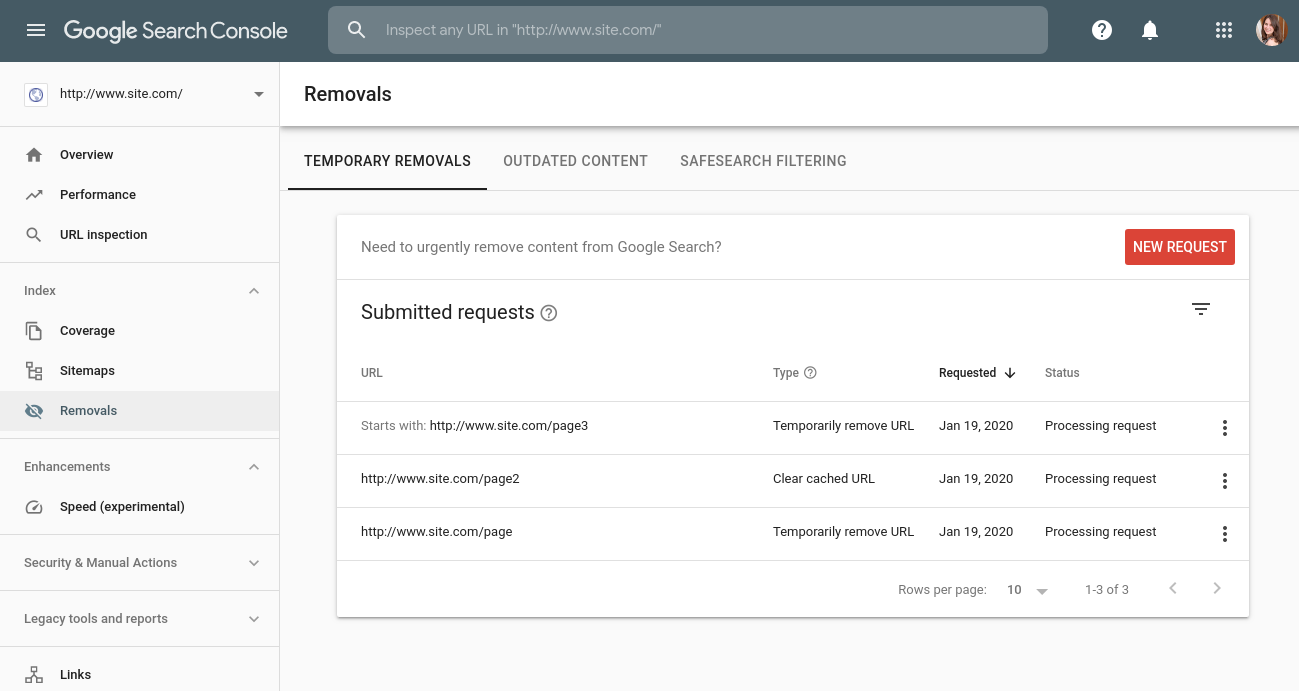 Google Removal Report In the Search Console Dashboard
Temporary removals
A temporary removal request is a way to remove specific content on your site from Google Search results. For example, if you have a URL that you need to take off Google Search quickly, you should use this tool.
A successful request lasts about six months, which should be enough for you to find a permanent solution like repurposing the page with the correct content or 301 redirecting it to an applicable URL.
You have two types of requests available:
Temporary remove URL will hide the URL from Google Search results for about six months and clear the cached copy of the page.
Clear cache URL clears the cached page and wipes out the page description snippet in Search results until the page is crawled again.
Outdated content
The outdated content section of the report provides information on removal requests made through the public. The remove outdated content tool is open to the public and can be used by anyone (not just site owners) to update search results showing information that is no longer present on a page.
URLs that users have flagged as outdated will be added to your report and you can act accordingly from there by either updating the content or removing the URL from the site.
SafeSearch filtering
The SafeSearch filtering section in Search Console shows a history of pages on your site that was reported by Google users as adult content using the SafeSearch Suggestion tool.
URLs submitted using this tool are reviewed and if Google feels that this content should be filtered from SafeSearch results, these URLs are then appropriately tagged as adult content.
This report works well for media publications who may not post content of an adult nature but may cover some topics that lean into adult themes and should, therefore, be placed under the safe search filtering system.
Less can mean more traffic
Google has been saying for some time that it wants sites to only provide its index with the most relevant versions of their content and that low-quality thin pages are to be purged from the index if sites want to be seen as a relevant source of information. There have been several studies by SEOs who have seen dramatic increases in traffic as they began to remove or deindex low-quality pages from their site.
The removals report doesn't give you much but its a start in helping you clean out your site and for those with large blogs or media publications it can surely assist in finding dead content housed in your CMS.
Clean up your act
Google wants to keep its organic results sacred and ensure that users get the best information pertaining to their requests. This new update is a sign of what was part of the lastest core update regarding relevancy and will put an onus on webmasters and SEOs to keep their sites as up to date as possible.
Regular content audits and making sure you check the removal reports as part of your site housekeeping will ensure that you only index the best results and compete for the right traffic and queries over time.
Tell us your SEO story
Have you been frustrated with SEO for your business? How did you or the company overcome it? Were you hit by the latest update? Are there any tips you would like to share on improving your reports? Share it with us in the comments.
Contact us

If you would like us to improve the SEO for your site or want to know more about digital marketing for your business, then don't be shy we're happy to assist. Simply contact us
Are you looking to promote your business?
South African Business owners can create your free business listing on nichemarket. The more information you provide about your business, the easier it will be for your customers to find you online. Registering with nichemarket is easy; all you will need to do is head over to our sign up form and follow the instructions.
If you require a more detailed guide on how to create your profile or your listing, then we highly recommend you check out the following articles.
Recommended reading
If you enjoyed this post and have a little extra time to dive deeper down the rabbit hole, why not check out the following posts on SEO and search updates.
You might also like
Why You Need Barcodes For Your South African Business
We review the benefits of having barcodes for your South African business (Big Or Small) and why you should consider having your own barcodes set up...
Read more
3 Steps For Your Company To Go Paperless
How to take the steps to reduce your businesses dependency on paper, maintain your operations in a digital world and become a greener and leaner oper...
Read more