Having a nichemarket Listing vs Having Your Own Website
So you have your own business, whether its been running for years or is a recent development one thing people will always tell you to do is get online and have a website, right? I'm sure friends, family or potential customers have asked you if you have a site? In some cases, people won't even take you seriously if you don't have one.
Do you need a website?
The short answer to this would be yes, I encourage every business serious about their product, service and longevity in this day and age to have their website, eventually. The real question you should be asking is, Do I need a site right now? If you have asked yourself that question before then welcome to the conversation.
The growing emphasis on digital has seen somewhat of a digital gold rush over the past few years as businesses flock to get online sooner rather than later.
However, the only ones benefitting from it have been the web designers and agencies who created overpriced websites that offered little to no ROI. Having a stunning looking website is one thing, it doesn't mean anyone is going to visit it.
Which is why many of these websites have become nothing more than digital white elephants, websites need digital marketing to be effective, unfortunately, this is a costly exercise not many can afford.
The problem with getting your business online
As a business owner, you may not have the luxury of time or highly specialised skills to take advantage of all the opportunities and customers available online. You're busy enough as it is, you already to take care of the admin, the finance, the operations and of course the marketing.
Marketing your business is an integral part of the process but it is often neglected as other tasks take priority while the cost of getting online can also be a barrier to entry.
The cost of a website
The ability to have your own website has come a long way over the past 10 years with costs being reduced, hosting companies and content management systems making it easier and more user-friendly and affordable as time goes on. However, for many small businesses, keeping expenses down is a must and spending on a website may be out of their budget for now.
Having your own website means you need to pay for the name, the hosting each year, the security certificate and not to mention the design costs included, which can cost you money and also valuable time.
| | | |
| --- | --- | --- |
| | nichemarket | Website |
| Domain name registration fee | None | Yes - R30 Av. cost |
| Website hosting fee | None | Yes - R99 Av. cost/pm |
| SSL certificate fee | None | Yes - R1200 Av. cost/yr |
| Website design costs | None | Yes - R3000 Av. cost |
| Website update & maintenance costs | None | Yes - R1000 Av cost |
This leaves you with an average cost of setting up a website at around R6500 for a year all of which doesn't guarantee you a single visit to your site nevermind getting leads online. nichemarket allows business owners to bypass all that admin and costs and allowing entrepreneurs to get online within 10 minutes after going through just a few easy steps.
Why should I list my business on nichemarket instead of having a website?
nichemarket is designed with simplicity in mind, and we feel it is the fasted way for any small business to get themselves online. Some call it a one-page website; others call it a digital business card, we call it "nichemarketing".
Once you create a listing:
You have full control over all the information displayed on your listing
You can change and update information at any time
You expose your business to thousands of nicheseekers every month
You will receive an optimised web presence that will be added to search engines like Google, Bing & Yahoo.
You can collect feedback from customers
What can I do once I have a nichemarket listing?
This is ultimately up to you. Once you've created your listing, you can leave it to generate passive customers as nicheseekers look for goods and service providers in their area.
Alternatively, you can use your profile as a focal point for all your marketing. Share it on Facebook or Twitter, to it from your Instagram, Facebook or Twitter bios. Send your link around on Whatsapp or other Instant messaging tools and get the word out there about your business.
Word of mouth going digital
Word of mouth is still one of the best marketing tools out there when it comes to credibility. Having a nichemarket listing can provide confirmation when people talk about your business. Customers and potential customers will now have a link to find all your details and share it with their friends and family circle. Your clients will also be able to leave reviews on your listing so that their positive experiences can live online for everyone to see.
Can I use nichemarket if I already have a website?
Yes, you can. In fact, we encourage business owners to combine their website with their nichemarket listing. Having various online profiles like nichemarket, social media and a website lend to your credibility especially when users can see that you've active digitally and that the information you found online is consistent across various sources.
How do I link my website on nichemarket?
If you already have a website, then you can use the two in combination and actually send users to your site from nichemarket. All you would need to do is add your website link to the contact details section on your listing and give nicheseekers a chance to find out more about you and your business.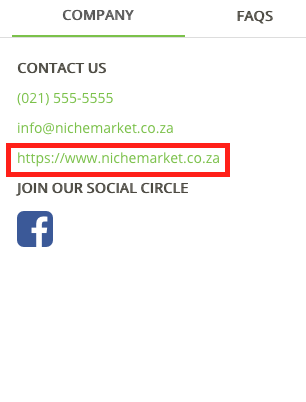 Where to find your website link on your nichemarket listing
It may be the first way to link nichemarket to your website but it certainly won't be the last. In future, we will look to release integrations with websites and popular CMS tools Like WordPress to make it even easier to get relevant customers to your website and into your business.
Protip! You are not restricted to only linking your website, you can also link your Takealot, Amazon, Gumtree or OLX ads or products on your nichemarket profile
Not listed on nichemarket yet?
What are you waiting for? Help us, help you, sign up today for FREE and showcase your business to thousands of new customers each month.
Find out more about nichemarket's features
If you would like to find out more about what you're able to do on the nichemarket site, then check out our help guide or stay up to date with all the latest improvements in our updates section.

Also in this series:
If you found this post helpful, you may also link the following
Tags: nichemarket, comparisons , website, wwordpress, wix, shopify
You might also like
How Chatbots Generate Leads For South African Businesses
A detailed look at how South African businesses have begun to embrace chatbots in their day-to-day operations and how it has helped drive more leads ...
Read more
83 Black Friday Software Deals 2023
We put together a comprehensive list of software and digital business offering Black Friday discounts on their subscriptions or digital products this...
Read more