Having a nichemarket Listing vs Social Media Pages
Social media has changed the way businesses use the internet and its given is a space to interact with a large number of consumers in real time. Social media is used for a range of business goals. Many businesses use social media mainly as a promotional tool, others use it as a customer feedback tool, while some use it a community building and outreach tool.
While social media is a valuable asset to any business both in the B2C and B2B industry it has become a specialised area of expertise. The constant gamification of social media has made it more difficult to get views and more often than not small businesses get lost in the noise and clutter of various newsfeeds. Not only do you have to compete with other businesses vying for consumers attention but you also need to distract them from content they enjoy or interacting with friends and family.

If you cannot afford a social media manager and do not have the budget of social media advertising, it's going to be a tough ask for you to extract business from these platforms.
Do you need social media pages?
In today's digital economy even if you're not an online business you still need to have a social presence. Social media has become a haven for consumers and is where many of them get their news, insights and recommendations from. Tapping into the real estate that is the newsfeed can be lucrative for those who know how to create high-quality content and know how to target users correctly.

The problem for small businesses is that social media has matured and it has become even more competitive to reach the same amount of users and each year you get less and less ROI for your time and money spent on these platforms. Social media has since progressed from being a user-generated content tool into a mass media tool where specialists now spend their time optimising advertising and messaging.
What is the cost of having an active social media presence?
Popular social media platforms may free to sign with the like Facebook, Twitter, Linkedin & Instagram all accepting new registrations daily for both businesses and individuals. Gaining access is not the problem with traditional social media, getting visibility is. To have a successful go at social media you first need to attract followers, this can be done in various ways.
Once you've attracted these followers, you need to maintain the relationship and remain relevant and top of mind through daily posting, interacting and perhaps running some ads. The social media ecosystem has since shifted heavily in favour of ads and video content and continues to marginalise small businesses who simply cannot compete with professionally created content and ad budgets of bigger players.
How is nichemarket different to social media?
nichemarket aims to do away with the gamification for consumers attention and the competitive landscape that is the newsfeed in favour of a curation and merit-based exploration system. Consumers or as we call them nicheseekers aren't forced to interact via a newsfeed to find content and businesses. They are free to search based on business name, type, area or category to find what they are looking for.
nicheseekers also have the ability to explore our various categories and find local businesses which are ideal for those times when the search term you need is something you just cannot recall. Once nicheseekers find businesses they like they can curate these businesses into their favourite list for easy access later.
At nichemarket we want users to find businesses most relevant to them and their needs and not the business that spends the most money to advertise or creates the best social media content.
Can I use nichemarket if I already have social media pages?
Yes, you can. In fact, we encourage business owners to combine their social media accounts with their nichemarket listing. Having various online profiles like nichemarket, social media and a website lend to your credibility especially when users can see that you've active digitally and that the information you found online is consistent across various sources.
How do I link my social media pages on nichemarket?
If you already have social media pages, then you can use the two in combination and actually send users to your social media accounts from nichemarket. All you would need to do is add your social media link to the contact details section on your listing and give nicheseekers a chance to find out more about you and your business.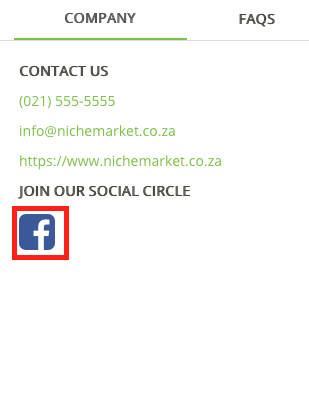 Where to find your social media accounts on your nichemarket listing
Note: We do currently place a restriction on the amount of social media profiles you are able to link from one business listing
Not listed on nichemarket yet?
What are you waiting for? Help us, help you, sign up today for FREE and showcase your business to thousands of new customers each month.
Find out more about nichemarket's features
If you would like to find out more about what you're able to do on the nichemarket site, then check out our help guide or stay up to date with all the latest improvements in our updates section.
Also in this series:
If you found this post interesting, you may also like the following
Tags: social media, nichemarket
You might also like
South African Guidelines For Cryptocurrency Ads
A look at new regulation rolling out in South Africa, which will affect the way companies advertise digital currency and digital asset services can c...
Read more
Comparing Boarding Schools In England And Switzerland
What are the features of boarding schools in England compared to boarding schools in Switzerland, and why do they differ so much from one another
Read more