---
We specialise in
Treatment of Ceramic Tile, Porcelain, Quarry Tile, Slate, Terrazzo, Granite, Cement and other Stone surfaces that become slippery when wet.
Making floors safer to walk on wet than dry
Giving you peace of mind knowing there is a much reduced risk of a slip and fall accident
Ensuring reduced risks of injury, lawsuits, litigation costs, employees days lost and the subsequent loss of goodwill.
Our Anti-slip Solution can be safely applied without changing the appearance of the material or grout on which it is applied.
Unlike other chemicals that may work topically and eventually crack, peel, rub off or are affected by ultra violet light, ours will not rub off, crack, peel, chip or discolor with age.
About us
GRIPONTILE treats all kinds of tiled floors to reduce the risk and danger of slip and fall accidents by increasing floor safety on surfaces that become slippery when wet. It makes the floor safer to walk on wet than dry. See www.gripontile.co.za
---
---
OPERATIONAL NOTICE:
Will work after hours and over weekends at no extra cost, where it is not possible to do so during normal working hours.
LISTING INFO
Listed: 22 January 2020
Last updated: 23 January 2020
ADDRESS
74a Wynand Mouton Drive
Universitas, Bloemfontein
9301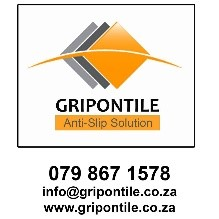 Yes! For many years, the only means for reducing slip/falls, was by application of an epoxy of rough substances, by installation of unsightly strips of grid paper, expensive carpet runners or rubber mats that need continuous replacement and generally are not hygienic or attractive. Another method, commonly referred to as "stop-gap", utilizes the application of a strong acid that etches the top of the tile. By eating away the soft substances from the top, the stone particles are left. This method however, destroys the shine of the surface and leaves a sandpaper appearance and effect. As time and traffic passes, the tile will wear smooth again and the acid willactually seepthrough the tile, weakeningthe glue line and loosening the tiles. In addition, these surfaces are difficult to clean, maintain and to keep attractive.
GRIPONTILE is a chemical safety product that, when applied, greatly reduces slip and fall incidents. Slip/falls are the #1 cause of Workman's Compensation-and-liability claims. It is also the #2 leading cause of injury in the United States and other countries. (automobile accidents rank #1)
Gripontile creates a chemical reaction with the pores of the surface, resulting in a higher coefficient of friction. Treated surfaces are actually safer when wet than dry, because of the increased friction, allowing for safe, sure footing.
Rate & Review
---
---
---

{{review.sUserName}}
{{review.iDayLastEdit}} day ago
{{review.iDayLastEdit}} days ago
{{review.sReview}}
---