Global Construction Equipment Market to Reach US$ 186.42 Billion by 2026
The increasing industrial development and commercial construction activities are creating opportunities for growth of the global construction equipment market. Furthermore, rising public-private partnerships along with increasing government investments for the development of infrastructure is also contributing to global growth.
Industry key players are investing in research & development activities for providing efficiency in construction by upgrading construction equipment such as forestry equipment, waste management equipment, material handling, agricultural equipment, municipal equipment, mining equipment. This factor is also aiding the growth of the market.
Rising Demand for Advanced Construction Equipment Will Contribute Growth to the Market
The gradual shift in preference from traditional construction equipment to automated construction equipment is a factor contributing positively to the construction equipment demand. The frequent efforts of key players towards reinventing and renovating of old technology in order to create higher productivity and achieve efficiencies across the construction industry. This factor is promoting the growth of the global Industry.
Further, the increasing demand for technologically upgraded and fuel-efficient equipment for refining construction activities around the world is supporting the growth. In addition, traditional construction involves high labour cost, no track of the work process as well as high operational cost, which is impelling a major preference shift towards advanced constructing equipment. This factor is expected to boost the global construction equipment market during the forecast period.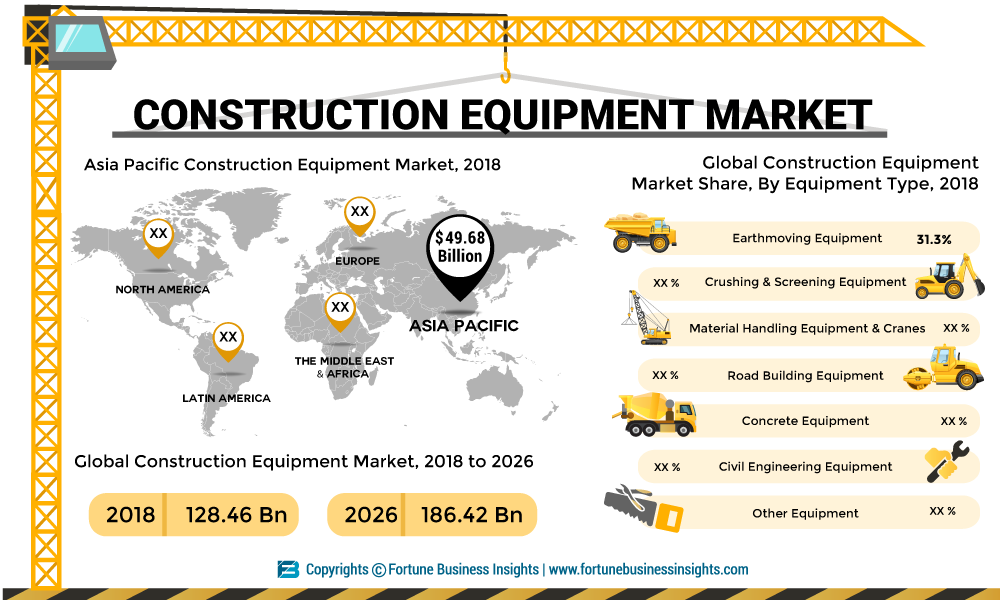 Rising Government Investments Will Propel Growth in the Asia Pacific
Geographically, the global market is segmented into North America, Europe, Asia Pacific, Latin America, the Middle East & Africa. In 2018, Asia Pacific reached US$ 49.68 Bn and is expected to lead the global construction equipment market during the forecast period. The growth in the region is predicted to be driven by increasing government investments in the development of infrastructure and the presence of online retail facilities. The increasing availability of high-end machinery on a rental basis is also fostering the growth in the region.
Likewise, the investment in renewable energy, public infrastructure and residential construction projects by the government of the china are inducing high demand for construction equipment. For instance, in 2017 the government of china intended to deliver the 21st century Maritime Silk Road and the One Belt One Road project that would cost around US$ 4 Tn in order to improve the land and waterway connectivity. These factors combined together is likely to boost the global construction equipment market.
Revenue in Europe reached US$ 36.27 Bn in 2018 and is predicted to grow significantly during the forecast period. The increasing demand for improving the employment level and new housing units and others are propelling the growth in the region. Similarly, Germany is called the home to Europe's best-performing machine and equipment sector, Europe is expected to create growth opportunities for the market in the forthcoming year.
Some of the key market players are AB Volvo, Caterpillar Inc., Komatsu Ltd, Doosan Infracore Co. Ltd, Hitachi Construction Machinery Co. Ltd, C. Bamford Excavators Limite, Liebherr Group, CNH Industrial N.V, Hyundai Heavy Industries Co. Ltd, Terex Corporation.
Tell us your story
Would you like to write for nichemarket just like Prachi has? Find out how to submit a guest post and when you're ready, you can contact us.
Are you looking to promote your business?
South African construction businesses can create your free business listing on nichemarket. The more information you provide about your business, the easier it will be for your customers to find you online.
Registering with nichemarket is easy; all you will need to do is head over to our sign up form and follow the instructions. If you require a more detailed guide on how to create your profile or your listing, then we highly recommend you check out the following articles.
Recommended reading
If you enjoyed this post and have time to spare why not check out these related posts and dive deeper down the rabbit hole that is construction and maintenance.
Tags: Construction , Guest Post
You might also like
10 Things To Keep in Mind When You Remodel Your Bathroom
A breakdown of everything you need to consider when planning and pricing a bathroom remodelling to ensure you do not run into issues that curtail you...
Read more
Simple Yet Effective Ways Your Business Can Be More Eco-Friendly
A list of easy to implement suggestions any business can use to reduce their waste and become a greener operation that uses world resources more effe...
Read more