Google Launches Augmented Reality Animals In Search
Since many of us are stuck inside looking for new forms of entertainment, the internet rabbit hole will take us on various paths from conspiracy theories to sites you may have never knew existed before. Google knows that times like these are great for experimenting entertainment and new experiences and of course, to collect data on these initiatives to refine them at a later date.
Since many of us are stuck indoors, we're probably not seeing others or wildlife apart from the occasional cat or pigeon, so Google has taken upon themselves to bring a wildlife safari into its search engine results pages.
Introducing augmented reality animals
Google announced that it was bringing AR objects to search during I/O last year and that they would start with animals as a test case. Since then it's steadily added new animals to the roster, as well as expanding the list of eligible devices. Augmented reality animals allow you to see the size and scale of an animal-based on your current surroundings when viewed through the camera/screen of your mobile device.
How to activate Google AR animals
All you will need to go is grab a mobile device like a tablet or Smartphone and have an internet connection.
Then head over to Google and type in the name of one of the supported animals (You can find a complete list below)
Scroll down to the knowledge graph panel
You should see a prompt that says View in 3D
Click on the prompt
Your camera should open, if not allow your browser access to your camera
Then follow the instructions to scan the room
Once the room size is examined the animal of your choice should pop up on the screen.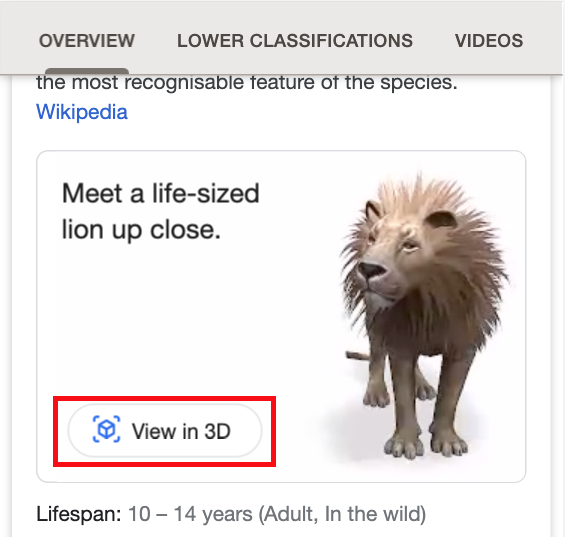 How to activate augmented reality animals in Google Search
Which search terms activate AR animals
Google has given quite a few search terms the work over, and right now, Google's got a couple of dozen different animals available to check out in AR such as:
Alligator
Angler fish
Bear
Brown bear
Cat
Cheetah
Deer
Dog

French Bulldog
Golden / Labrador Retriever
Pomeranian
Pug
Rottweiler

Duck
Eagle
Emperor penguin
Giant panda
Goat
Hedgehog
Horse
Leopard
Lion
Macaw
Octopus
Panda
Penguin
Raccoon
Shark
Shetland pony
Snake
Tiger
Turtle
Wolf
It's pretty impressive to see the rendering of the animal on your device without having to download any additional applications and speaks to the technology behind the system.
These AR animals will appear on the screen in the relative real-life sizes and based on the environment you provide. But it doesn't stop there; you have more control than you think, you can shrink and enlarge them. This feature helps you can fit the bigger animals in your space or see smaller animals up close.
If your mic or headphones are turned on, you can also get the Life-like sound effects and animations bring these models to life as well, giving the sense that they indeed are in the room. Pretty impressive for a plain old Google search if you ask me. Bing, will you be making any attempts to compete?
How AR could be expanded into eCommerce
While these add-ons to search are a good bit of fun, Google hardly spends time and resources on creating initiatives like this without ways to monetise it, and that's where I think this will lead. Google will use the data they receive from interaction with projects like this to build new augmented reality experiences that can be used to benefit advertisers.
We've already seen Facebook attempt to add augmented reality ads to its service, and I think Google realises the possibilities when combined with the power of Google shopping. If we look at the animal example here, what problems does it solve that eCommerce has been struggling with for years? Furniture.
Furniture has been a problematic product to sell online. While some have had moderate success, even Amazon itself hasn't been able to dominate in the market and IKEA fully and the like still have a chance.
However, with augmented reality, you could use technology like this to shop online and see how a couch would look in your home, how different colours of paint would look on your walls, how different light fixtures could change your room with just the help of your mobile device.
Complimenting current commercial trends
Think how powerful that experience would be for conversions and how many retailers would love to gain access to people using those services.
Think of home renovations such as adding a pool to your home, buying the right garden shed, putting up a gazebo; it could all be viewed through your device before you reach out to a service provider for more information.
Think of fashion retailers, you could easily use the selfie camera to shop for earrings, sunglasses, makeup, necklaces and more. The commercial and retail applications for technology like this is endless.
Google is looking to build a complete window shopping experience online, and if this animal reality feature is a success, we could see it roll out to several sectors of search.
Tell us your story
What do you think of augmented reality? Do you think its the future? Let us know in the comments down below, we'd love to hear your thoughts on it
Are you looking to promote your business?
South African businesses can create your free business listing on nichemarket. The more information you provide about your business, the easier it will be for your customers to find you online.
Registering with nichemarket is easy; all you will need to do is head over to our sign up form and follow the instructions. If you require a more detailed guide on how to create your profile or your listing, then we highly recommend you check out the following articles.
Recommended reading
If you enjoyed this post and have time to spare why not check out these related posts and dive deeper down the rabbit hole that is the augmented reality.
You might also like
10 Elements of Successful Content Marketing Strategy
A review of the top 10 elements you need to incorporate into your current and future content marketing strategies if you want to take this channel se...
Read more
How Your Workplace Disputes Can Be Eased With Legal Help
A review of how an employee rights lawyer can be brought into a company to handle disputes and reduce the time in reaching a settlement between parti...
Read more