SnapChat Launches Instant Create For Quick Ad Setup
SnapChat, the app that has become every parent's nightmare and every Millenials favourite instant messaging application is starting to mature with its audience.
The app has begun to shift from being a trendy text messager with a twist into a fully monetised platform as they try to provide new sources of revenue.
Not only to compete with the likes of Facebook Inc and Alphabet (Google's company) but to remain a viable option for users.
Unlike its competitors, SnapChat only has its app as a place for monetisation. While SnapChat does have millions of daily active users, many of them could not be reached quickly with promotional messaging, apart from using influencer marketing.
Attracting advertisers
Facebook and Google are, without a doubt, the kings of online advertising, but their tools have been notoriously difficult to use.
The technical nature of these tools is the reason why jobs like social media marketers and paid search marketers exist today.
In many cases, you need to be a professional to use these tools, which limits the number of users willing to leverage these ad platforms
SnapChat has seen the potential of moving into the advertising game and needed to act quickly in providing a simple experience for marketers and brands to reach their audience.
The goal was creating an advertising tool that could differentiate themselves from competitors.
SnapChat launches instant create
Snapchat has added a new tool, to its current advertising platform called Instant Create. Instant Create offers a simple way to create Snapchat-optimised ads which can be set up in three steps.
Select an objective – you can either increase web visits, app installs, or app visits.
Enter your business website.
Select your targeting.
Then the ad is ready to publish.
Snapchat says this tool can be used by small businesses or for advertisers with limited resources.
The ad format is set to be ideal for those who want to get started with Snapchat ads quickly or some who are curious about testing out returns on SnapChat ads.
You can set up Instant Create ads via the current SnapChat Ad Dashboard by choosing "Instant Create" when creating a campaign.
There's also an Advanced Create option, though which is better for multiple ad sets while Instant Create is better for a single ad.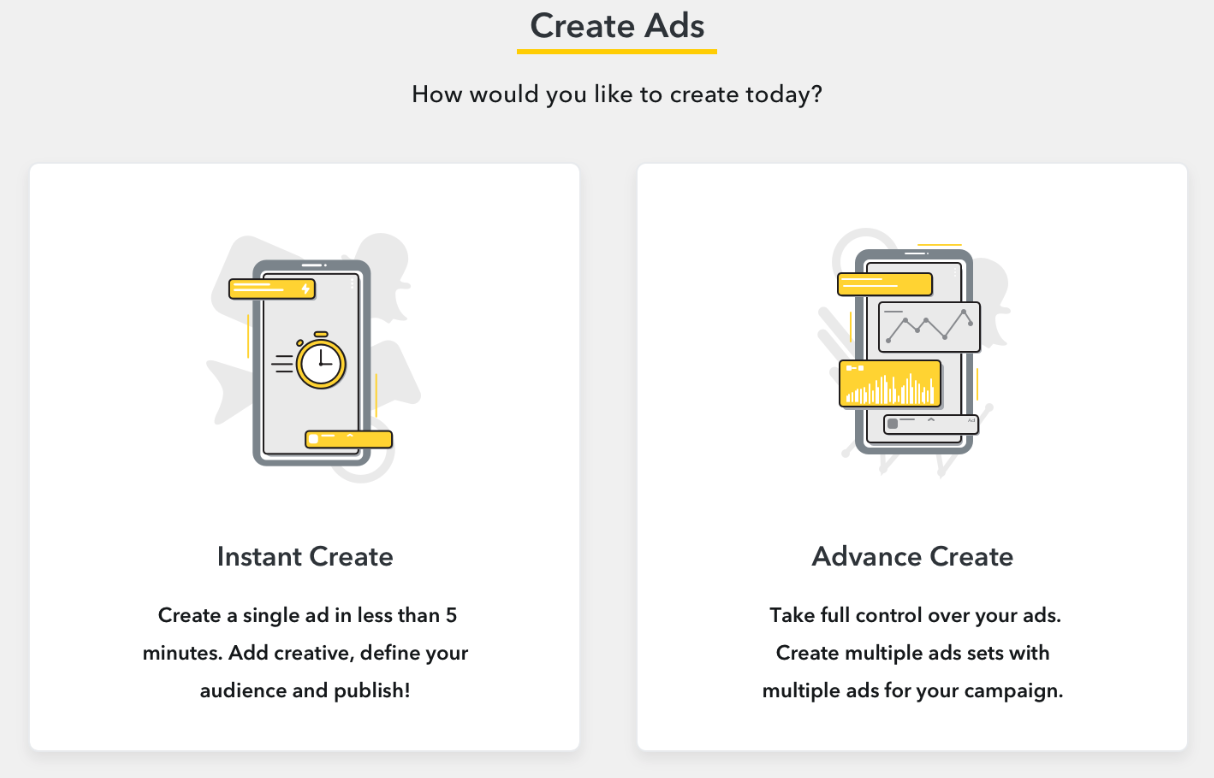 How to set up a SnapChat Instant Ad
What about creative?
Creating an ad has also been reduced to a simple selection of settings and providing the relevant text.
Advertisers will not need to design their creative for these ads, as it's all done automatically.
Just input your business URL, and Instant Create will pull in photos directly from your website to create your ad.
Alternatively, you can upload your images if you prefer. You'll also have access to Snapchat's most famous ad templates.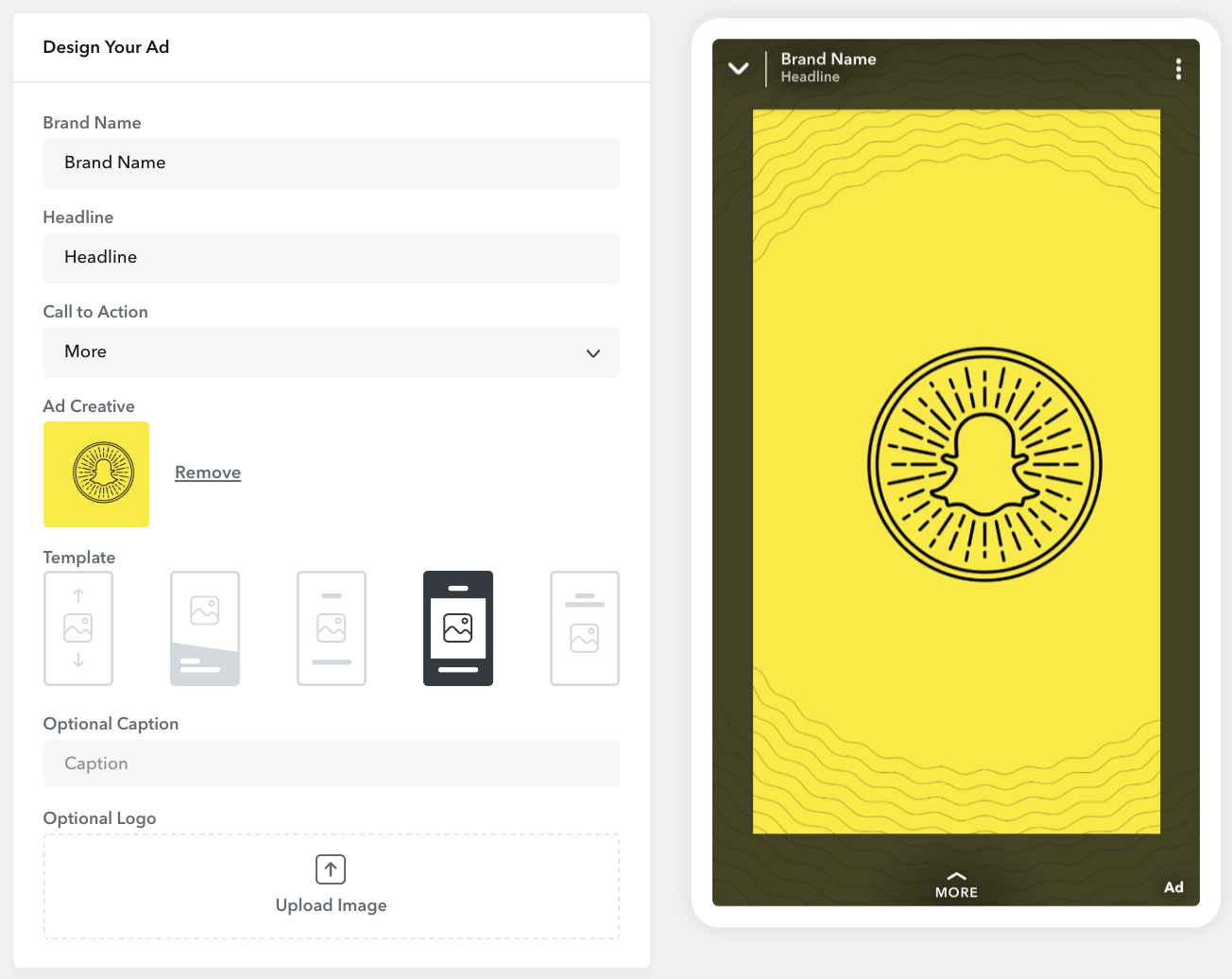 The creation process for a SnapChat Instant Ad
Take a snap at it
It's important to note that at this time, Instant Create only supports Snap Ads, the platforms most straightforward format.
I think its an exciting move by SnapcChat as It removes friction from our self-serve tools by significantly decreasing the time and creative investment required. If it does take off, we may see other brands copy the format, which we already see with Google Ads Express.
Tell us your advertising story
Have you struggled with social media advertising? How has social media advertising work for your business? Share your experiences with us in the comments section down below.
Contact us

If you would like us to set up your business digital ads or want to know more about digital marketing for your business, then don't be shy we're happy to assist. Simply contact us
Are you looking to promote your business?
South African Business owners can create your free business listing on nichemarket. The more information you provide about your business, the easier it will be for your customers to find you online. Registering with nichemarket is easy; all you will need to do is head over to our sign up form and follow the instructions.
If you require a more detailed guide on how to create your profile or your listing, then we highly recommend you check out the following articles.
Recommended reading
If you enjoyed this post and have a little extra time to dive deeper down the rabbit hole, why not check out the following posts on online advertising.
Tags: advertising, apps
You might also like
7 Ways To Build Wellness Into Your Work Day
Work can take a toll on your mental health, while it is an integral part of how we make a living, it should not be the reason for destroying yourself...
Read more
5 Ways To Improve Your Air Conditioner Performance
A review of five ways you can keep your home airconditioner running smoothly and last longer so you can get the full benefit without adding extra cos...
Read more