Top 11 Eco-Friendly Destinations
Despite all its devastating effects, the Coronavirus is good for one thing: It is giving our planet a moment to recover from the damage that has been done to it. Skies are clearer, canals and rivers are cleaner, wild animals and plants are thriving. However, this necessary reduction in pollution levels will most likely not last long when "things are back to normal".
It is up to us to protect our environment – in our daily lives and on our adventures abroad. The good news is: There are plenty of countries that are making an effort to become greener. If you are a passionate traveller and want to make a difference at the same time, check out these Top 11 eco-friendly destinations!
What are eco-friendly destinations?
But first things first – let's define what eco-friendly destinations are. Earth-friendly policies and practices characterize Eco-conscious countries. They use renewable energy, offer well-developed public transport, have designated green areas in their cities and protect their wildlife. The implementation of the UN 2015 Sustainable Development Goals has made this matter more urgent.
Eco–friendly tourism implies a way of travelling that follows the principles of environmental, social and economic sustainability. Contrary to commercial mass tourism, ecotourism is a responsible way to explore protected and mostly undisturbed natural areas.
The money you spend in eco-friendly tourist destinations will be used for ecological conservation and political empowerment. Moreover, ecotourism improves the well-being of locals by enhancing their cultural integrity.
In short: You ideally leave the place better than you found it.
How to identify eco-friendly destinations
Unfortunately, not everything that glitters is gold. Greenwashing has become a problem in almost all areas of life, including the travel industry. Companies in many countries spend significantly more money advertising their environmentally friendly policies, than on actual sustainable practices.
Governments often struggle to monitor and regulate such behaviour. To identify real eco-friendly destinations, it is helpful to use the following resources.
The easiest tool for research on sustainable behaviour and eco-friendly places to visit are Green Travel Blogs like Softback Travel.
In collaboration with the World Economic Forum, Yale and Columbia University created the Environmental Performance Index (EPI). This data-driven approach to environmental protection is supposed to simplify the identification of failures and successes in 180 countries. The EPI focuses on two fundamental dimensions of sustainable development: environmental health and ecosystem vitality.
Additionally, the Global Green Economy Index (GGEI) measures the green economy performance of 130 destinations. The GGEI was created to help countries identify the best pathways to a low carbon economy. It also partly includes the findings of the EPI.
Another indicator of eco-friendly travel destinations is the Top 100 Sustainable Destinations list. With its ranking, the non-profit foundation Green Destinations celebrates efforts of cities worldwide for responsible and sustainable tourism.
The worlds most eco-friendly destinations
But without further ado, here are the Top 11 most eco-friendly destinations in the world
1. Slovenia

Source: Unsplash/ Erin OBrien
If you have ever been to Slovenia, you'll understand why it tops this ranking. If not, put this eco-friendly destination high up on your bucket list!
In 2016, Slovenia was named the first certified green destination in the world by Green Destinations. Out of their Top 100 Sustainable Destinations, the non-profit foundation listed 31 Slovenian cities in 2019. They included criteria like air pollution, waste separation and the reduction of fossil fuel dependency.
With more than half of its total area covered in forest, Slovenia is one of the greenest countries worldwide. Between its stunning mountains and eco-friendly farms, the European country is home to 20.000 different plants and animals.
2. Bhutan

Source: Unsplash/ Pema Gyamtsho
Bhutan is also known as the happiest country in the world. Why? The Buddhist Kingdom measures its prosperity in Gross National Happiness. Seriously. And it gets better. With 70 % of Bhutan's land covered in forests, it absorbs more carbon than it emits.
So why the hell haven't we all been to Bhutan yet? To protect its little green paradise, the country only allows visitors that book through an official tour company. And that is unfortunately quite pricey with a fee of around $250 per day.
3. Iceland

Source: Unsplash/ Martin Jernberg
Iceland is home to over 130 volcanoes and countless hot springs, glaciers and waterfalls. It is also one of the most tectonically active places in the world.
There are not many countries where government and locals alike seem to care so much about the environment. Owners of tourist accommodations are rewarded for sustainable and environmentally conscious housing standards.
Furthermore, Iceland is the world's largest green energy producer per capita.
4. Costa Rica

Source: Unsplash/ Zdenek Machace
This Central American country is a true paradise for eco-conscious travellers. Costa Rica generates nearly 100 % of its electricity from renewable sources, such as hydropower, wind, solar, and geothermal. With over 500.000 different species of animals and plants, Costa Rica has one of the densest biodiversities in the world. The country safeguards its wildlife with large protected areas, including biological reserves and natural parks.
Costa Rica's diverse wilderness, beautiful beaches and majestic volcanoes are ideal for all kinds of eco-friendly outdoor activities, from hiking to zip-lining.
5. Singapore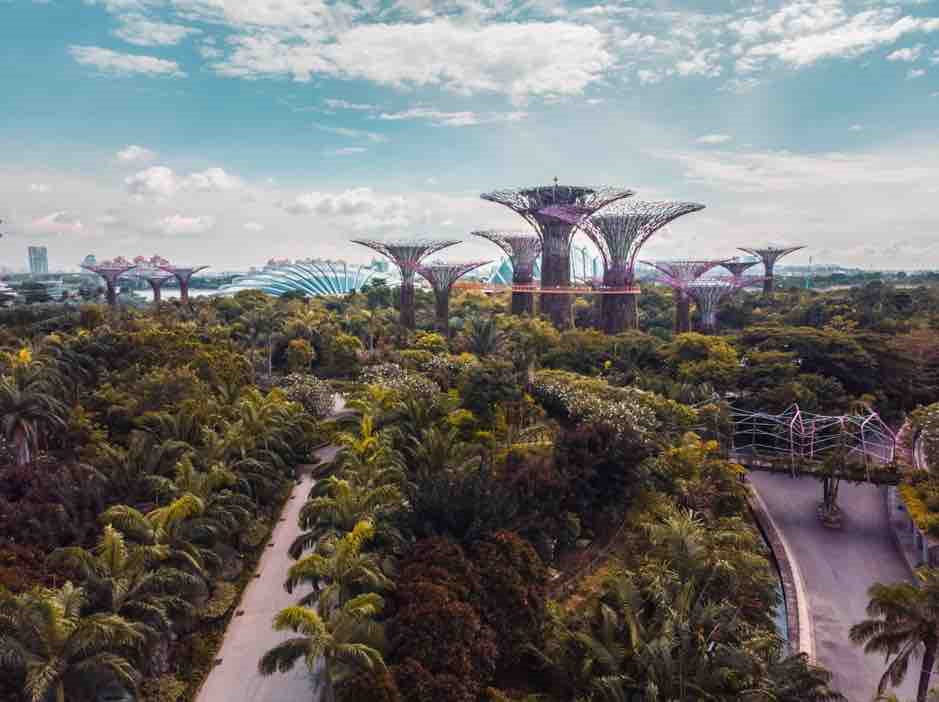 Source: Unsplash/ Victor Garcia
Compared with other Asian countries, Singapore is by far the greenest destination. Despite its dense population and growing economy, the country has managed to reduce its power consumption significantly.
One of the government's successes secrets is the so-called Green Mark scheme. It focuses on cutting down water and energy usage within both commercial and residential buildings.
Out of all the eco-friendly places in Singapore, Gardens by the Bay is probably the best example of the city-state's sustainability. It features 1.5 million plants, solar-generating and rainwater-collecting Supertrees, and several education programs.
All in all, Singapore is a role model for cities worldwide, and especially for the rest of the Asian continent.
6. Finland

Source: Unsplash/ Niilo Isotalo
This Scandinavian destination is the second least polluting country in terms of CO2 per capita. Its capital Helsinki is one of the world's greenest cities, with a planned car-free future. Finland consists of 73.1% woodland, and 14.2% protected terrestrial and marine area.
So, if you want to escape the city noise and feel like you're the only explorer in seemingly untouched nature, Finland is for you. Its vast wilderness with countless forests and lakes is the perfect location to spot bears or golden eagles. And – of course – to watch the Northern Lights.
7. New Zealand

Source: Unsplash/ Pablo Heimplatz
New Zealand is an exceptional destination for many reasons. It is widely recognized for having a unique landscape in the world. Think glaciers, fjords, volcanic plateaus, subtropical forests, stunning sea views. Moreover, it is one of the only places in the world where you can see the Southern Lights.
Almost one-third of New Zealand consists of protected national parks, reserves and heritage sites. Also, the sovereign island country is known for its effort to bring back endangered animals from the brink of extinction.
Their innovative rescue programs have restored populations of several species, like for example the Chatham Island Black Robin. (That's a bird, by the way.)
Definitely a dream destination for every eco-conscious adventurer.
8. Switzerland

Source: Unsplash/ Matt Foster
Switzerland is famous for the majestic Alps that make every hiker's heart beat faster. In winter, the mountainous destination attracts ski and snowboard enthusiasts from all over the world.
But most importantly, Switzerland was the leading country of the Environmental Performance Index in 2018. The government was praised for its strong performances regarding the reduction of air pollution.
The freshest air in the world in combination with Swiss chocolate. It doesn't come as a surprise that Switzerland has also previously been named the 'world's happiest country'.
9. Portugal

Source: Unsplash/ Ferdinand Stohr
A must-visit for the eco-conscious tourist, wild and well-preserved in the middle of the Atlantic Ocean: the Azores.
Portugal's autonomous archipelago consists of nine volcanic islands. One of them, Graciosa, already uses 100 % renewable energy. This eco-friendly travel destination has 60 marine protected areas and four UNESCO Biosphere Reserves.
You can also find two of Europe's rarest birds here. The islands' landscapes are dominated by natural pools and hot springs, waterfalls and lava fields. The Azores are furthermore a hotspot for whale watching.
10. Ecuador

Source: Unsplash/ Jaime Serrano
Ecuador is the first country worldwide that has recognized the rights of nature in its constitution. And it has a Minister for Good Living.
Probably the most famous example out of all eco-friendly destinations in Ecuador is the Galapagos Islands. But that doesn't mean that there is nothing to see on the mainland - the opposite is the case. Ecuador remains one of the most biodiverse destinations on the planet.
It also has an outstanding amount of eco-conscious accommodations. Lots of places you'll find are locally managed and follow strict sustainability standards.
However, as an eco-friendly traveller, you should be aware that the government has a long history of putting oil-related interests before the needs of Ecuador's indigenous communities. Inform yourself before you go!
11. Namibia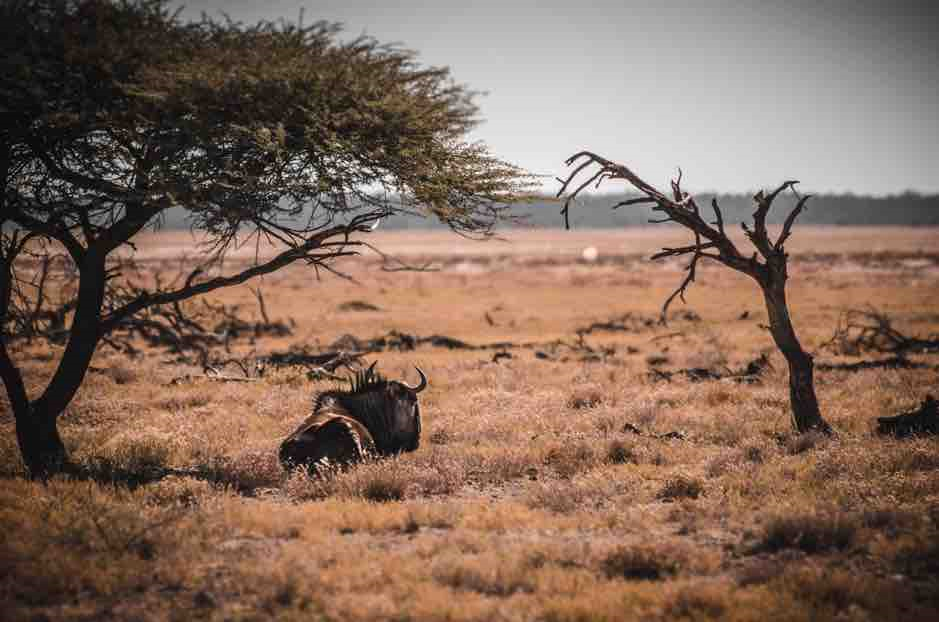 Source: Unsplash/ Sergi Ferrete
One of Namibia's highest priorities is the preservation of its precious wildlife. The country hosts several protected national parks and sanctuaries. The result: Namibia maintains the largest population of wild cheetahs worldwide.
It was furthermore the first African country to incorporate environmental protection into its constitution.
The tourism industry in Namibia focuses on the development of communities, as well as responsible and authentic travelling experiences for its guests.
A tip for the next time you visit our neighbours: Eco Awards Namibia is the best indicator for eco-friendly destinations and sustainable establishments. And there are a lot of them.
Tell us your story
Would you like to write for nichemarket just like Leoni has? Find out how to submit a guest post, and when you're ready, you can contact us.
Are you looking to promote your business?
South African travel businesses can create your free business listing on nichemarket. The more information you provide about your business, the easier it will be for your customers to find you online.
Registering with nichemarket is easy; all you will need to do is head over to our sign up form and follow the instructions. If you require a more detailed guide on how to create your profile or your listing, then we highly recommend you check out the following articles.
Recommended reading
If you enjoyed this post and have time to spare, why not check out these related posts and dive deeper down the rabbit hole that is travelling.
You might also like
What Are The Major Categories of Blockchain?
We take a deep dive into the six major categories of digital assets available and why they have these different characteristics and how they are used...
Read more
7 Ways To Build Wellness Into Your Work Day
Work can take a toll on your mental health, while it is an integral part of how we make a living, it should not be the reason for destroying yourself...
Read more