7 Web-crawling Tools You Can Use To Spider Your Site
Let's face it; not everyone is as meticulous as they should be when managing and maintaining their website, a lot can fall through the cracks. Either you're a small team who simply do not have the capacity, or you're a large team, with a lot of moving parts and things slip through the cracks.
Web pages are created and forgotten about on a daily basis, pages are hidden, broken, orphaned and if not managed can turn into a nightmare of SEO specialist proportions.
Before you call in the big guns, try running a web crawl of your site to see the size and state of it.
What is a web-crawler?
A web crawler or if you want to sound more dramatic, web spider, web robot or web bot is a program or automated script which browses the World Wide Web in a methodical, automated manner.
The process of scanning through your website is called Web crawling or spidering. Many sites use web-crawlers however the most advanced and most popular would search engines like Google and Bing who keep their search results fresh by spidering as a means of providing up-to-date data.
What does a web-crawler do?
These crawlers scan web pages to see what words, images, and video they contain, and where this content is used and who is pointing to this content, is it a reliable source of information. The crawler turns its findings into a large index and matches keywords users search for to the pages in its index. So how do you see what these bots see? Fortunately for us, there are web crawling tools available to simulate this process and create your own miniature index of your site.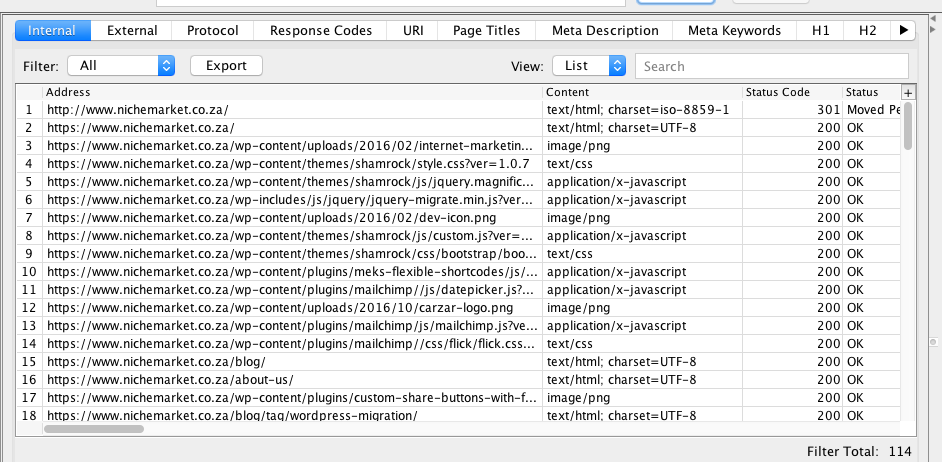 A website crawl of the nichemarket website
What are web-crawling tools and which ones are available?
Visual SEO Studio - €149 Per Year
The basic version is free but is extremely restrictive while the paid version offers you comprehensive SEO suggestions, full control of your XML Sitemap and a powerful SEO-oriented query engine.
Only available for Windows Get it here: http://visual-seo.com/
WildShark SEO Spider Tool - FREE
A standard website crawler and gives you access to the usual like missing H tags, title tags, and ALT tags, finding broken links and duplicate meta tags. You will have to fill in a form before you can download and subscribe to their newsletter database. Only available for Windows
Get it here: https://wildshark.co.uk/spider-tool/
Beam Us Up SEO Spider - FREE
Offers no crawl limits and is a beast at finding duplicate pages and also offers users the option of exporting data directly into excel and google docs. Available for Windows, Mac, and Linux
Get it here: http://beamusup.com/
Xenu operates like a crawler, though, it can help test crawl paths and find holes in your internal linking and offer great reporting. Only available for Windows
Get it here: http://home.snafu.de/tilman/xenulink.html
Screaming Frog - £149 Per Year
Screaming Frog SEO Spider is a website crawler, that allows you to crawl websites' URLs and fetch key onsite elements to analyse onsite SEO. Downloading the tool is free but offers limited access. Available for Mac and Windows
Get it here: https://www.screamingfrog.co.uk/seo-spider/
For the more advanced requirements, you can try using Scrapy, which is open source and collaborative framework for building your own crawlers that extract the data you need from websites.
Get it here: https://scrapy.org/
Cocoscan - Per scan purchase starts at $20
CocoScan is a simple SEO scan tool that analyses your website and finds all the factors that block the indexation of your web pages. Choose our site crawler, and we promise to find your main SEO issues in less than 5 minutes. Once you've completed your scan, you can access your results and work your way through your personalised to-do list.
Get it here: https://cocoscan.io
Netpeak Spider - 14 day trial with an annual cost of $168
Netpeak Software is a combined SEO tool kit with some handy tools, but we will only focus on the spider/crawling tool option. You will need to download the Netpeak launcher which is currently only available for Windows, so Mac users are out of luck. Once you've downloaded the launcher you can then install the various packages they have available like the Netpeak Spider.
The UX takes, some getting used to and the number of loops you have to jump through to get the software running isn't the most exceptional experience either. They do provide chat support should you eventually get stuck, which you most likely will.
However, once you get through all of the setup steps, you'll find Netpeak Spider it is still a pretty good scraping tool option for your website.
Get it here: https://netpeaksoftware.com
Note! Did you know Netpeak Software and nichemarket are partners? Find out more and claim your discounted subscription here.
Keep your site in order
There you have it seven tools you can use to scrape your site and get a grand overview of what is going on and see bots are dealing with when visiting your site.
You can then use these scrapes to remove dead pages, redirect broken pages, improve page quality and so much more.
Page crawling tools like these offer a wealth of data especially when sites start to scale, and you need more than a few hands on deck to manage changes and updates to the site.
So go ahead pick a tool, and I wish you many happy site scraping adventures shortly.
Contact us
If you want to know more, about web-crawlers, don't be shy we're happy to assist. Simply contact us here
Recommended reading
If you enjoyed this post and have a few minutes to dive deeper down the rabbit hole, then we recommend you read following article
You might also like
Pet Friendly Campsites In The Western Cape
Find places you and your pet can enjoy the outdoors, pitch your tent and enjoy the wide open spaces that only the outdoors of the Western Cape can pr...
Read more
Interesting Things You Need To Know About Purchasing A Golf Cart
If you already spend a fair bit of time on the golf course or you feel that all the walking is catching up to you, here is all you need to know befor...
Read more