How To Create A Facebook Audience With MailChimp
If you've been using Facebook to advertise your business for the last ten years or you've been a social media marketer during that time, you've probably noticed that your access to the market has been slowly trimmed down over the years.
I'm old enough to remember when you could post an organic post on your Facebook business page, and 20-30% of your audience would see it on their fees without you having to do a thing. Those were good times, the spray and pray approach, sure.
It still needed an enticing offer and a good line of copy, but that was all the ad needed for you to modify aspects under your control. Eventually, Facebook had to start paying back their investors, and the monetisation process and the great paywall divide went up.
Now initially, the paywall wasn't too bad; you could still get away with the same organic strategy, but all you needed to change was to punt it with a few pennies. So you'd pay a bit to reach your fan page audience, and you'd be on your merry way to sales and leads.
Competition for eyeballs heats up
In relative terms, when comparing today, you didn't have to be a genius to advertise on Facebook for it to work; the platform did a lot of the heavy lifting for you in those early days. However, as success stories from Facebook ads started to make the rounds, so too did more businesses. Facebook had a decision to make, how was it going to sell their users, and thus the auction for audiences began.
Facebook started to collect more data on audiences and bidding strategies from advertisers and built one of the most profitable matching markets the internet has ever seen.
A view that once cost you a few cents in the old days as all users were measured the same has become a dynamic fee market. Some users are naturally more predisposed to purchasing and therefore carry a premium, a premium that Facebook isn't shy to charge you to reach.
Facebook customers have also matured.
I am sorry to tell you, this but the Facebook list of fans, they're not all interested in your business. Some have passed away; some have left Facebook; others aren't as heavy a user as they once were in those early days.
Additionally, Facebook also prioritises friends and family produced content in feeds making it even harder for you to sneak your ad in among their newsfeed.
Finally, after years of using Facebook, users have also become numb to ads; they can block it out mentally, they can scroll past it with ease compared to the early users who were so excited to use the platform.
Facebook relies on the opaque nature of its attention auctions.
The way Facebook makes money is not by giving you all the users you're looking for; no, that would be too easy. What they do is they group some of the users you want with some of the users you don't want and leave it up to you to refine the audiences over time.
To refine these audiences requires you to constantly spend money and acquire data that can be used to narrow down the users you want.
Sadly there's no easier way to do it, but there are ways you can improve the targeting on Facebook, and one of them is via creating personalised lists.
Creating your lists.
I say this all the time; I would rather have 10 000 email addresses than 100 000 Facebook fans. Sure the social proof looks great for your brand, but the direct emails allow you to do far more to impact your bottom line.
Collecting email addresses from your website doesn't have to be used only for mailing them but can be used to build custom audiences for your ads. If you're using MailChimp, which is one of the most popular email tools on the planet, then it's pretty easy to create automated lists.
Head over to business.facebook.com
Once logged in
Select the audiences option in the left-hand menu
Click Audience at the top of the page
Select custom audience
Then select customer list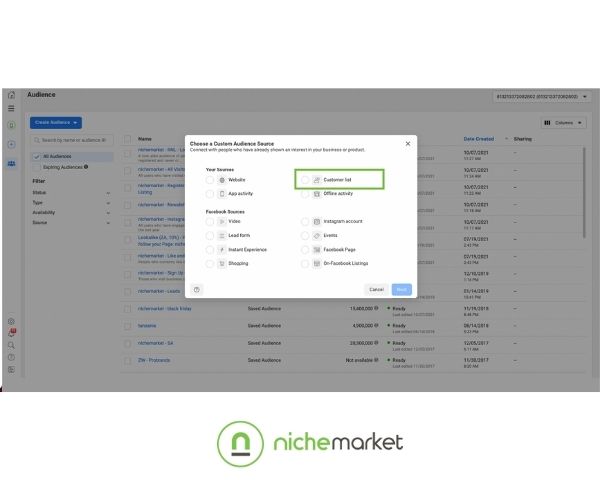 How to create a custom audience with an email list in Facebook
You will be taken to another page to prepare the import list
Select the option "Import from MailChimp."
Select login to Mailchimp
Once logged in, you will need to select the mailing list you want to import
Then click import
Leave as a custom audience for now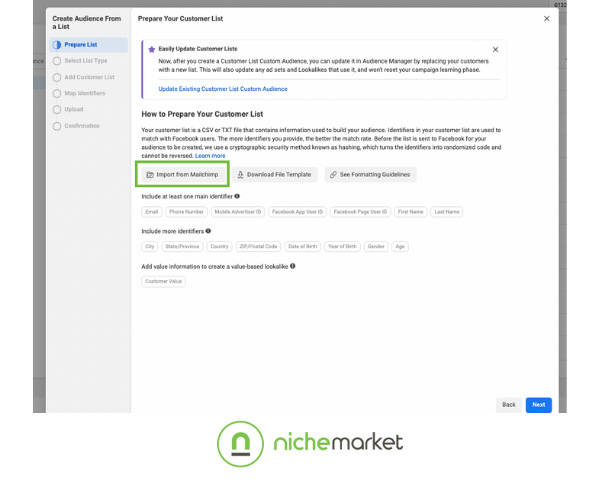 How to import a MailChimp list into Facebook
Building your database
Building email lists will continue to become more important; we've already seen other social media tools and search marketing tools starting to leverage this data from improved targetting and refinement.
I recommend you start to leverage your site, your offline efforts, your email signature, your other social media profiles and even your video content to drive more email sign-ups.
If you cannot secure a direct sale, then contact information should be your second priority. Once you start to build this database, you can use it across multiple ad platforms; you can use it to model look-alike audiences and much more.
This will give you a leg up on your competition and allow you to reach customers at a lower cost per user while they stick to flying blind or building their audiences from within their preferred platform like Facebook.
Contact us

If you would like us to help set up your social media marketing or want to know more about digital marketing for your business, then don't be shy we' re happy to assist. Simply contact us
Are you looking to promote your business?
South African Business owners can create your free business listing on nichemarket. The more information you provide about your business, the easier it will be for your customers to find you online. Registering with nichemarket is easy; all you will need to do is head over to our sign up form and follow the instructions.
If you require a more detailed guide on how to create your profile or your listing, then we highly recommend you check out the following articles.
Recommended reading
If you enjoyed this post and have a little extra time to dive deeper down the rabbit hole, why not check out the following posts about Facebook Marketing.
Tags: Facebook Marketing, Social Media Marketing, Email Marketing
You might also like
How To Add Your Business On Qwant Maps
Improve your local SEO by getting your business listed on all the most popular search engines databases such as Qwant the french based search engine
Read more
How To Add Your Business To Apple Maps
A detailed guide you can use to add your business to Apple Maps directory which will allow all iOS users to find your business from their native GPS ...
Read more