Google Ads Removes Average Position Metrics
As is the case with Google, they do as they please and the rest of us will have to adapt to these changes. This month Google announced that the average position metric is getting removed from Google Ads starting the week of 30 September 2019. Google had plans to sunset the average position metric since February, but we didn't have an exact date until now.
Google's stated that "starting" 30 September 2019 – makes it sound as though the metric might be removed gradually from peoples' accounts.
A knock-on effect from this change will also see the following features will also be disabled:
Rules using average position
Custom columns using average position
Saved reports that filter on average position
Saved filters with an average position
The average position metric will also be removed from:
Saved column sets
Saved reports that use the average position column
and scorecards that use average position
Why are Google Ads removing the Average Position Metric?
Google Ads have changed over the years, and the way top impressions are served is no longer a static serving method.
First, Google removed ads on the right column and then added options with shopping ads that take up a lot of real estates and any ad taking the majority of space on a mobile device.
Unfortunately, this wasn't clear what position number one meant. The position was a relative term comparing ads to competitors rather than the physical position on the page. The average position could end up being a position your ad was never actually in.
For example, if your ad came up three times in positions two, two, and five for an average position of three; three was a physical position, the ad was never in. As ads become more dynamic, these metrics slowly start to lose their value and are often misunderstood by those who use or report on them.
Google didn't really see Average Position as a useful metric as they began to change the way they served ads on SERPs. Instead, they introduced two new metrics that provide a clearer view of where ads appear in a SERP.
Those metrics include:
Absolute top impression:
Which refers to the very first position in a SERP
Top impression:
Which refers to any position within the top set of paid listings.
"With the availability of these new metrics to understand prominence, we plan to sunset average position in September of this year. If you currently use average position, we recommend that you start using these new metrics when measuring and optimizing for prominence." - Google announced in February 2019
Understanding these new metrics
You can use these metrics to create new reports or optimise your bidding strategies but you will need to understand what they represent first.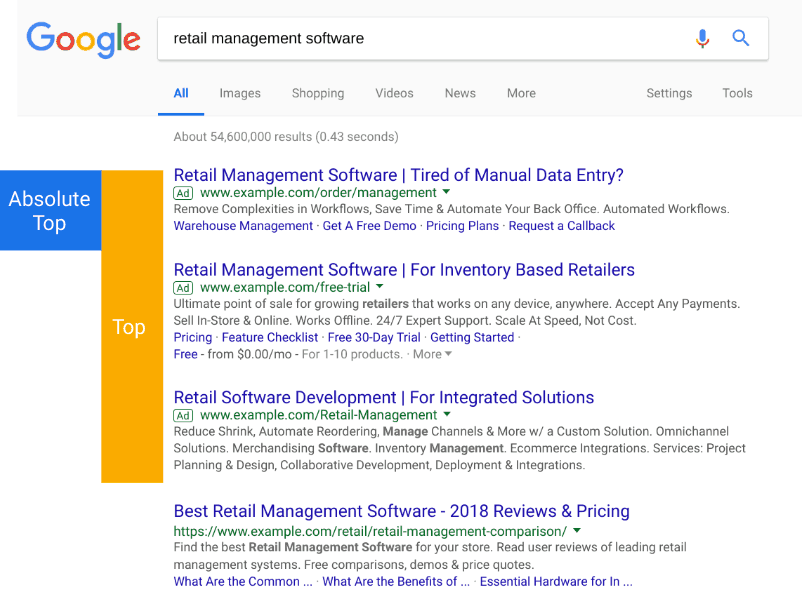 Google's new ad impression metrics
Top impression rate tells you the percentage of your total impressions that are coming from the top of the SERP (above the organic results).
Top impression rate = Top impressions / Total impressions
Absolute top impression rate tells you the percentage of your total impressions that are coming from the very top of the SERP.
Absolute top impression rate = Absolute top impressions / Total impressions
Top impression share tells you the rate at which you're turning opportunities to appear at the top of the SERP into actual impressions at the top of the SERP.
Top impression share = Top impressions / Eligible top impressions
Absolute top impression share tells you the rate at which you're turning opportunities to appear at the very top of the SERP into actual impressions at the very top of the SERP.
Absolute top impression share = Absolute top impressions / Eligible absolute top impressions
How to act on these new metrics
Start to learn new metrics. We need to adapt to the new impression share metrics. The faster we start the transition to them, the better. We're going to get more visibility as long as we learn to understand them.
Actionable points you can look at are to:
Segment performance by device and see what's your campaigns' situation there too.
Play more with the auction insights reports to see how your ads look compared to other competitors.
Adjust your reports. Add the new ad position metrics and start removing the old one.
Become more familiar with automated bidding strategies, particularly the Target Impression Share strategy.
So what do you think of the sunsetting of average position? Did you use it? Did you find it helpful? Do you prefer the new metrics? Let us know in the comments below.
Contact us

If you would like us to help set up your Google Search Ads or want to know more about digital marketing for your business, then don't be shy we' re happy to assist. Simply contact us
Are you looking to promote your business?
South African Business owners can create your free business listing on nichemarket. The more information you provide about your business, the easier it will be for your customers to find you online. Registering with nichemarket is easy; all you will need to do is head over to our sign up form and follow the instructions.
If you require a more detailed guide on how to create your profile or your listing, then we highly recommend you check out the following articles.
Recommended reading
If you enjoyed this post and have a little extra time to dive deeper down the rabbit hole, why not check out the following posts on Google Ads.
Tags: Google Ads, PPC, Paid Search
You might also like
Why You Need Barcodes For Your South African Business
We review the benefits of having barcodes for your South African business (Big Or Small) and why you should consider having your own barcodes set up...
Read more
3 Steps For Your Company To Go Paperless
How to take the steps to reduce your businesses dependency on paper, maintain your operations in a digital world and become a greener and leaner oper...
Read more