Pregnancy & Baby Freebies To Try Before You Buy
The mom and baby market is flooded with all sorts of products, each with its unique benefits. For first time moms, the options are endless and frankly somewhat overwhelming, especially since most products are marketed as essential for new parents. Not all products are well priced, and sometimes you spend a fortune only to use the product once or twice and find that it's not compatible for you or baby. So how can you tell whether a product works for you?
How to weed out the best products for you and baby
Seasoned and experienced moms will have a wealth of knowledge to share with you and will have a list of tried and tested recommendations. Doctors and other medical professionals also have a list of products they believe and will always recommend. However, we are all individuals, and all have our chemical composition and skin types.
Most babies are pretty straightforward, and the majority of products will agree with them. But there is a large population that have susceptible skin irritations and suffer from allergies, touch dermatitis, eczema or other skin disorders. Needless to say, what works for one baby won't necessarily agree with the next.
The best way to find out which products work for you and your baby is to try, and the smartest way to try before you buy is to get your hands on samples.
Here are some guaranteed ways for South African moms to get free mom and baby samples.
6 ways to acquire FREE mom and baby samples
The nichemarket team have searched high and low to find these deals for South African moms. We contacted numerous popular baby brands and these were the only 6 we found that was still current and verified.
1. Dis-Chem Baby Programme
Sign up with the Dis-Chem Baby programme and get a free bag with products. Products may vary, but the bag is usually filled to the brim with products from leading local and international baby brands such as Nuk, Tomee Tippee, Bennetts, Dischem's Softi & more.
This bag of samples is probably the most accessible to all South African moms, and the products you receive are fantastic! Most of them are essentials you need for your hospital bag.
Samples you can expect to receive in your Dischem bag:
For Mom: Maternity pads, maternity panties, Palmer's stretch mark cream, hand sanitiser, lip balm, Pigeon breast pad, Centoderm moisturising cream.
For Baby: An assortment of Dischem BabyThings products; wet wipes, nappy bags, shampoo, baby oil, lotion, powder. Bennetts aqueous cream, bum cream and bath drops. Sudocrem Baby care cream, baby earbuds, cotton swabs, rubbing alcohol, Pamper's premium nappies, Soft baby toothbrush by Teejel, Tommy Tippee Soother, Nuk breast milk storage bottle.
To qualify for the bag all you have to is register for the baby programme, shop at a Dis-Chem store and earn 1275 (about R800) or more Benefit points on your card from the date of registration. Not all products qualify towards baby programmes points, but points can quickly be earned by doing your monthly toiletry shop or even purchasing your preggy vitamins.
2. Baby Product Samples From Bennetts
Every experienced mommy will tell you that Bennetts products are amazing and work well on most skin types. And the good news is all you have to do is email them to get a range of their free samples to try.
All you have to do mail info@bennettsforbabies.co.za, and they will send you a sample pack. I tested this myself and here's what I received: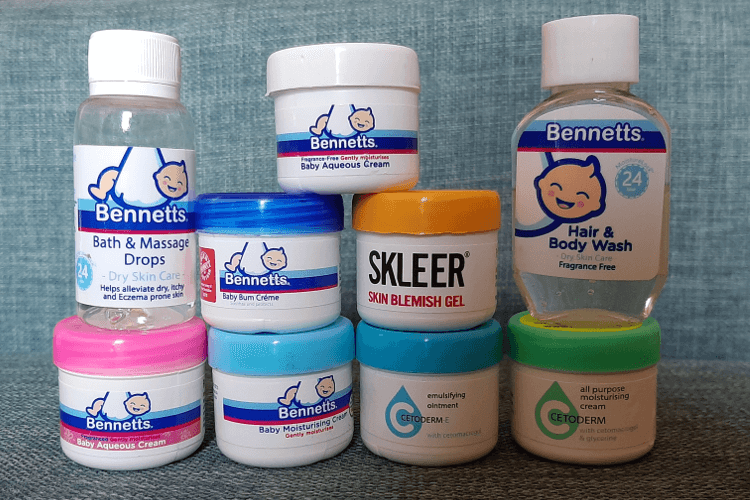 Bennetts baby bath and massage drops
Bennetts Hair & Body Wash
Bennetts Aqueous Cream (1 x fragranced and 1 x fragranced free)
Bennetts Baby Moisturising Cream
Bennetts Baby Bum Crème
SKLEER Skin Blemish Gel
Centoderm-E Emulsifying Ointment
Centoderm All-purpose moisturising cream
3. DryNites® absorbent pants for older kids
DryNites® absorbent pants for the night are specially designed for children aged four years and older who wet the bed. Test the Drynites® products by requesting a free sample for optimal protection during the night!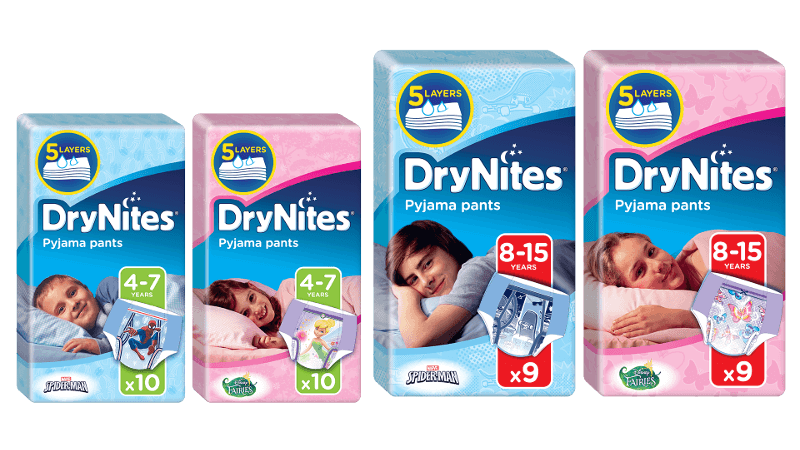 By requesting a free sample, you also join the DryNites email support programme run by bedwetting expert, Dr Michael Mol. This 1-year program will give you plenty of information, tips and advice for managing bedwetting.
4. Mediclinic Baby Programme
Exclusive to parents giving birth at Mediclinic Hospitals, the Mediclinic baby programme gives you access to a load of freebies. Register for this program, and you'll get a luxury baby bag with everything your baby will need for the first few days. The bag is filled with samples from various suppliers as well. From nappies and wet wipes to bum creams and naval care products. Baby's first vaccinations for Polio and BCG are also included in the programme.
5. Netcare Maternity Passport
Netcare's maternity passport opens the door to leading obstetricians, maternity facilities and technology. The passport offers the following benefits: 4D scan, Netcare baby gift bag, First baby immunisations at the hospital, First baby check-up at two weeks, Netcare 911 registration for 18 months.
The bag contains the Netcare emergency and safety guide dealing with babies and children, various product samples and ample information to assist you on this new journey.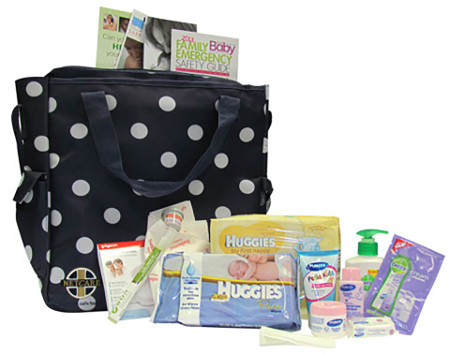 6. Discovery Vitality Baby
If you are a Discovery, medical aid member, you can activate Vitality Baby and qualify for a Vitality Baby Gift Box filled to the brim with useful information, free samples and products as well as vouchers. The contents of this box vary, but I'm told its pretty good.
To qualify, you have to be pregnant or have a baby less than three months old. When you register for Vitality Baby, you will receive a unique baby pack code which can be found online on your Vitality Baby profile. You can SMS this code to your phone and take it with you to any Toys R Us store to collect your Vitality Baby gift pack. Remember the code expires six months after the date it is sent, so be sure to collect your gift box before then.
Have anything to add to the list?
If you have any additions to add to your list, don't keep it to yourself. Share your juicy details by commenting simply commenting below or contacting us here. Brands are also more than welcome to contact us directly so we can give the readers a more comprehensive list.
Are you looking to promote your business?
if you have a South African business focused on Moms and babies you can create your free business listing on nichemarket. The more information you provide about your business, the easier it will be for your customers to find you online.
Registering with nichemarket is easy; all you will need to do is head over to our sign up form and follow the instructions. If you require a more detailed guide on how to create your profile or your listing, then we highly recommend you check out the following articles.
Recommended reading
If you enjoyed this post and have time to spare why not check out these related posts and dive deeper down the rabbit hole that is parenting.
Tags: samples, baby products, mom and baby, freebies, discounts
You might also like
What Are The Major Categories of Blockchain?
We take a deep dive into the six major categories of digital assets available and why they have these different characteristics and how they are used...
Read more
A Man's Guide To Summer Essential Wear
We take a look at the items every man should have in their wardrobe come summertime and why these items should be part of your style this upcoming su...
Read more