Google Testing Package Tracking In Search
Google has a distinct obsession with eCommerce of late. At the same time, it used to be content with being the worlds largest search engine and referrer of traffic it's growing increasingly wiery of Amazons hold in the eCommerce space and has been making eCommerce plays a regular occurrence.
Google Shopping and Google Pay wallets are ways of the site slowly inserting themselves into the eCommerce flow, and it won't be long before we see pay with Google prompts directly within Search and search ad campaigns as well as image search.
From shopping to shipping
People frequently come to Google Search looking to find information on the status of their packages. To make it easier to find, we have created a new package tracking feature that enables shipping companies to show people the status of their packages right on Search.
While this may drive more relevancy and reduce friction on your way to convert a user, but it also gives Google more power over your traffic. As users will have less need to visit you directly to make purchases and even track their packages.
Yes, that's right, Google is looking to take away another form of eCommerce traffic of late, and that is through package tracking.
How will shipping search work?
Googles latest search protocal will allow users to search using the brand name of a courier company or eCommerce store. Those businesses who have signed up to provide their data to Google will then initiate a new search function within Google to add your shipping/parcel tracking ID.
Google will then display the status of your parcel within search engine results pages along with the contact details for the company so you can make enquiries should something seem out of the ordinary.
Here's an example of how this information may appear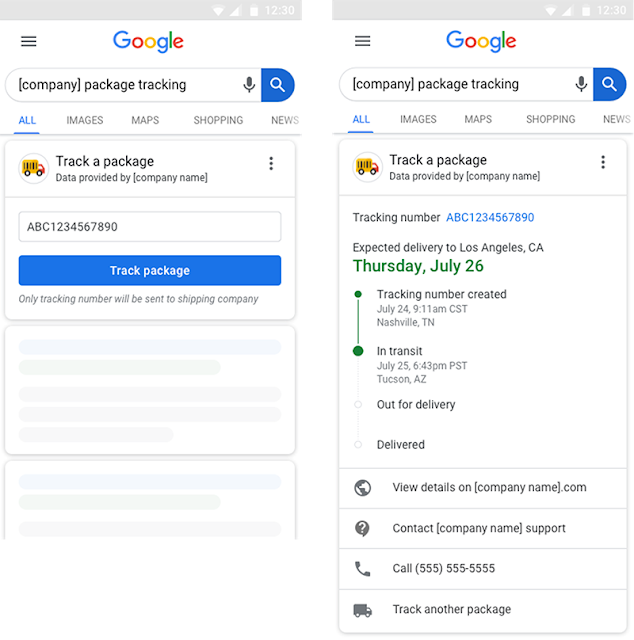 How Google package search could work
The feature uses the courier to fulfilment centres API to retrieve the package tracking information and then displays it to the user. Through the package tracking Early Adopters Program, which is available in all countries, shipping companies can sign-up to participate in this feature and give feedback on how to improve it.
How to take part
To take part in the program, a courier will need to provide a RESTful JSON or XML API that returns the package tracking information. Google has stated that it can work with you to reuse an existing API or set up a new one.
If you are interested in providing package tracking information to your customers then review the full eligibility requirements and fill out the interest form.
Eligibility requirements
To be considered for participation in the package tracking early adopters program, you must meet the following requirements:
You must be a package delivery company or the sole authorized provider of packing tracking information for a package delivery company.
You will need to make this API available to Google and meet certain availability, content, and responsiveness guidelines. Since Google Package Tracking makes real-time calls to a RESTful JSON API to retrieve package tracking information.
The possible effect of the search for your shipment
I can see the need for a tool like this as sites look to try and reduce customer touchpoints and need for reaching out to call centres to query issues that could be handled with a self-service approach. This reduces overheads and needs for human capital to do rudimentary tasks and to focus on viable functions that improve productivity and reduce costs.
Having to build and maintain your front end for multiple services provides as an eCommerce site can also be a costly exercise and take your development team resources away from other pressing product improvements.
While there is an upside to this feature, I am always worried when Google begins to reduce customer touchpoints with the direct site as this limits the reach of websites and their ability to drive home brand recognition and association with the service.
As users now associate Google with finding content instead of the sites that produce content, Google could slowly distance consumers from the retailer and couriers of the users of the product purchased online.
What do you think of Google shipping searches? Useful or bad for eCommerce sites? Let us know in the comments section below.
Are you looking to promote your business?
South African retail business owners can create your free business listing on nichemarket. The more information you provide about your business, the easier it will be for your customers to find you online. Registering with nichemarket is easy; all you will need to do is head over to our sign up form and follow the instructions.
If you require a more detailed guide on how to create your profile or your listing, then we highly recommend you check out the following articles.
Recommended reading
If you enjoyed this post and have a little extra time to dive deeper down the rabbit hole, why not check out the following posts about eCommerce.
You might also like
A Man's Guide To Summer Essential Wear
We take a look at the items every man should have in their wardrobe come summertime and why these items should be part of your style this upcoming su...
Read more
What Are The Major Categories of Blockchain?
We take a deep dive into the six major categories of digital assets available and why they have these different characteristics and how they are used...
Read more