10 Most Popular Nautical Knobs To Buy Online
Upgrading the look of your home without breaking the bank is on every homeowner's mind. Thinking of quick, affordable tips to add some style and fresh look to the rooms. Luckily, every renovation project doesn't involve buying expensive furniture or paying a lot of money to the interior designer.
By adding a theme and reviving furniture by repainting and swapping the knobs, you can instantly change your home's look. What could be a better way to do that than adding some nautical elements in the form of beautiful knobs?
You can easily buy them online. Plus, they are super easy to swap as you will only need a screwdriver and a minute to get the job done.
Going nautical
Nautical designs are the latest trend in interior design. Adding a marine theme to your home gives it a high-class look. But besides painting the aqua blue colour and sea murals on walls, you can add exquisite details such as knobs in coastal designs to add that final ornamental touch.
Here are the most popular, top-rated nautical knobs that you can easily buy online.
1. Beach house starfish drawer knob
Who doesn't love the beautiful, mystical creature that starfish is? This elegant starfish-shaped knob by DaRosa Creations is available for sale on Houzz.com.
It can be installed on your dresser and side table drawers, cabinets and can also be used as a wall hook. This beach style metal knob is available in silver and brass colours that will add a shine and a vintage vibe to your nautical themed room.
Beach house starfish drawer knob - Source: houzz.com
2. Large drawer knob shell white ceramic
You can now display shells, another beautiful part of the coastal ecosystem, in your sea-themed rooms. The white knobs come in the shape of charming seashells and are made out of durable and strong ceramic material.
They are sturdy enough to tolerate frequent pulling. Moreover, with their appealing designs, they will give a classy touch to your furniture, doors, cabinets, and drawers. The ceramic knob is available on MFYS's official store on Ali express at a reasonable price.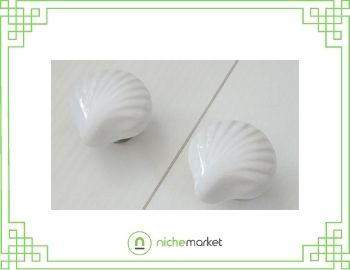 Large drawer knob shell white ceramic - Source: Aliexpress
3. Sea horse cabinet knob
Metal knobs are highly preferred if you are looking for a durable option for your furniture. Not only are they sturdy and stay the course of constant pulling, but they also give an elegant look, which adds to the look in interior design. Coastal or nautical themed knobs are readily available in sturdy metal.
The favourite among the trending nautical knobs is the sea horse knob by the Sea Life Cabinet Knobs. It is available at a discounted price these days, so it may be one of the best deals you will get for your home.
The sea horse knob is available in five colours, which are white, brushed nickel, dark bronze, and chrome to match any style and colour of the furniture that you have.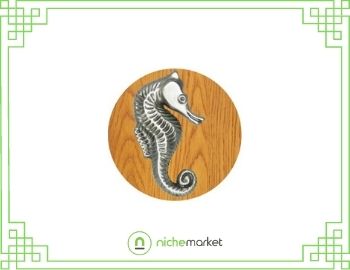 Sea horse cabinet knob - Source: Sealifecabinetknobs.com
4. Franklin brass seaside cottage turtle drawer pulls
You can add a classic look to your home by swapping your ordinary knobs with the brass finish drawer pulls in nautical designs. This particular drawer knob that we are recommending here has a beautiful turtle design on it. The material of the knob is brass, and it is available in brushed satin pewter finish.
Browse the Franklin Brass Store on Amazon if you want to buy these knobs in a set of five.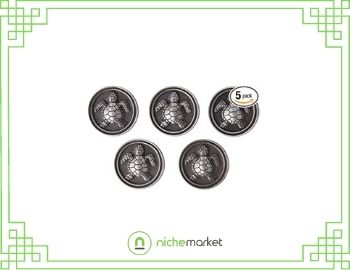 Franklin brass seaside cottage turtle drawer pulls - Source: Amazon.com
5. 1 3/4" Length Anchor Knob
Another resplendent design to add to your ocean themed room is the Anchor knob. These drawer and cabinet add a unique vintage touch to your furniture. The material of the knob is sturdy metal, and you have an option to choose among the three available finishes; Antique Pewter, Antique Brass, and Museum Gold.
You can shop this knob online from Acorn at Wayfair.com. Your guests will notice and admire these exquisite knobs that gel well with the nautical theme.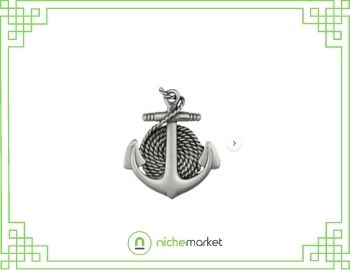 1 3/4" Length Anchor Knob - Source: Wayfair.com
6. Tropical 1 1/2" diameter round knob
We love these charming round knobs with nautical images on them in beautiful colours. Adding the Tropical Round Knobs are the perfect way to upgrade the look of any room. You can buy them in a set of six from Shabby Restore at Wayfair.com at an affordable price.
These knobs have a chrome blue finish with eye-pleasing designs and can be available in both glass and metal.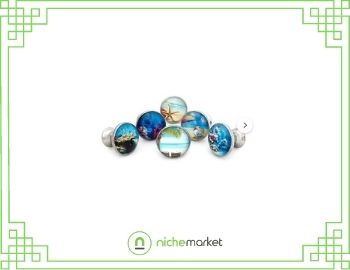 Tropical 1 1/2" diameter round knob - Source: Wayfair.com
7. OLizee seashell nautical decor cabinet knobs
If you wish to get your hand on various knob designs for your sea themed room, then look no other than the Nautical Decor Knobs from Olizee store on Amazon.
At a low price, you will get 12 beautiful knobs in various shapes like fishes, crabs, shells, sea horses, turtles, and a lobster as well. You can mix and match these knobs on cabinets and drawers to add some funk decor in the room.
These knobs not only vary in designs but in colours as well.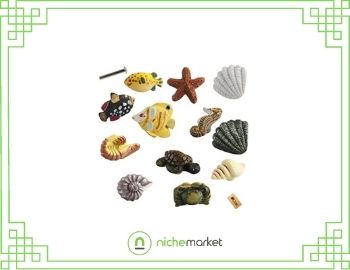 OLizee seashell nautical decor cabinet knobs - Source: Amazon.com
8. Soft rubber cabinet handles nautical series
When talking about adding a nautical theme to your home design, how can one forget the children's room?
You can buy these cute knobs in coastal designs for your kid's furniture. The material of the knobs is soft rubber, making it safe for the kids.
These adorable drawer pulls can be bought from HALALAHUANJIE Official Store on Ali Express.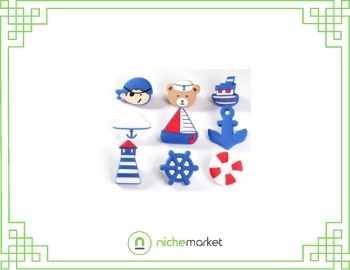 Soft rubber cabinet handles nautical series - Source: Aliexpress
9. ZILucky Octopus Knobs
Octopus is one of the unique sea animals. If you are a nautical design lover and want to incorporate this theme anywhere in your home, grab these beautiful octopus knobs from Amazon.
The metallic knobs will go well with the aquatic theme and enhance the look of your furniture. Their design makes them functional as well as aesthetic. You can get these well-made knobs in a set of 4.
10. Nautical porthole drawer knobs
Designed by Sharonrhea, these aesthetically pleasing knobs exhibit the beauty of a porthole's view. Along with complementing the ocean theme, the knobs are highly functional with their ceramic material.
They can be used in the children's rooms, and there are no protruding and sharp parts in the design. You can buy these porthole knobs from Zazzle.com to give a finishing touch to your cabinets, drawers, and other furniture.
The nautical theme, also known as the sea, coastal, or ocean theme, is all the rage. You can choose from any of the above suggested nautical knobs and install them for a quick, updated look of your home in a cost-effective way.
About the author
Erica Silva is a blogger who loves to discover and explore the world around her. She writes on everything from marketing to technology. She enjoys sharing her discoveries and experiences with readers and believes her blogs can make the world a better place.
Find her on Twitter: @ericadsilva1
Tell us your story
Would you like to write for nichemarket just like Erica has? Find out how to submit a guest post, and when you're ready, you can contact us.
Are you looking to promote your business?
South African construction or renovation businesses can create your free business listing on nichemarket. The more information you provide about your business, the easier it will be for your customers to find you online.
Registering with nichemarket is easy; all you will need to do is head over to our sign up form and follow the instructions. If you require a more detailed guide on how to create your profile or your listing, then we highly recommend you check out the following articles.
Recommended reading
If you enjoyed this post and have time to spare, why not check out these related posts and dive deeper down the rabbit hole that is decor and interior design.
Tags: Home Renovation, Guest Post
You might also like
3 Steps For Your Company To Go Paperless
How to take the steps to reduce your businesses dependency on paper, maintain your operations in a digital world and become a greener and leaner oper...
Read more
7 Ways To Build Wellness Into Your Work Day
Work can take a toll on your mental health, while it is an integral part of how we make a living, it should not be the reason for destroying yourself...
Read more