The Proudly South African 30 Day Challenge
South African's have had a tough time of it lately, if its not state capture, water shortages, listeriosis outbreaks, load shedding and lockdown then it's our sports teams choking at the last moment. We've been through it all, and at times, we tend to forget the lighter side of being South African. This challenge is designed to get us to remember the lighter side of life, like those old Opel Corsa ads from back in the day, remember those?
If you're stuck at home and want to reduce the social distance a bit without breaking PPE protocal, then why not take on the challenge with your friends and family. Be a sport and tag us in your answers on social media, we'd love to see all of them :)
Have fun, and stay safe!
How does the "30-day challenge" work?
You can start on any of the month, doesn't have to be the first, the moment you find the challenge, get tagged in it is the day you start with day 1.
Share the link to the post on any of your social media, Facebook, Twitter, Instagram, Pinterest or your WhatsApp.
The best way to play is to each day to share the post with your answer of the day.
Tag your friends and family and get them to join with your daily submission
If you mention a business or celebrity account make sure you tag them too
Use the hashtags
#nichemarket
#proudlysouthafrican
#proudlysouthafricanchallenge
Example
If you're still unsure, here's an example you can copy and paste into your social media each day with your challenge submission
Day 1: of the 30 day #proudlysouthafricanchallenge
A place in South Africa you've always wanted to visit
The Kruger National Park
Join the challenge - https://bit.ly/3elkYUF
#nichemarket #proudlysouthafrican
---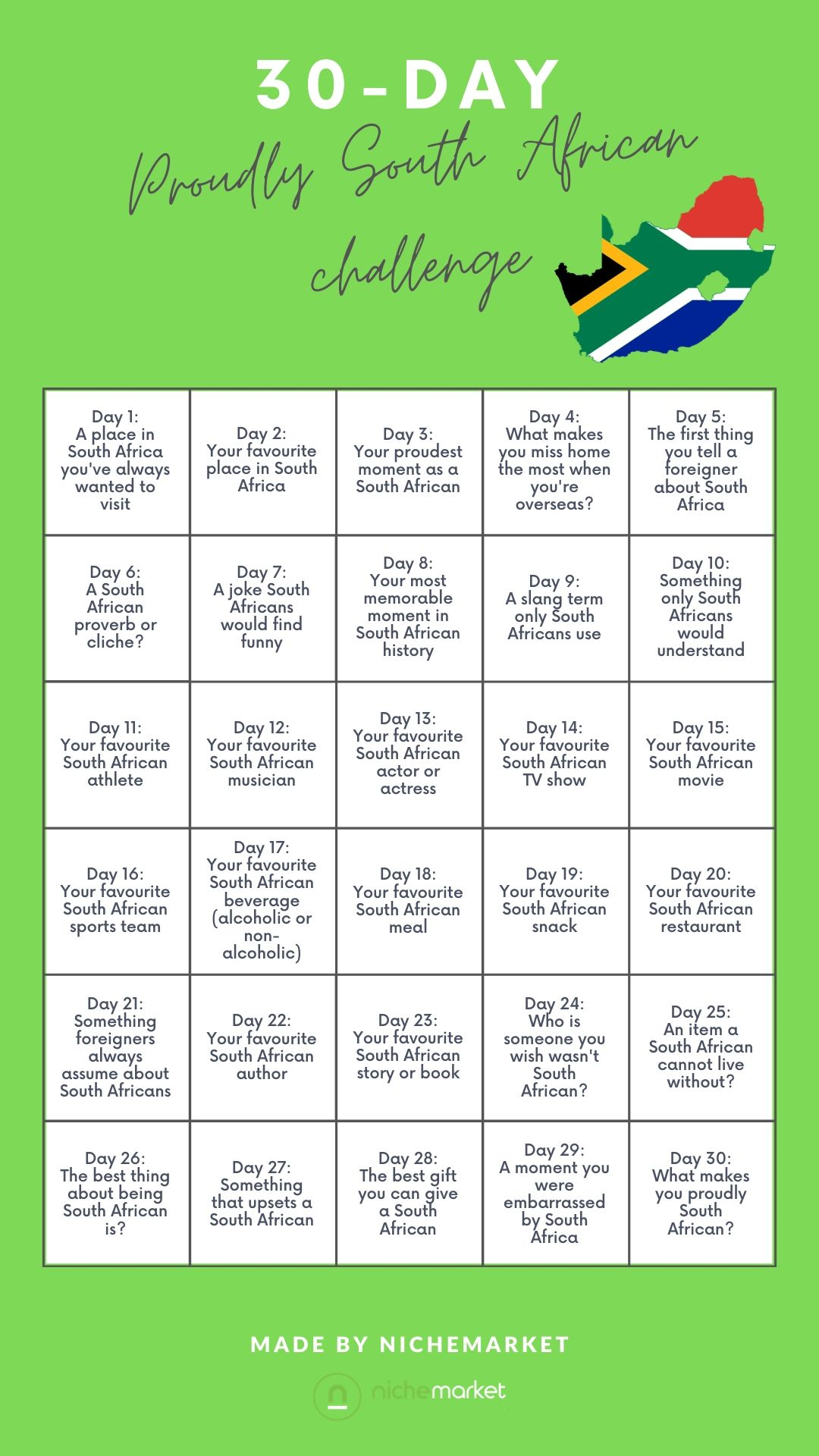 ---
The proudly South African 30-day challenge
A place in South Africa you've always wanted to visit
Your favourite place in South Africa
Your proudest moment as a South African
What makes you miss home the most when you're overseas?
The first thing you tell a foreigner about South Africa
---
A South African proverb or cliche?
A joke South Africans would find funny
Your most memorable moment in South African history
A slang term only South Africans use
Something only South Africans would understand
---
Your favourite South African athlete
Your favourite South African musician
Your favourite South African actor or actress
Your favourite South African TV show
Your favourite South African movie
---
Your favourite South African sports team
Your favourite South African beverage (alcoholic or non-alcoholic)
Your favourite South African meal
Your favourite South African snack
Your favourite South African restaurant
---
Something foreigners always assume about South Africans
Your favourite South African author
Your favourite South African story or book
Who is someone you wish wasn't South African?
An item a South African cannot live without?
---
The best thing about being South African is?
Something that upsets a South African
The best gift you can give a South African
A moment you were embarrassed by South Africa
What makes you proudly South African?
---
We'd love to hear from you
Did you enjoy the challenge? Would you like more of these? Let us know in the comments section down below
Get started with nichemarket
Do you own a South African business? Join our growing community. Registering with nichemarket is easy, all you will need to do is head over to our sign up form and follow the instructions. If you require a more detailed guide on how to create your profile or your listing, then we highly recommend you check out the following articles.
Recommended reading
If you enjoyed this post and you have time to spare, then why not dive deeper down the rabbit hole and check out the following posts:
---
Header image source: Flowcomm - Flicker
You might also like
DALL-E: Image Generation By Description
The Open AI developments will soon make it possible to create images en masse by describing them verbally, which will open up a host of new applicati...
Read more
3 Steps For Your Company To Go Paperless
How to take the steps to reduce your businesses dependency on paper, maintain your operations in a digital world and become a greener and leaner oper...
Read more