How to build a loyal audience for your fashion brand
How to build a loyal audience for your fashion brand At the heart of every marketing strategy, there's one question: What makes your brand special?
The good news is that fashion labels and clothing brands have a head start on answering this question. People use their fashion choices to express their personality, identity and style; so by default, shoppers are already looking for ways to identify with your brand. So that's what makes your brand special: You help people to express themselves!
In today's post, we'll look at how to make that superpower part of your marketing strategy. Here's how to build a loyal audience that identifies with your fashion brand, through social media, user-generated content, and exclusive treats for your most faithful customers.
The 6 big benefits of social media
Most marketing articles in 2019 - including this one! - start with social media. But why? What are the benefits? Let's take a look at the top 6 ways to use social media for your fashion brand.
Brand awareness
First of all, social media is about getting your brand name out there. And it's more than just creating a profile on Facebook and waiting for customers to turn up.
You need to find the networks where your target audience hangs out. For many clothing brands, that means Instagram and YouTube. Keep your profile up to date with regular posts and Stories, and make an effort to connect with relevant brands and influencers.
Don't be afraid to get involved with current memes and trends - just make sure you do your research first so that you don't misinterpret the joke. Creating funny, shareable posts is a great way to get more followers and spread your brand across the internet.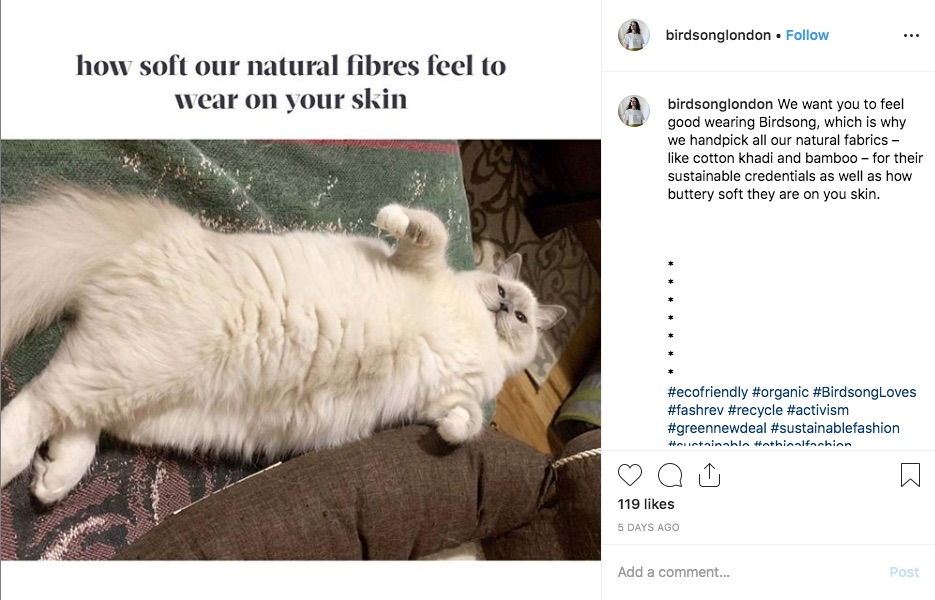 Product awareness
Social media is a fashion marketer's dream. Instead of just sharing text or static images, you can use up-to-date photos and videos of your products in action. That's especially true for social networks like YouTube, where unboxing, hauls and product tests have become a popular video genre.
Posting about your products has a double effect of raising brand and product awareness at the same time. You can offer detailed product info, and use feedback from shoppers on what they want to see. (More about feedback in a second.)
Take this example from ethical clothing brand Silkfred. Once a week, they ask followers to send in their fashion dilemmas - then post videos to recommend outfits for each situation.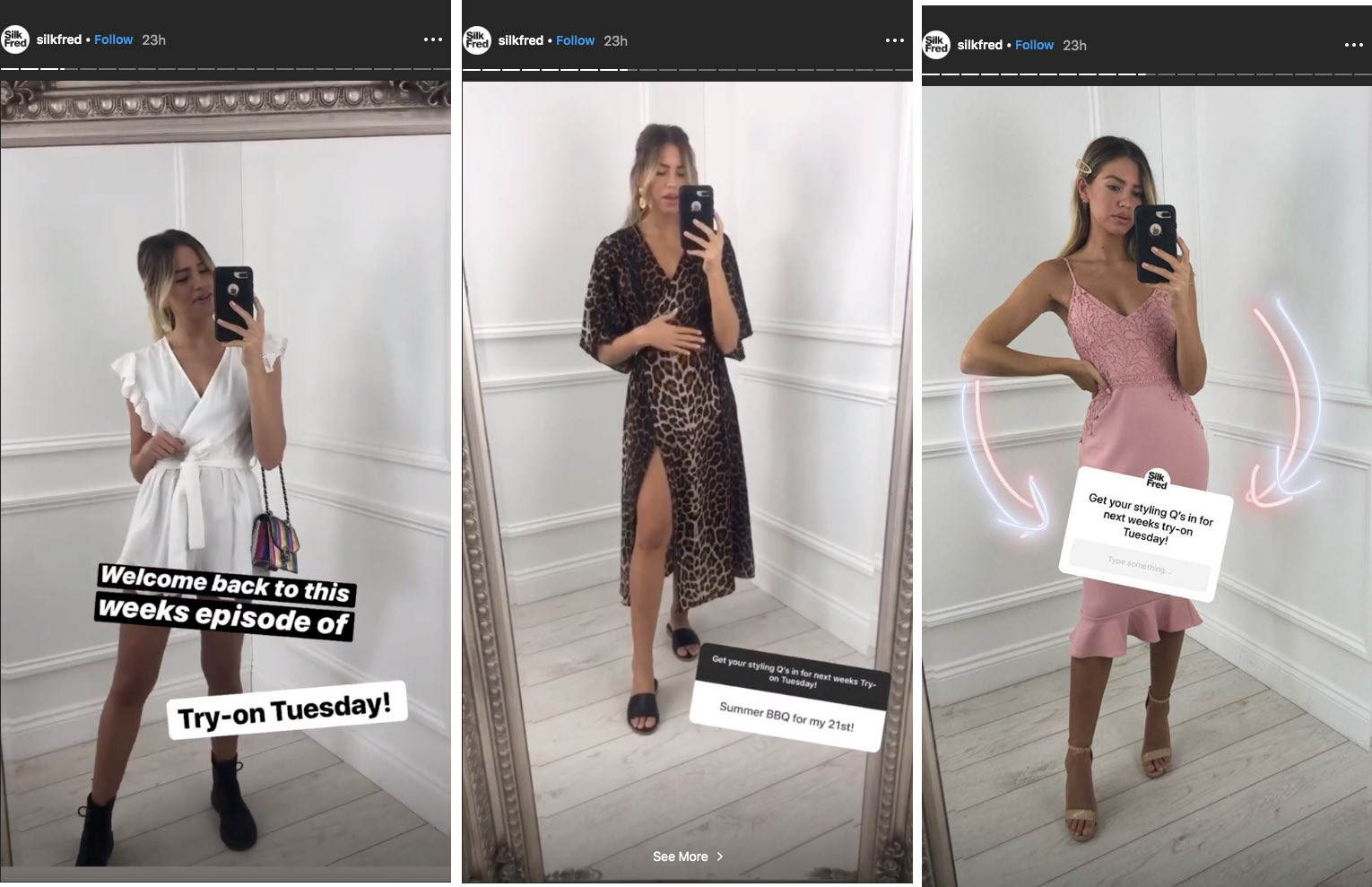 Customer insights
Use your social media profiles to learn more about your target market. Most social networks offer audience analytics, including statistics like your average follower's gender, age, location, and interests. You can also use site-specific insights - like peak engagement times or most popular content types - to keep refining and strengthening your social media strategy over time.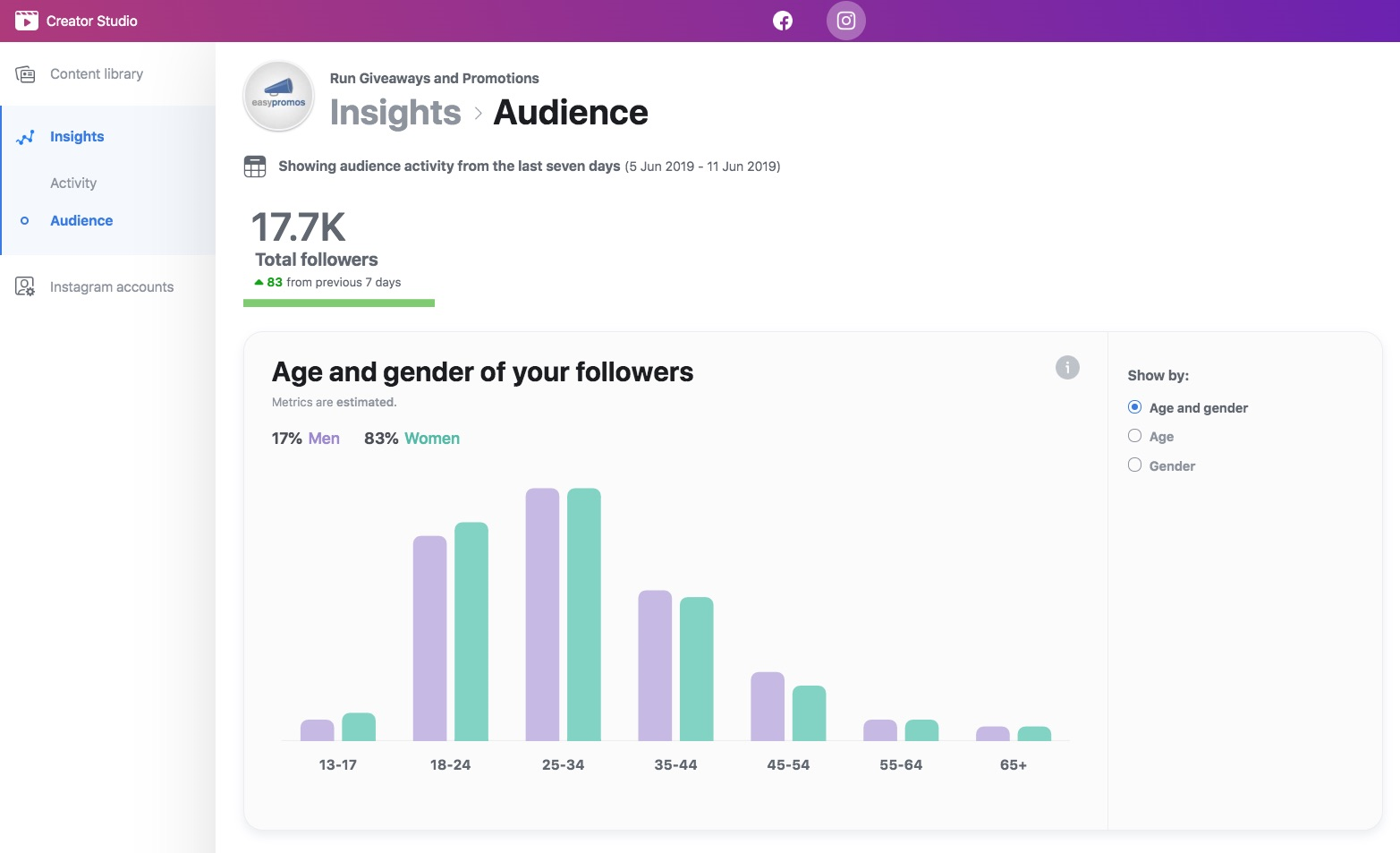 Customer feedback
Social media has changed the game for retailers by enabling instant, public feedback. If someone loves your product? They'll tell you, and all their friends! But if someone hates your product? Yep… they'll tell you, and all their friends.
So it's important to be on top of your replies, mentions, and messages. Check in on all your social profiles at least once a day so that you can respond to feedback. If you're really smart, you can also use that feedback to plan future marketing campaigns and even products.
Customer service
It's not just about getting feedback - social media is a powerful tool for customer service, too. In 2019, over 80% of customers use social media to ask for help from brands, instead of calling, emailing, or visiting the store.
So once again, you need to keep an eye on all your messages and comments. You'd be surprised at how often people will use totally unrelated posts to ask customer service questions.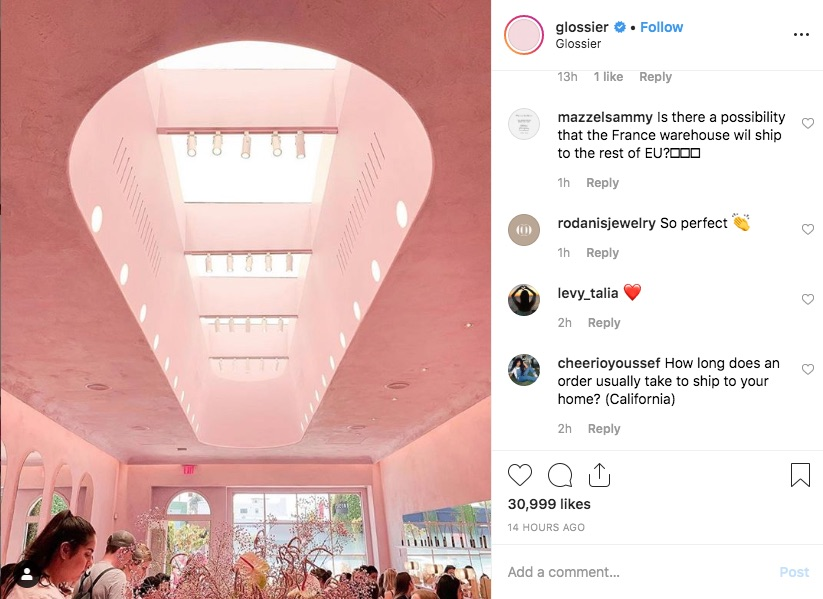 User-generated content
Finally, the secret weapon of social media. It's the best part. All those customers who are chatting, posting, and wearing your clothes in photos online? They're creating free marketing content for you.
All you need is a way to collect and re-use that content. That's why it's worth creating a hashtag for your brand - so whenever someone posts about you, you can instantly find their photos.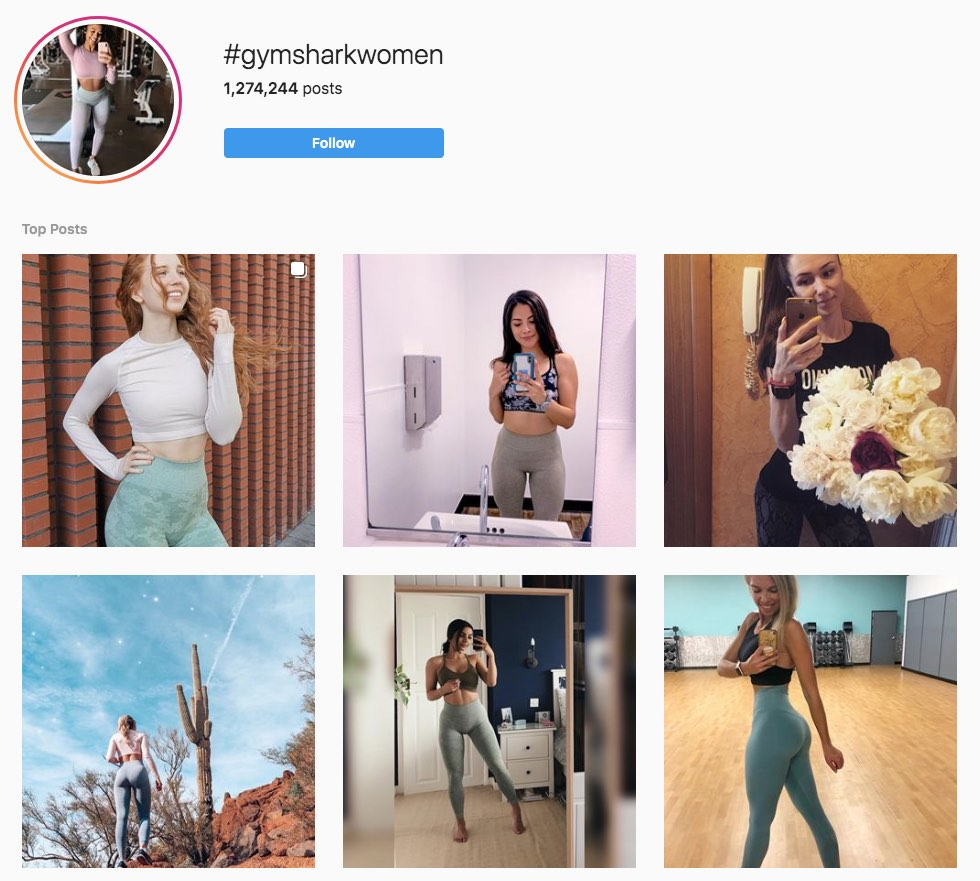 If you plan on using user-generated content in a big way, then you can set up more formal methods to collect photos, too.
For example, you could run an open call to recruit models or influencers, like ModCloth did: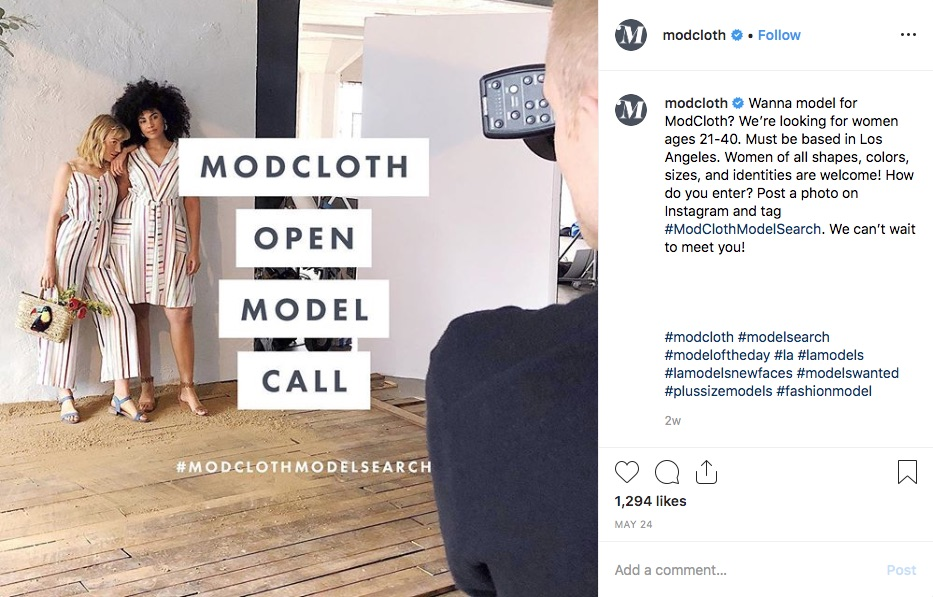 Or you could create an Instagram photo contest, which collects followers' photos and gets legal permission to use them in your advertising campaigns: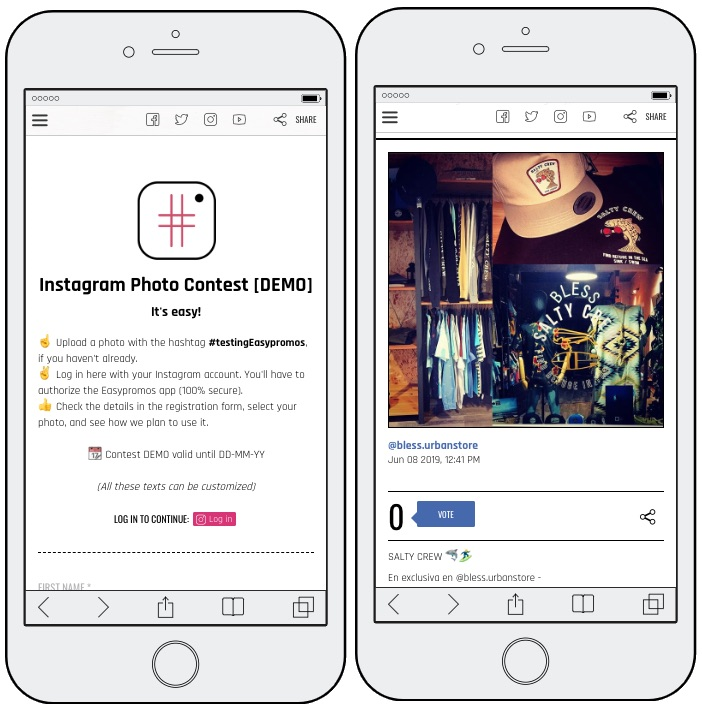 Be aware that every social network has its own style, and consumers use different networks for different reasons. For example, Instagram is the best place for user-generated content, while people use Facebook to share reviews and check your website details or opening hours. Experiment with a range of social media, and then focus your strategy on the networks which give you the best return on your investment.
Social media does offer a huge range of benefits for fashion brands. At the same time, I don't recommend limiting your marketing strategy to Facebook or Instagram alone. Social networks are great for finding new customers and staying in touch, but they are only the beginning of your marketing strategy.
When it comes to converting followers into paying customers, you'll need to supplement social media with other forms of communication, like email lists and in-store campaigns. Speaking of which...
Start an email list to build relationships with your customers
There are so many different ways you can use email contacts. Start off by welcoming new subscribers: tell them about your product, how often you'll be in touch, and thank them for signing up. An introductory discount goes a long way towards boosting sales, too!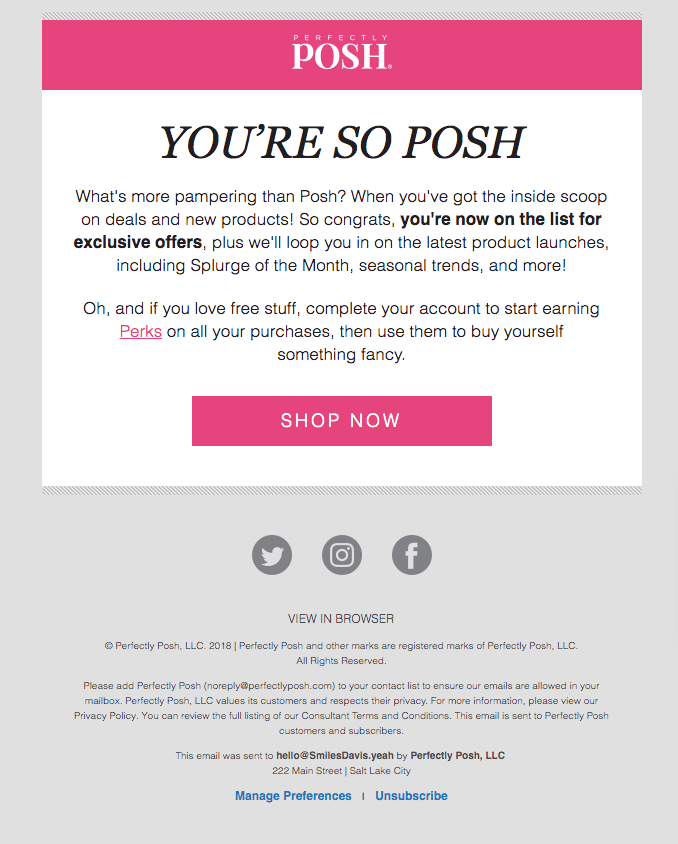 Over time, you can nurture your email contacts and convert them into content, repeat customers. Make them feel like part of a special insider group by offering exclusive discounts, early access to new products, and peeks behind the scenes at your business.
However, there's one question we haven't answered yet: how do you get people to sign up for emails? Answer: you need to demonstrate the value of your email newsletter.
One popular method is to install an email sign-up form on your website. As soon as customers visit your store, they're offered an exclusive discount in exchange for their email address.
But what about followers on social media? To get them out of the walled garden, you might need a bit more of an incentive. One highly effective strategy is to create a registration form with a prize. When people sign up, they get the chance to win one of your products, or some kind of treat. You only have to give out the prize once - but lots of people will sign up to try their luck.
Create a personalized experience for every customer
Once you're in touch with your customers via email and social media, you'll be able to personalize their experience with your brand. Take all the information that they share with you, and use it to share content, offers, and emails which are tailored for each individual shopper.
Take this example from Uniqlo. They used online tracking to figure out when a customer wanted to buy something, but the product was out of stock. Then they followed up with an email as soon as the product became available. So their customer felt seen and appreciated - and Uniqlo didn't miss out on a sale.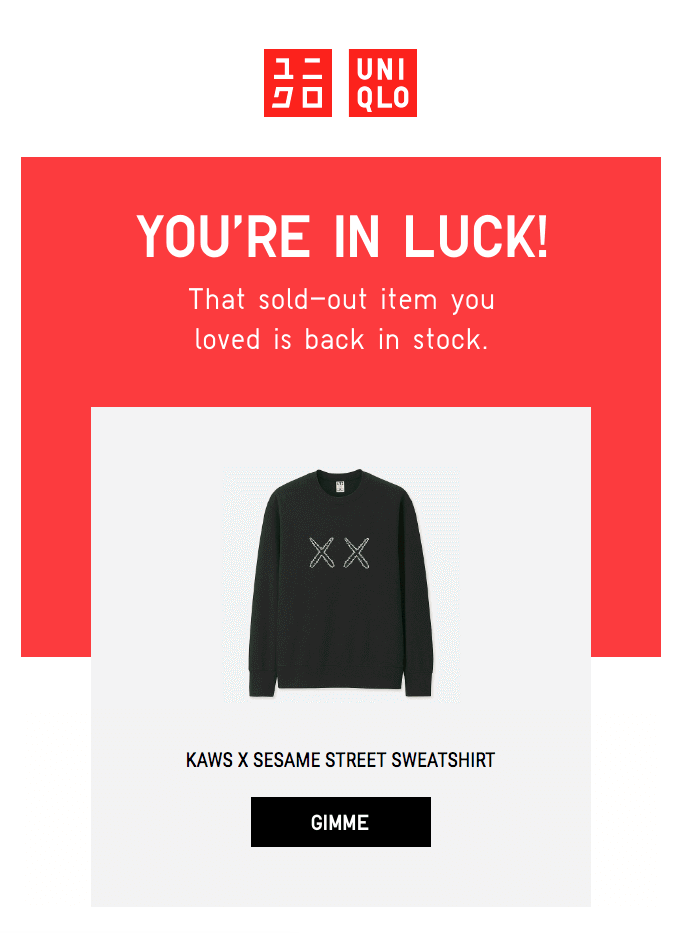 If you want to get even more info from your customers - or you need more product-specific details - then you could create a customer survey. Share the link on social media to learn more about your target audience in general, or restrict the survey to your email subscribers to hear from your most dedicated customers.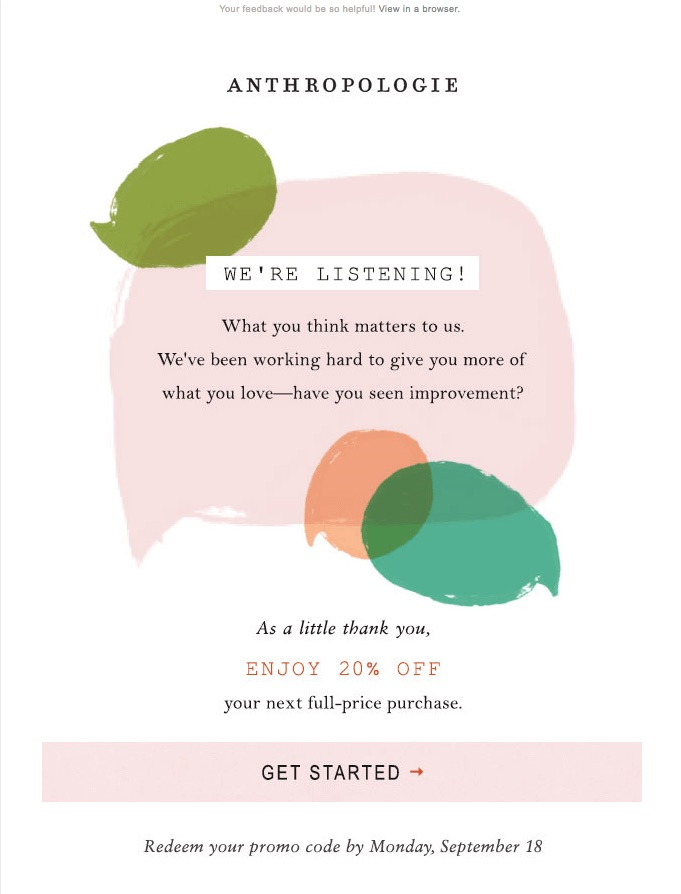 Just remember that every time you ask for something from your customers - engagement, email addresses, feedback - you need to offer something in return. It doesn't have to be something big, but it does have to be something that your customers value. A small discount or free product sample will go a long way.
Keeping that balance between asking and offering is the key to a healthy and thriving community, where your customers feel valued and rewarded. And happy customers are repeat customers!
About the author
Corinna Keefe is part of the Easypromos team, helping brands to reach a bigger audience and get more leads. She has lived in 10 different countries and speaks several languages; her goal is to share information and help people communicate all over the world. She holds a Masters degree from the University of Cambridge, has written for Social Media Examiner and the British Council, and produced numerous ebooks and marketing guides.
Tell us your story
Would you like to write for nichemarket just like Corinna has? Find out how to submit a guest post and when you're ready, you can contact us.
Are you looking to promote your business?
South African fashion businesses and freelancers can create your free business listing on nichemarket. The more information you provide about your business, the easier it will be for your customers to find you online.
Registering with nichemarket is easy; all you will need to do is head over to our sign up form and follow the instructions. If you require a more detailed guide on how to create your profile or your listing, then we highly recommend you check out the following articles.
Recommended reading
If you enjoyed this post and have time to spare why not check out these related posts and dive deeper down the rabbit hole that is building a fashion business.
Tags: Fashion, Marketing , Guest Post
You might also like
5 Amazing Outdoor Adventures in Hawaii
If you are keen on exploring the islands of Hawaii and looking to get the most out of your time there, then here are some awesome adventures to try d...
Read more
Why Curators Are Starting To Outperform Influencers
A look at the rise of curation accounts on social media and why I think it will become a more valuable service to brands and consumers than influence...
Read more