How To Write Social Media Captions that Spark Engagement
Great visual content is arguably the most effective type of content when it comes to catching audience attention on social platforms. However, using high-quality photos and videos on your social media posts is not enough. You need to complement the visuals with powerful captions that persuade your audience to take action.
A good caption provides context for the image or video used, inspires your audience, and showcases your brand personality. Read on to learn more about how to write social media captions that spark engagement.
1. Create captions that showcase your intention
Every time you write a caption, think about what you intend to achieve using the post. The kind of caption you create should be inspired by what you're trying to do.
For instance, you might be looking to connect with your audience, market a service, showcase brand authority, or inspire a specific action. Ensuring your caption demonstrates the exact context of your posts is the first step towards creating interesting and engaging captions.
If you're marketing a beauty product, you can start by sharing the value of the product and letting the target audience know how it can help them.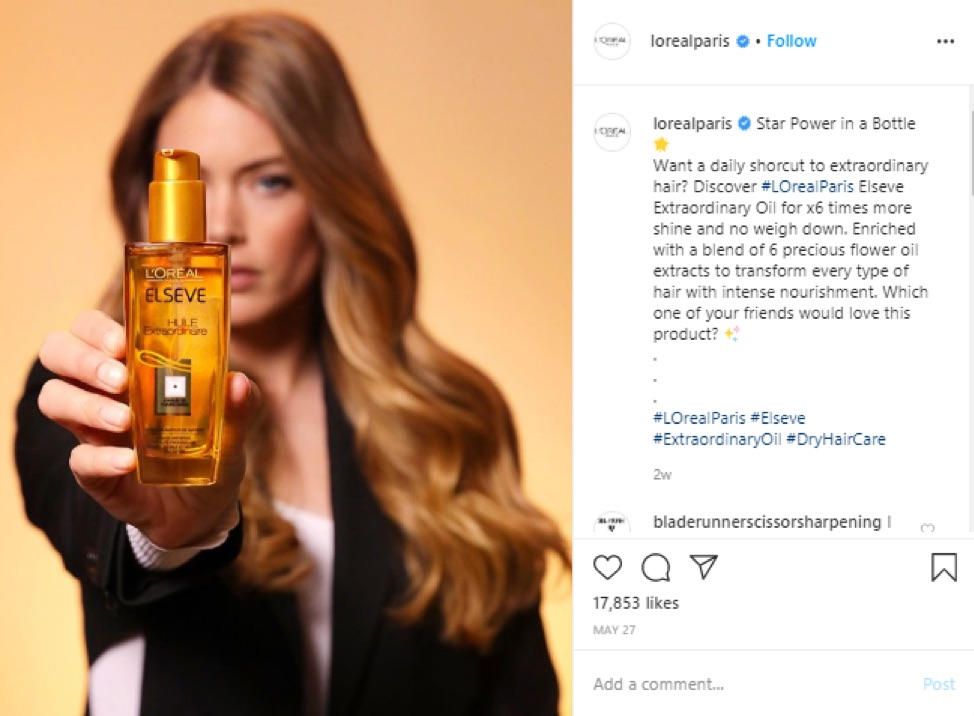 Have a focused intention for your post
2. Begin with the key message
Social media platforms such as Instagram and Facebook only show users the first few words of a caption. Therefore, to create a good caption, you should put the most important information at the beginning of the caption.
Starting with the key message catches the audience's eyes and encourages them to hit the "show more" button so that they can read the entire caption. The main aim is to pique interest and entice the audience to keep reading through your posts.
However, in the event that someone does not read the entire post, making your first part of the caption super-engaging will give them a basic understanding of the images or videos.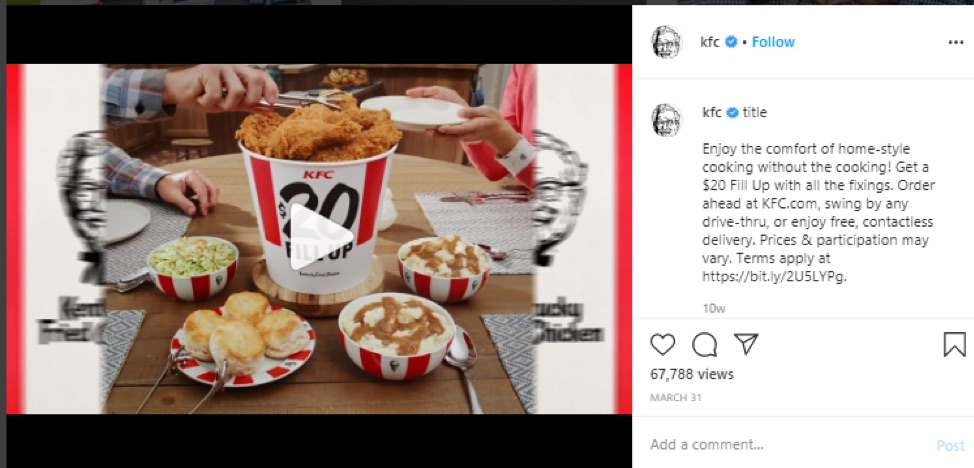 Figure out your key message
3. Engage your audience
As you write your caption, it is important to keep in mind the kind of audience that already views your posts as well as those you'd like to attract. You want your captions to build a connection with the readers and inspire them to take action.
So, consider their age, gender, location, occupation, and any other information that describes your target persona. When you understand the target audience, ask questions that resonate with them in your questions. You can also ask them to share their thoughts or experiences. This way, it will be easier to create captions that boost engagement.
Another way of encouraging engagement is framing captions that push the audience to comment. For instance, you can use the "caption this photo" strategy to push for engagement as clients share their experiences. Here is an example caption that encourages the target audience to comment.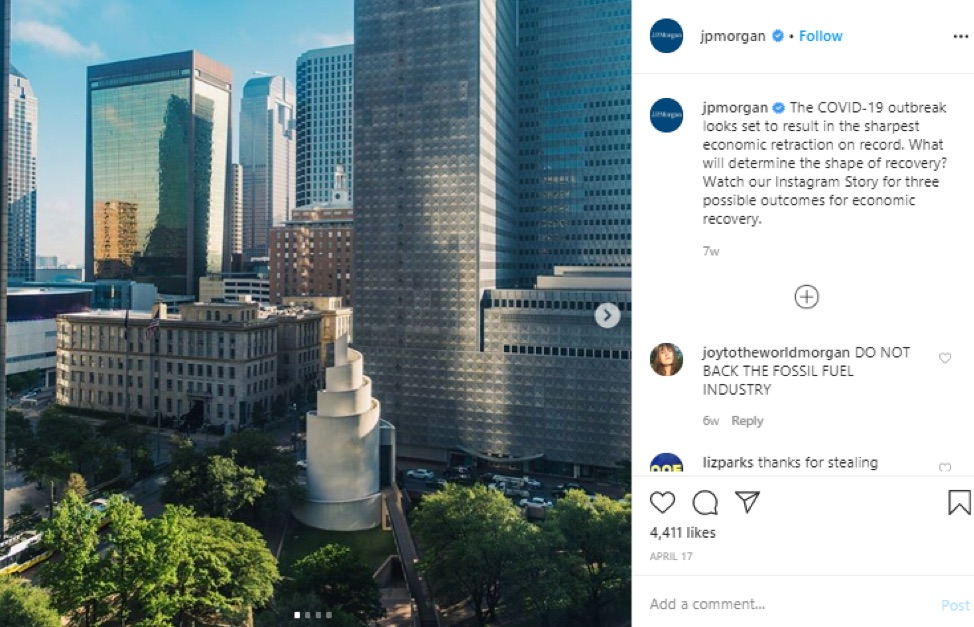 Engage with users in comments
4. Keep it brief
While it is common to come across long captions on social media, it is the short ones that spark the most engagement. Do not write long paragraphs in your caption. It looks uninviting, and most readers won't bother reading them. Instead, keep your captions short and succinct.
As mentioned, social media users only see the first words of the caption in your feed. You should not take readers out of the flow by forcing them to scroll through lengthy captions.
Keeping the captions short might not be a problem for those accustomed to posting on Twitter, thanks to their character restrictions. However, Facebook and Instagram and LinkedIn users might need to do some practise on how to give readers contextual information in the shortest time possible.
5. Add a relevant call-to-action
A powerful caption should have a clear call-to-action. You want the target audience to take the desired action, so ask them to click on a link on your bio or check a blog post. A call-to-action could also be asking the audience to comment on your posts, share their experiences or try out a product on offer.
In the example below, Apple TV adds a call-to-action asking the reader to watch Helpsters on the Apple TV app.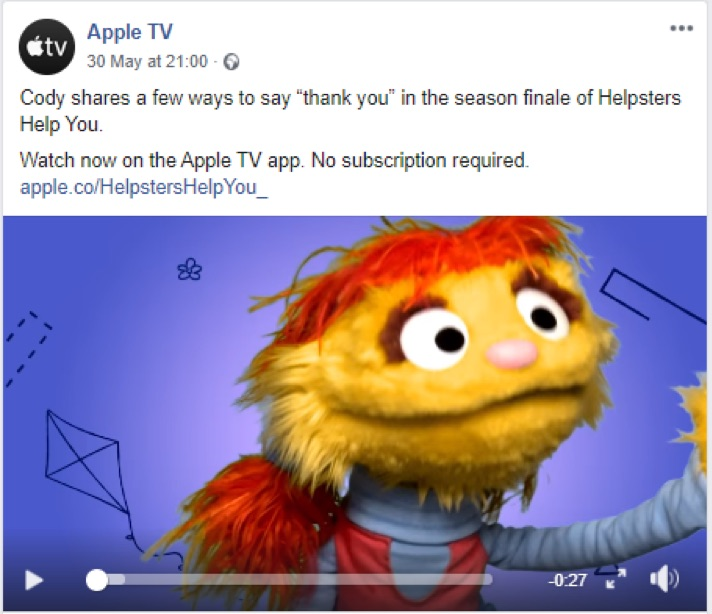 Use a strong call to action
Including a call-to-action in your captions is a great way of driving traffic to your blog or website.
6. Use hashtags wisely
Hashtags are very effective for increasing organic reach and attracting new audiences on social media. Apart from increasing the chances of your content being seen, they help you jump on the bandwagon of trending conversations.
The best way of using hashtags is by placing them in the middle of your caption and at the end. Additionally, ensure they are relevant to ensure your posts do not look spammy.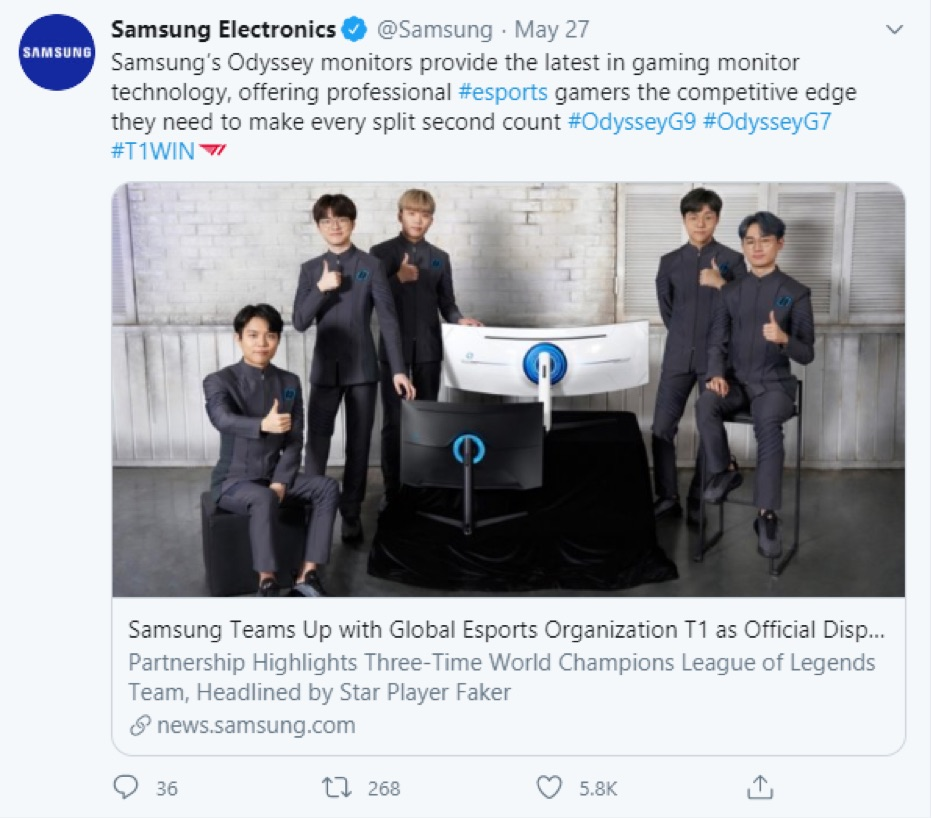 Use relevant hashtags and don't hashspam
7. Use emojis
The use of emojis on social media has increased significantly over the past decade.
A study by Quinty shows that posts with emojis have a 43% higher engagement rate than those without emojis. When writing captions, you can add emojis to highlight the mood in your post, show your brand personality, or break up long texts in your caption.
This makes your captions more appealing and interesting, so there's a decent chance that more users will engage with your posts. So, use emojis and liven up your captions.
8. Use the 'mention' function
If your post features another page or social media user, it is important to tag them using the mention feature. Mentioning other users in your posts is a great way to encourage engagement and increase your reach. Most people often share posts they are tagged in, which means your content will end up appearing on their profile and their followers' feed.
If a social media user is mentioned in a tweet, chances are that they will retweet your post, which in turn adds an interesting touch to your post.
Use the mention feature on social media and @ other accounts
The same should apply to quotes from other users or information from other brands. There's no harm in making things personal by mentioning all parties that feature in the post.
Worth a mention is that it is important to maintain a consistent caption style that uniquely reflects your brand's character. Additionally, keep the style of communication relaxed, add some sense of humour, and do not forget to check grammar and spelling in your captions.
Conclusion
If you follow the above tips when writing the caption, you can be sure to get more engagement on your image and video content. However, like in any other social media marketing strategy, remember consistency is key. You might not see the results at first, but doing things the right way will finally pay off.
Protip! If you enjoyed this post check out these tips on sparking engagement with content marketing.
About the author
Adela Belin is a content marketer and blogger at Writers Per Hour. She is passionate about sharing stories with the hope to make a difference in people's lives and contribute to their personal and professional growth. Find her on Twitter and LinkedIn.
Tell us your story
Would you like to write for nichemarket just like Adela has? Find out how to submit a guest post and when you're ready, you can contact us.
Contact us

If you would like us to improve the advertising for your site or want to know more about digital marketing for your business, then don't be shy we're happy to assist. Simply contact us
Are you looking to promote your business?
South African Business owners can create your free business listing on nichemarket. The more information you provide about your business, the easier it will be for your customers to find you online. Registering with nichemarket is easy; all you will need to do is head over to our sign up form and follow the instructions.
If you require a more detailed guide on how to create your profile or your listing, then we highly recommend you check out the following articles.
Recommended reading
If you enjoyed this post and have a little extra time to dive deeper down the rabbit hole, why not check out the following posts on social media marketing.
Tags: Social Media, Guest Post
You might also like
What Are The Major Categories of Blockchain?
We take a deep dive into the six major categories of digital assets available and why they have these different characteristics and how they are used...
Read more
10 Elements of Successful Content Marketing Strategy
A review of the top 10 elements you need to incorporate into your current and future content marketing strategies if you want to take this channel se...
Read more