Does Web Design Affect Your Bottom Line?
While working with my clients, I have seen that there are two distinct camps when it comes to picking the perfect website design. Some prefer a simple website with minimal design features, while others opt for a more attractive design with highly personalised features. Both types of clients will have a website that represents their brand but which one of the two will impact their bottom line the most?
If you picked the simple web design style, then you are right, and if you chose the more detailed one, then you are also correct. You see, both web design styles make money for my clients because good design is good business, mainly because I give my clients websites that their user wants to interact with and drive conversions.
In essence, the question isn't if web design can make money, it is instead will it make money. You see, the excellent design remains good business but only when you take the time to understand your industry, your competitors and your user's preferences.
In this post, I'll be addressing the common questions you should ask yourself to determine whether or not your web design is making you money only by giving you an outside-in perspective as to what users see as good web design.
Question 1: How can I improve my website's credibility?
When building a brand and communicating it through your website, it is essential to infuse credibility into the DNA of your website as visitors only become customers when they trust the brand enough to do business with them. According to usability.gov, they have outlined research-based guidelines that you can do to boost your website's credibility, which include:
Provide a useful set of FAQ and answers;
Arrange the web design logically;
Use references in your blogs;
Ensure the site looks professionally designed;
Ensure the site is as up-to-date as possible;
Provide links to outside sources and materials and
Ensure the website is frequently linked to by other credible sites.
Question 2: How important is an uncluttered design?
Whether or not your web design style is simple or detailed, it should always remain uncluttered.
The two website examples below sell the same products, but each has a very distinct website design. The one on the left provides visitors with a very cluttered and messy style where they will have trouble navigating through the site and more often than not leave to find a solution elsewhere, such as on a competitor's website. Whereas, the example of the right, offers a clean and user-friendly web design that allows visitors to find solutions effortlessly.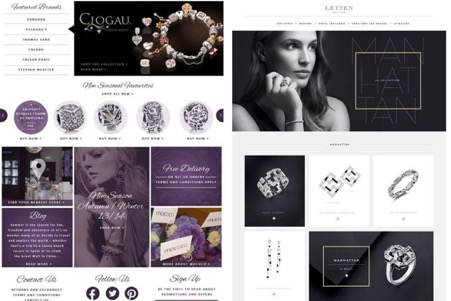 Ask yourself which of the two websites above would you prefer to visit? Which one vibrates with credibility? Which one makes you feel like they know what they're doing? If you are like most website visitors, I'm hoping you picked the uncluttered option as research shows that uncluttered web design is the money-maker for businesses.
Question 3: Is white space important?
As a website designer, I love white space, but most of the time, my clients don't, and they want to fill it. White space is often regarded as a waste of valuable screen space, but your visitors crave it as it gives them a chance to breathe while navigating your website.
When done correctly, white space reduces the bounce rate on your website and in turn, increases the number of time visitors spends on your site. In that way, it gives your brand more time to interact with the visitors and increasing the likelihood that they become paying customers.
Is your site's design providing enough white space to your visitors where they can take in the web site's content without feeling overwhelmed?
If this is the case, you need to subtlety and strategically add white space into the macro and microelements of your web design.
Question 4: Is helping visitors compare items important?
In an age where consumers are squeezing every last cent out of their budget, it goes to reason that you can significantly increase your website's ROI by offering visitors a way to compare product prices and features directly online.
An excellent example of this would be a website that offers visitors a pricing table like the one below. This web design element makes it easier for visitors to convert into customers as they can easily compare and pick the option that speaks to their needs and wants.
This is just another way that you can add value to your visitors through good web design.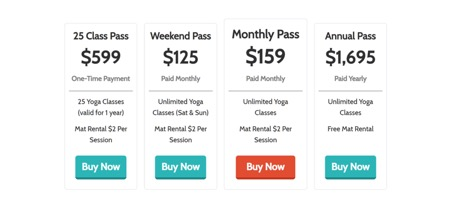 Question 5: Is having good website content important?
We know that good design is good business, but good content is a better business, and when you combine excellent design with good content, you get the best leads.
Good content is what sets your website apart from the masses, and delivers the right message into the hearts and minds of your customers. The success of your website is determined primarily by its content. Ultimately, content wins the wallets of your customers.
To ensure that you combine web design with website content, here are three tips to consider:
Hire a professional copywriter: When we design websites, we always use a copywriter or journalist who is familiar with the industry of our client. We have seen it time and time again. That good copy is more than words; it is the fuse that ignites visitors into actively supporting your business.
Use high-quality images and videos: Good content doesn't always come in the form of words but can (and should) include videos and pictures. Videos provide a great way to engage visitors and drive essential messages in an easy to digest format. Also, images such as high-quality photos, illustrations, infographics and diagrams can be used to explain difficult concepts and assist visitors in their purchase decision.
Create a professional web design: Statistics show that your website typically has between one and five seconds to retain your website visitor. This is hardly enough time to read and process any content. This is where good web design is relevant. It creates the first impression while capturing visitors' attention and motivating them to engage with written and visual content.
By taking a look at each of the above questions, you should by now have a gut feeling as to whether or your website design is making your business money. If yes, then right on you – keep up the effort, and you'll be rolling in the dough very soon.
If not, then keep on reading as it's time to get real and dive deep into improving your website with a good web design that becomes your number one bottom-line contributor.
So, Where do I start?
Well that all depends on whether you are going solo on repairing your web design or asking us to help but let's assume you're a DIY genius and need some pointers to get started.
This is what you should do:
Get the facts: Start by digging into your Google Analytics to understand your website's bounce rate, time on the site, referral traffic and exit pages. This will give you insight as to what are the issues with your site design.
Declutter your website: Identify the cluttered pages on your site and make them more eye-catching by cleverly adding white space on the micro and macro elements of the website.
Improve the layout: Create a website layout that has an improved look and feel.
To recap, here is your game plan to get a web design that starts making you money:
Must: Book a free website design audit with us to determine the quality of your web design
Should: DIY your site by using the suggestions from the website design audit;
Could: Hire a professional digital marketing agency you trust to turn your web design into the goose that keeps laying the golden eggs.
Conclusion
Ultimately you may find that decluttering your site improves your website usability and aesthetics simultaneously. Or in other cases, an improved "look" may increase the trustworthiness of your site and cause more people to do business through your website.
By combining good web design, with professionally written text and high-quality images, your visitors will connect with your website on a deeper level that ultimately helps them to buy with confidence.
If your current website design is causing you some concern, then take a second to pause and take a step back. Before you go hire a design agency to do some "beautification" work. First layout what your business goals are, implement some testing tools and a testing process and THEN contact a web designer to create a website design that contributes to your bottom line.
On a scale of one to 10, how well is your web design helping your customer buy from you with confidence?
About the author
Christina is a self-proclaimed coffee-obsessed website designer who started Eclipse Digital Marketing Agency to help businesses push harder and grow bigger. Through innovative web design, she helps build and grow businesses and brand throughout South Africa. If you would like to get in touch with her you can reach out via her website eclipsemarketing.co.za
Tell us your story
Would you like to write for nichemarket just like Christina has? Find out how to submit a guest post and when you're ready, you can contact us.
Are you looking to promote your business?
South African businesses can create your free business listing on nichemarket. The more information you provide about your business, the easier it will be for your customers to find you online.
Registering with nichemarket is easy; all you will need to do is head over to our sign up form and follow the instructions. If you require a more detailed guide on how to create your profile or your listing, then we highly recommend you check out the following articles.
Recommended reading
If you enjoyed this post and have time to spare why not check out these related posts and dive deeper down the rabbit hole that is Web Design.
Tags: Web Design, Conversion Rate Optimisation , UX, Guest Post
You might also like
3 Steps For Your Company To Go Paperless
How to take the steps to reduce your businesses dependency on paper, maintain your operations in a digital world and become a greener and leaner oper...
Read more
Why You Need Barcodes For Your South African Business
We review the benefits of having barcodes for your South African business (Big Or Small) and why you should consider having your own barcodes set up...
Read more