How To Send Cryptocurrency Tips On Twitter
Note: Updated on 13 July 2020 - Added CoinKit
Note: Updated on 05 September 2020 - Added HiveTips
---
Cryptocurrency has grown in popularity in recent years and has started to make its way into mainstream internet culture. It's no longer a tool for geeks and hackers but is beginning to be taken seriously by more people. Crypto-related content used to be refined to forums and weird corners of the internet. The technology is still in its infancy but great strides have been made in both the Bitcoin and Altcoin space to try and improve the adoption of this revolutionary new world we call blockchain.
Still, as it reaches the average user, Twitter has become one of the most popular mediums for cryptocurrency news and debates. This part of Twitter tellingly dubbed "crypto Twitter" continues to grow, and projects have taken note and realise what an essential part of the ecosystem it has become and want to leverage its power.
The tipping point for Twitter
It was only a matter of time before cryptocurrency would find practical ways of getting involved in Twitter, and the first method has to be tipping. Tipping used to be done via Tweets with people sharing their public keys via text or QR code images or setting up link trees with their various wallet addresses, and many still do this today. Still, it's not as native and userfriendly as most would like it to be or for it to gain the traction it deserves.
Since then, we've seen several projects find new innovative ways to integrate native tipping into Twitter. So far it's all been centred around the Twitter site on a desktop and using chrome extensions to get the job done.
If you're keen on earning or sending crypto via tipping on Twitter and getting more involved in crypto Twitter, then these five options should be integrated into your current browser and connected to your Twitter account.
1. Tippin - Tip with Bitcoin
I had to start with the King of crypto, and that would be Bitcoin, the coin that everyone has heard about and is most peoples jumping off point when getting into cryptocurrency. Bitcoin may seem impractical to tip these days with the cost of transactions and slow transaction times, but with the help of the lightning network, you can send and receive bitcoin instantly at a fraction of the cost.
To leverage the Bitcoin lightning network and start to send and receive tips on Twitter, you can pick up the app called Tippin. Tippin is a chrome extension that can be installed in either your Chrome, Brave or CryptoTab browser (all built on Chromium) and once you've connected your Twitter account, you can start to receive or send tips in Bitcoin.
Note: To start tipping, you will need to send regular Bitcoin to the Tippin wallet, and it will be held for you in its lightning wallet.
2. Goseedit - Tip with Tron, TRX Tokens, XRP, RDD & Nano
Tipping in tokens has been going for some time with telegram and discord bots for some of these currencies, but nothing available for Twitter until now. GoSeedit is the first project that allows you to tip in multiple currencies form different blockchains. Users of GoSeedit can send and receive crypto via Twitter using currencies like TRON, XRP, Reddcoin and Nano.
To start sending or receiving tips all you would need to do is log in to GoSeed it, connect and authorise your Twitter account, and you're done.
Once you have your wallet ready, you can send a tip by replying to a twitter message in the following format: +(amount) @goseedit for example, +20 @goseedit
Another option is to tip directly using the twitter handle of the user you want to tip. The format is as follows: @(username) +(amount) @goseedit for example, @John +20 @goseedit
3. Brave Browser - Tip with BAT
Brave Browser has been a popular option for many crypto users and those stick of being tracked or want to reduce the amounts of ads they see online. Regardless of your reasons for using Brave, you can still receive tips or hand out tips in its native BAT (Basic Attention Token) on Twitter. BAT can be earned using the Brave Browser for ads you view, or you can top up your account with BAT if you would like to tip Twitter users.
The Brave Browser has a built-in wallet but can also be connected with 3rd party wallets like Metamask and Uphold.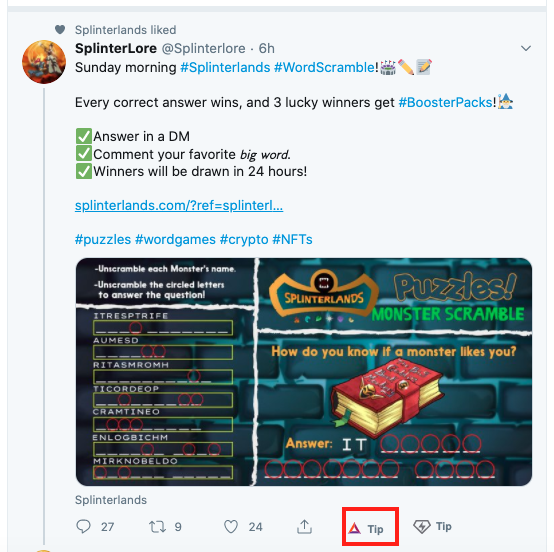 Tipping on Twitter with Brave & BAT
To start tipping once you've installed Brave, login to your Twitter and you'll see a BAT tipping icon under any tweet.
4. Aeternity Superhero Wallet - Tip with AE
Aeternity is an altcoin that has had some hype upon release but has yet to peg down a solid use case; it recently launched its Superman wallet available as a chrome extension and on IOS and Android devices. It allows you to create a simple handle and connect it to your Twitter and receive cryptocurrency tips via the social media platform.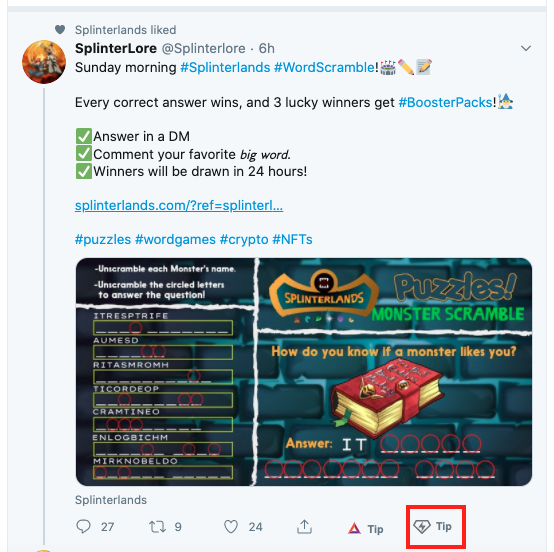 Tipping on Twitter with Superhero Wallet and Aeternity
To get the superhero wallet working on Twitter, all you would need to do is install the extension and set up the wallet. Once installed, you can receive tips on every tweet or hand them out tips with the tipping button available on Twitter.
5. Snax Wallet - Tip with Snax
Snax is a blockchain that is designed for the social experience in mind; its native chain encourages interconnectivity with various social media platforms. Snax currently supports both Twitter and the STEEM blockchain and evaluates a users interaction value on the chain and then rewards users with Snax tokens based on their distribution model.
Snax was created for people to receive rewards for their social activity (tweets, Instagram posts, and so on) and to make instant free micropayments without leaving their favourite social platform. Developers can use Snax blockchain to create decentralized social applications (social dApps).
The cool thing about Snax is that you earn it for Twitter use, so you don't have to put yourself out of pocket to tip users. As you earn tokens, you can tip them as you like. All you will need to do is install a Snax plugin, set up a wallet and connect your Twitter account.
Once that's set up you'll get daily rewards in Snax, and you're able to send Snax to any Twitter handle.
6. CoinKit
Coinkit.de can be set up to run multiple coins in a wallet from Bitcoin, Ark and Dogecoin to many more. It can be connected to your Twitter as well as other platforms and allows you to tip with the use of a simple command in your Tweet. You would call the bot, state the coin you want to tip in and the amount and the bot will send through the transaction.
7. HIVE tips
HIVE tips is a chrome extension which means it's compatible with chromium-based browsers such a Brave and CryptoTab Brower. Once installed you will need to sync your HIVE wallet as well as your Twitter, Gmail or YouTube should you want to tip on these platforms. Once connected you will be able to directly tip on HIVE front ends as well as the three external sites mentioned previously. Users can tip between 1 and 10 HIVE and the tips are sent directly to your HIVE wallet as if it were a normal transaction.
The extension also adds tipping buttons to front ends like Twitter to make it easier to tip users for their content.
Get tipping on Twitter
There you have it, five excellent ways to start turning your Twitter account into a tip jar and getting deeper involved in the crypto Twittersphere. The tech may not be as polished as we all would like, but its a solid step in the right direction. One thing is for sure, is that tipping apps are here to stay and they're only going to get better with time.
Crypto tipping may not be the method that gets you rich, but we can all appreciate a few extra bucks sent our way for a tweet or meme or two, am I right?
Have you been tipping users on Twitter with crypto? Have you received a tup in the past? Which token to do you prefer tipping with and why? Let us know in the comments section down below.
Contact us
If you would like to know more about digital assets or would like to market your digital asset company or how to set it up for your business, then don't be shy we're happy to assist. Simply contact us
Are you looking to promote your business?
South African finance business owners can create your free business listing on nichemarket. The more information you provide about your business, the easier it will be for your customers to find you online. Registering with nichemarket is easy; all you will need to do is head over to our sign up form and follow the instructions.
If you require a more detailed guide on how to create your profile or your listing, then we highly recommend you check out the following articles.
Recommended reading
If you enjoyed this post and have a little extra time to dive deeper down the rabbit hole, why not check out the following posts on cryptocurrency and blockchain.
---
Disclaimer: This article should not be taken as, and is not intended to provide any investment advice and is for educational purposes only. As of the time posting the writers may or may not have holdings in some of the coins or tokens they cover. Please conduct your own thorough research before investing in any cryptocurrency as all investments contain risk.
You might also like
5 Beginners Tips For Hosting International Corporate Events
A look at the aspects you should consider most important when planning your first corporate event, retreat or conference and ensure it is a massive s...
Read more