How To Create A Google My Business Listing Without A Physical Location
Local businesses often have it tough getting recognition on Google search results pages especially when you don't have the cash to spend on Google Ads or an SEO to optimise your site to Googles specifications. Competition for places on search results can be fierce and even the slightest advantage can really help you attract more clicks and hopefully more business.
Google is well aware of the issue which is why they launched and continue to update their Google My Business (GMB) service to assist local businesses who want to compete in search with limited resources.
Traditionally Google My Business has been heavily linked with Google maps and would only be ideal for businesses with a set location, but that saw a limitation of the number of businesses that could use the service. Which is why Google launched a feature to select service areas.
Why list your business on Google My Business?
Listing your business on Google Maps increases online visibility even if your business is entirely mobile or online by providing a rich snippet within a search results pages consisting of your logo, contact details, user reviews and more.
A live Google My Business rich result would look something like this: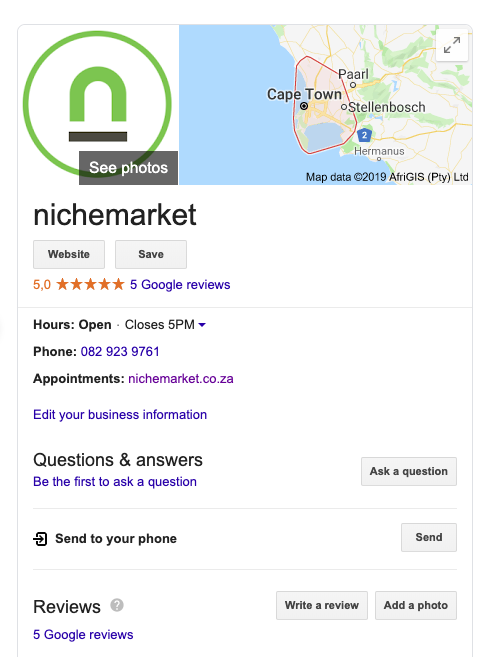 How to set up GMB without a physical location
Sign in to Google My Business. If you don't have a Google account, you can create one for free
Once you're logged it should take you through the creation process automatically if not then you'll be sent to manage locations if you're not already in manage locations click on it found on the right-hand menu
Now click add a location and begin to follow the prompts
You will eventually be prompted to add a location, this is where you MUST select "No"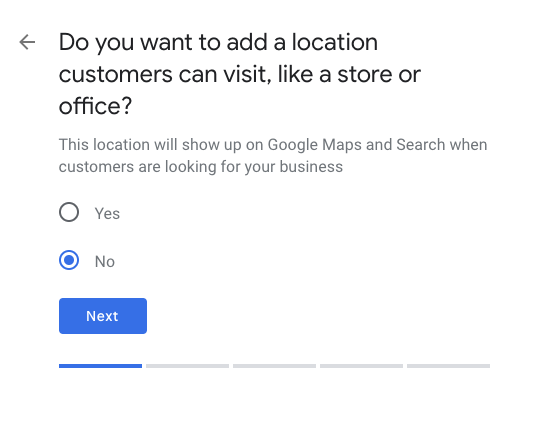 Next, you will be asked which areas you serve your customers in, feel free to add as many locations as you like.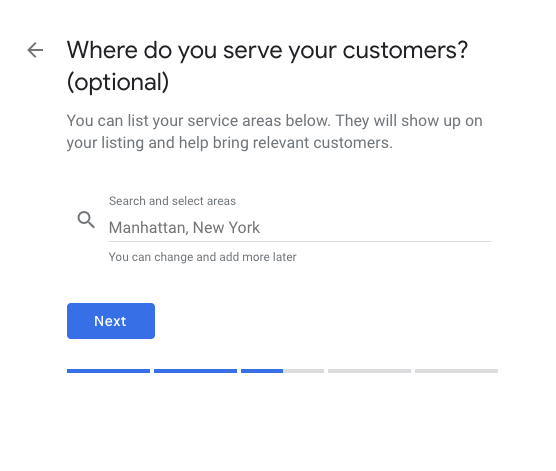 Now follow the rest of the prompts and fill in all the details about your business as usual
Click the "Submit" button. This will take you to the verification page.
You will need to submit a physical address at this point but this will not be displayed on Google's front end
You can then verify your account via Post Card, Call or Text to get the code
Once you have the code add it into the verification code field and click verify
If accepted your listing could be live in Google Search and Google Maps
Protip! Google my business continues to support more business types and with features for businesses services multiple areas or if it has multiple locations like franchises.
Tell us your Google My Business story
Have you been frustrated with Google rankings for your site or click-through rates? How did you or the company overcome it? Are there any tips you would like to share on improving your reports? Share it with us in the comments.
Contact us

If you would like us to set up your Google My Business Page or want to know more about digital marketing for your business, then don't be shy we're happy to assist. Simply contact us
Are you looking to promote your business?
South African Business owners can create your free business listing on nichemarket. The more information you provide about your business, the easier it will be for your customers to find you online. Registering with nichemarket is easy; all you will need to do is head over to our sign up form and follow the instructions.
If you require a more detailed guide on how to create your profile or your listing, then we highly recommend you check out the following articles.
Recommended reading
If you enjoyed this post and have a little extra time to dive deeper down the rabbit hole, why not check out the following posts on Google My Business.
You might also like
10 Elements of Successful Content Marketing Strategy
A review of the top 10 elements you need to incorporate into your current and future content marketing strategies if you want to take this channel se...
Read more
How Your Workplace Disputes Can Be Eased With Legal Help
A review of how an employee rights lawyer can be brought into a company to handle disputes and reduce the time in reaching a settlement between parti...
Read more