Modern Cloth Nappies Are Surprisingly Easy To Use
3.5 BILLION nappies end up in landfills EACH YEAR. That is 1.1 TRILLION TONNES of nappies in landfills EACH YEAR. Where on earth, literally, is this all going to go?
What kind of world are we leaving for our kids? The disposable nappy problem has not been around for that long-our grandparents' generation (and some of our parents as well) used cloth nappies.
Cloth nappies have evolved so much since we were kids
When I mentioned I was going to use reusable nappies, those around me were sceptical.
My sister and I were both pregnant at the same time and our husbands thought it was a fad. My husband said 'i give you 2 months…'
But now, both of our husbands and family see how easy it is and we haven't looked back.
A lot has changed since then and I hope I'm able to let you see just how easy it is and to take away any fear you might have regarding cloth nappies.
Introducing the Modern Adjustable Reusable Cloth Nappy
Cloth nappies are no longer those towelling ones that you pin closed.
They actually work exactly the same as the disposable ones do, excepting that instead of putting it in the garbage bin, you throw it in the nappy bin, where it collects until your next wash.
No pins are necessary. They clip closed in the same way that disposable nappies are closed.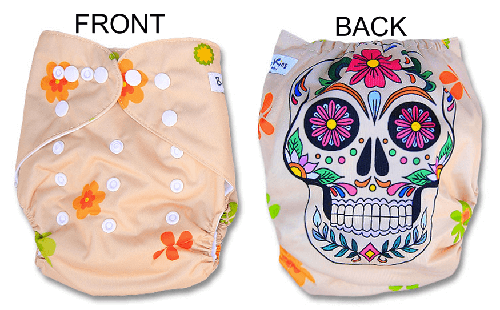 Modern cloth naappies are adjustable and pin free, image by biddykins.co.za
Where do you buy cloth nappy supplies & accessories?
There are quite a few South African baby specialist stores stocking cloth nappies these days. I purchase from Biddykins, which was the most cost-effective I've come across so far; They're R80 a nappy.
South African parents' can get all your cloth nappies supplies from one of these stores:
A closer look at the modern cloth nappy
Biddykins Adjustable cloth nappies are made up of a size adjustable waterproof cover with stay-dry lining and a multiplayer-absorbent insert.
The cover has a pocket and you slip the insert into this pocket. Inserts are also reusable and there are many different types, all with their own absorbency properties. I recommend the hemp inserts as they are the most absorbent type. Biddykins also recommend using at least 2 inserts per nappy.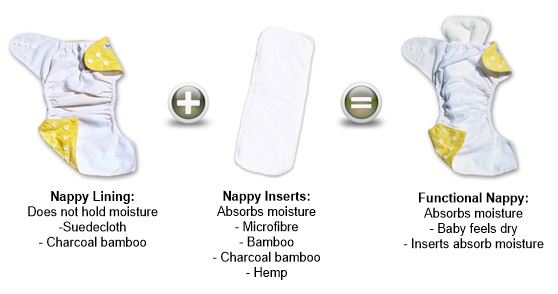 The anatomy of the cloth nappy by biddykins.co.za
They come in a variety of colours and cute prints. They are size adjustable so your child can wear them from birth, until potty training; which is wonderful and such a money saver! At one point, my four-year-old was still wearing nappies at night, and my newborn was wearing as well, and they wore the same set of nappies, we just adjusted the size for each :)
What you will need to get started
About 20 reusable cloth nappies (the more you get, the longer you can go between washes. 20 works for me).
40 reusable inserts
Flushable liners
Nappy bin
Wet Bags (these are useful for on the go nappy changes).
How to use cloth nappies
You put an insert in the nappy pocket and you then put a flushable liner on the inside of the nappy (against the bum). This catches any poop. So when its time for a nappy change, you remove the liner and flush it and the nappy goes in the nappy bin.
Take saving the environment to the next level and use bum clothes to clean baby's bottom. Bum cloths are also reusable, but if you are not keen on them there are plenty of biodegradable wet-wipe options available.
Storing dirty nappies
At home:
Simply toss them into the nappy bin, until you have a full load. It's recommended that you use an aerated nappy bin with holes in the side, with a reusable bin liner to help the nappies breathe. But some moms prefer using a regular nappy bin which seals tightly and a reusable bin liner.
On the go:
Wet bags are recommended for on the go nappy changes. Simply pop your soiled nappy into the wet bag for easy storage, seal it and toss it into the nappy bin when you get home.
Washing & cleaning nappies
When your nappy bin is full enough, you pop the contents it into the washing machine with detergent only. Fabric softeners interfere with the absorbency of the nappies. (This has actually made me realise that one doesn't need fabric softeners at all, even with your regular washing.
Fabric softeners actually clog up your drainage system and cause problems with your washing machine. Apart from the fact that it is detrimental to the environment. I can vouch that you will be fine skipping fabric softeners altogether).
When your load is done, you can tumble dry or hang them out to dry.
And then they're ready for your next use :)
Reusable swimming nappies are also available
They also do a lovely swimming-nappy range, but these regular nappies work perfectly well as swimming nappies as well because they don't puff up!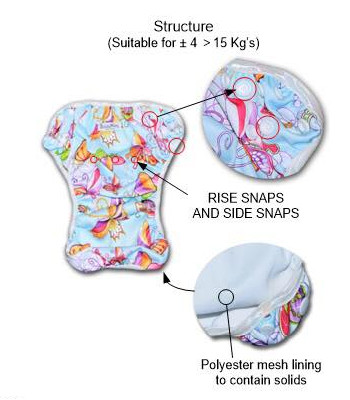 Reusable swim nappies by Biddykins.co.za
So not only do they save you cash, you can use them for all of your kids, they double as swimming nappies AND they're eco friendly!
Are newborn sizes advisable
In the beginning, when your baby is under 3 months, the normal adjustable size might be a bit big if you have a small baby. Most reusable nappy brands have a newborn range for this stage, but they're only going to wear it for 3 months.
If you not keen to invest in newborn reusables, biodegradable disposable nappies for the newborn stage is also an option. However, if you're planning on having more kids, then it would be worth your while getting enough of the newborn range as well.
Choose cloth. Choose to save the environment
The best advice I can give you is to ignore the naysayers. And just do it. You will get the hang of it so quickly and you will feel so good knowing that you're making a change!
About the author
I'm passionate about the environment and living sustainably. I love the outdoors, being active and living healthily. I enjoy spending time with people I love, wherever we may find ourselves ❤️
Tell us your story
Would you like to write for nichemarket just like Carla has? Find out how to submit a guest post and when you're ready, you can contact us.
Are you looking to promote your business?
South African businesses can create your free business listing on nichemarket. The more information you provide about your business, the easier it will be for your customers to find you online.
Registering with nichemarket is easy; all you will need to do is head over to our sign up form and follow the instructions. If you require a more detailed guide on how to create your profile or your listing, then we highly recommend you check out the following articles.
Recommended reading
If you enjoyed this post, why not have a look at more parenting hacks and tips to make your journey a little bit smoother.
You might also like
A Man's Guide To Summer Essential Wear
We take a look at the items every man should have in their wardrobe come summertime and why these items should be part of your style this upcoming su...
Read more
The Best Plant-Based Bobotie
A step-by-step guide to making South African favourite food with a vegan twist, here is how to make your first bobotie dish but still have that local...
Read more