3 Ways to Grow Your Email List As an E-Commerce Brand
Email marketing is dead.
This was a widespread opinion that dominated the minds of marketers last year. Younger generations that are entering the workforce today are alien to the idea that communication should be done via email.
After all, why bother?
There are other, faster ways of communication today. The shift from perceiving email as an essential part of marketing or work communication to an unnecessary time-consuming effort has changed the way many companies work. Because of this shift, John Brandon, editor at Inc.com, claims he had to switch to more Gen-Z friendly communication tools, like Slack.
But is email exchange dead altogether?
What about email marketing?
Debunking the myth
Despite the loud claims that email marketing is dying (or dead already, they haven't made up their mind yet), the numbers show that it is very much alive:
Emails still have a very high open rate (22.86%) and CTR (3.71%), compared to social media channels that have an overall engagement rate of approximately 0.6%
Email marketing rated No.1 among all other content marketing distribution channels
Email marketing has the highest ROI (4400%), meaning that for every dollar invested in email marketing, you'll receive $44
Various industries still draw significant benefits from email marketing. E-commerce businesses, in particular, are empowered by email marketing to increase sales and brand awareness. But the most significant benefit that email marketing brings e-commerce is building and growing an email list of subscribers.
According to the research by WholeDesignStudios, using different email marketing techniques (reactivation emails, cart recovery emails, etc.) helped surveyed e-commerce businesses grow their CTR from 0.49% to 1.33%.
Surveyed e-commerce businesses also name building a subscriber list as one of the biggest challenges, besides achieving profitable long-term growth and remaining competitive.
How can email marketing help overcome this challenge?
Which tips and tools can email marketing equip e-commerce businesses to tackle this issue?
Let's take a look at the three ways to grow an email list, proven by numbers and implementation practices.
1. Converting social media audiences
Social media users like following e-commerce brands to receive regular updates about products and participate in contests and giveaways.
"Social media is also the quickest way to convert your followers or occasional page visitors into customers. Adding a sign-up form to your social media profiles gives you another source of quality leads. To encourage your followers to sign up, and thus grow an email list, you can attract their attention by offering discounts and last-minute deals," - says Diana Adjadj, marketer and a writer for BeGraded and Studyker.
The Farmer's Dog, an e-commerce brand selling organic food for dogs, use a sign-up form on Facebook to invite their followers to subscribe to healthy meal plans for their pets: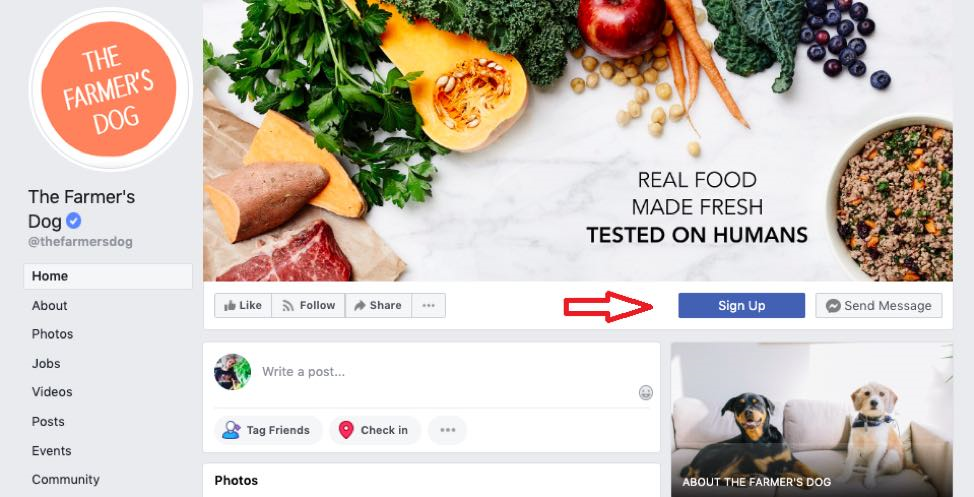 Facebook page email sign up prompt
Upon clicking on the 'Sign Up' call-to-action button, visitors get redirected to the brand's website, where they are automatically granted 20% off their first purchase. This is a feature that The Farmer's Dog introduces to those who sign up for their services via Facebook.
You can take it a step further and include those who signed up via Facebook, into your loyalty program. This will also give a boost to direct sales in addition to helping you grow an email list.
To make this call-to-action button stand out on your Facebook page, you can customize it according to the way that you prefer the visitors to use when sending you fill-out forms with their emails and personal information: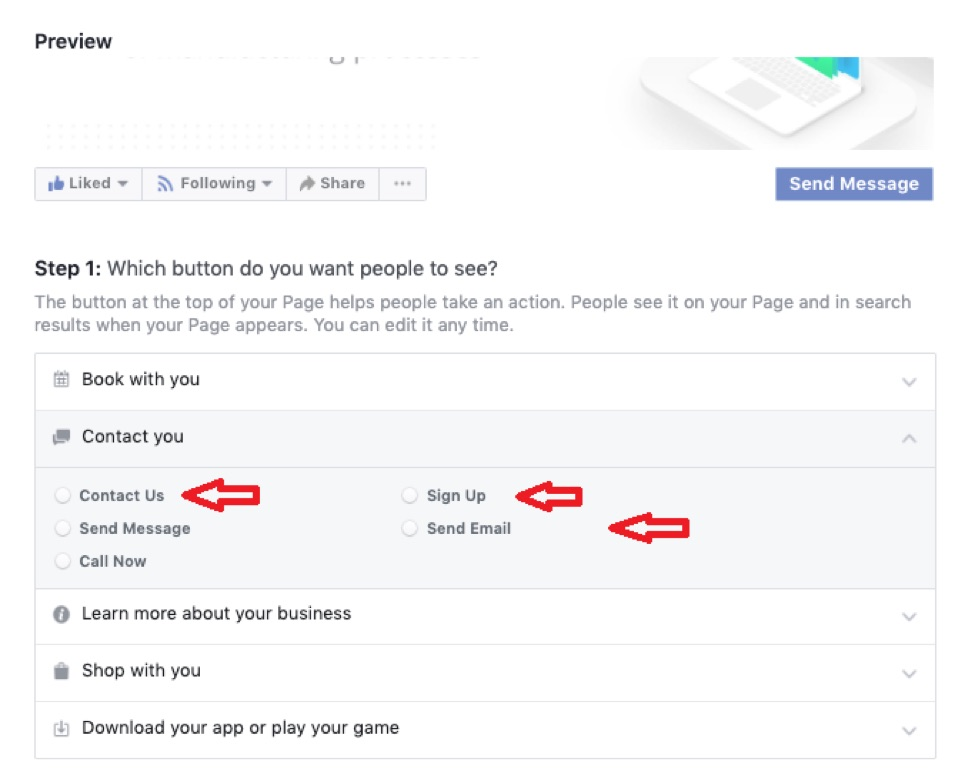 How to set up an email sign up call to action on Facebook
Social media platforms have a vast number of tools that can help e-commerce businesses grow their email lists. Besides adding a call-to-action button, you can include an email inquiry to your online shop on Facebook (when a customer chooses a product and proceeds to checkout) as well as to your Facebook Messenger chatbot. If a person contacts your customer support via your Facebook business page.
2. Website CTA pop-ups
Now, to website call-to-action pop-ups and their role in building an email list. After analyzing the performance of over 1 million pop-ups, Sumo discovered the following conversion rate stats:
Top-performing pop-ups had a 9.28% conversion rate
3 out of 100 pop-ups had a conversion rate of 11%
Simple calculations helped Sumo estimate the average conversion rate for website pop-ups, which is 3.09%. In other words, if you get 150 visitors a day, you'll get 418 sign-ups a month.
There's a variety of options for CTA pop-ups that do well in terms of conversion rates. If you're going for that average conversion rate with a steady performance of around 400 sign-ups a month, you can try a Welcome pop-up.
To take it one step further and improve conversion rates, you can add a discount offer to your pop-up for those who sign up to receive notifications about new products.
Here's an excellent example from GlassesUSA: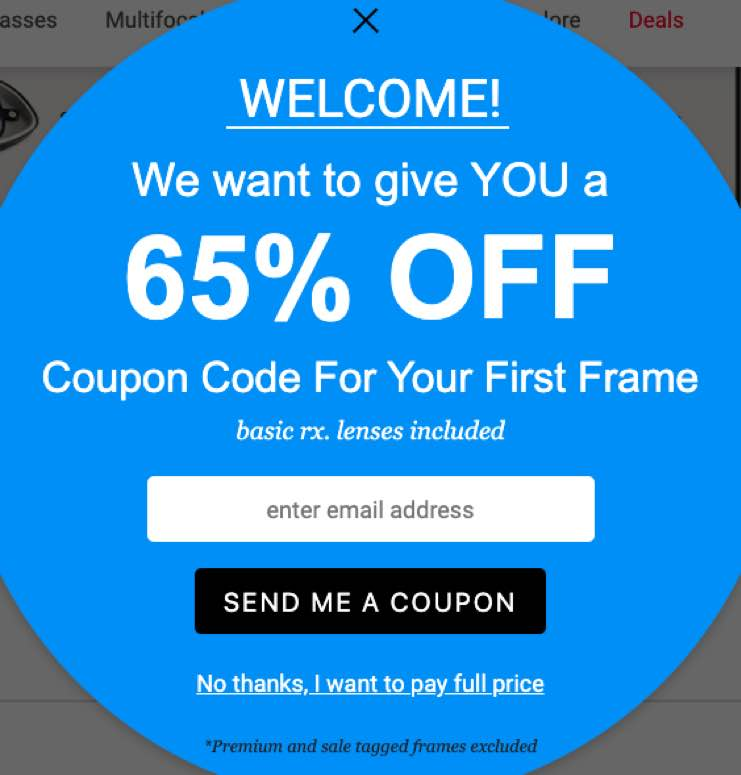 Email sign up pop up
Such pop-ups have an average conversion rate of 3%, with 1%-1.5% extra if there is a discount offer. One of the best types of website CTA pop-ups is a full-screen pop-up. The beauty of these pop-ups is that they cannot go unnoticed.
Just take a look at the CTA pop-up on Shinesty's homepage: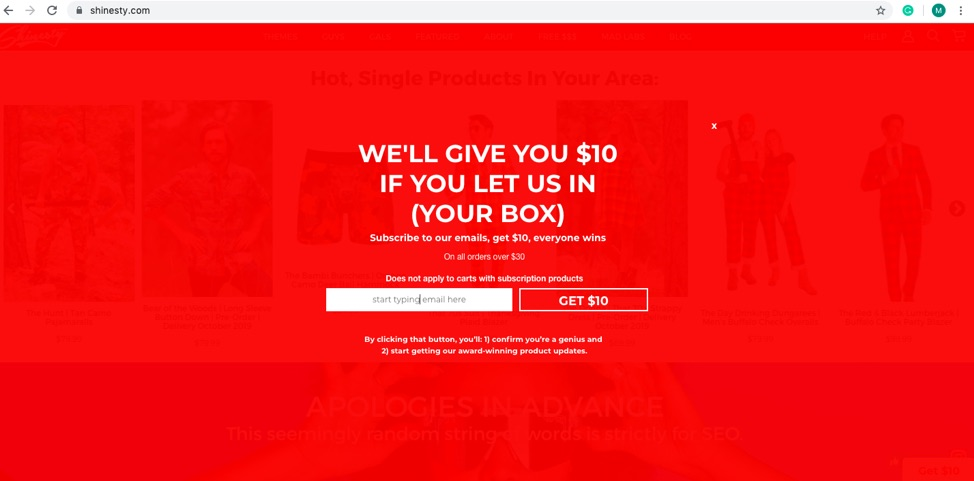 Email sign up roadblock
Such pop-ups have an average conversion rate of 9.41%, being among that '3 in 100' best-performing group of pop-ups. And adding a little humour to it (like Shinesty did) will make it even more appealing for the visitors to sign up.
3. Seal the deal with high-quality content
Investing in pop-ups and engaging your followers to sign up for your newsletter via social media is a good strategy on its own. But soon you'll find out that some people are looking for some value beyond receiving attractive offers, discounts, and good deals. They are looking for the amount of high-quality content, and they are ready to sign up to get more of it.
This is no empty claim.
"According to our recent research of UTM links that we used to study our conversions, the biggest number of email sign-ups we received from our blog page, approximately 40% out of the general number of subscriptions," - says Marie Fincher, Head of Content at TopEssayWriting and ClassyEssay.
High-quality content that resonates with your brand's core message is what you're looking for if you want to grow an email list and attract high-quality leads. Hello Fresh, an e-commerce brand that distributes healthy meal kits is an excellent example of that.
Their blog' Fresh times' that shares healthy recipes and dietary recommendations has a CTA that invites blog readers to sign up and get blog post notifications: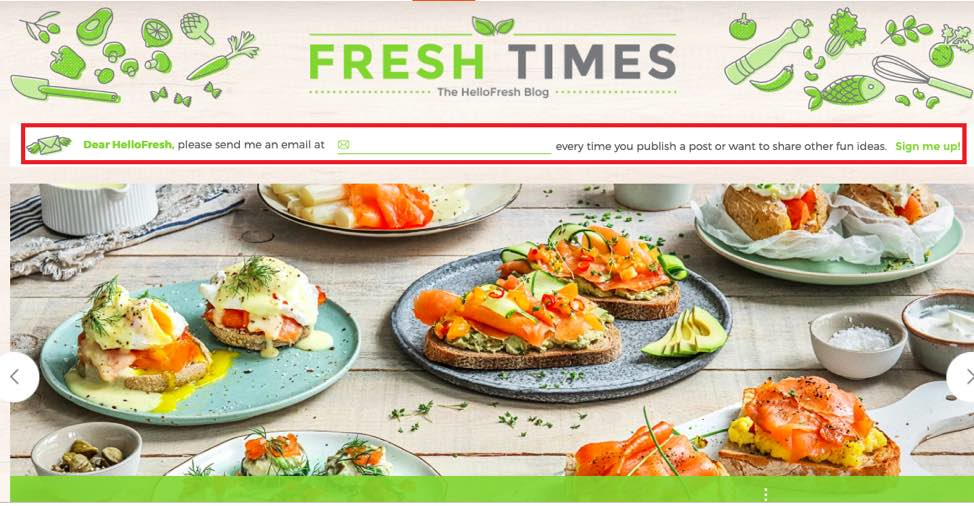 Email sign up on site prompt
What you get afterwards is a personalised email with a CTA to explore the brand's services. But the main idea here is that subscribers will also get high-quality content in return, contributing to higher engagement rates and customer satisfaction.
Afterword
So, email marketing is far away from being dead, and e-commerce practices prove it. Not only is email marketing an excellent way to improve your brand's online presence, but it is also the best strategy to grow your target audience and boost sales.
In the example of several e-commerce brands with the support of statistics, you can see how different strategies can be applied in terms of not just growing email list, but also attract high-quality leads and building a community of active brand followers.
About the author
Kristin Savage nourishes, sparks and empowers using the magic of a word. Along with pursuing her degree in Creative Writing, Kristin was gaining experience in the publishing industry, with expertise in marketing strategy for publishers and authors. Now she works as a freelance writer at WriteScout and Subjecto. Kristin runs her FlyWriting blog.
Tell us your story
Would you like to write for nichemarket just like Kristin has? Find out how to submit a guest post and when you're ready, you can contact us.
Let us help you
Should you require help setting up or improving your email marketing campaigns, we're happy to help, feel free to contact us. for a consultation.
Are you looking to promote your business?
South African retail business owners can create your free business listing on nichemarket. The more information you provide about your business, the easier it will be for your customers to find you online. Registering with nichemarket is easy; all you will need to do is head over to our sign up form and follow the instructions.
If you require a more detailed guide on how to create your profile or your listing, then we highly recommend you check out the following articles.
Recommended reading
If you enjoyed this post and have a little extra time to dive deeper down the rabbit hole, why not check out the following posts about eCommerce.
You might also like
Advantages And Disadvantages of Home Solar Energy
A review of the pros and cons associated with converting your home to run on solar energy and what you need to consider before going ahead with an in...
Read more
How To Keep Your Smart Home Data Private and Secure
If you live in a smart home you are creating a wider data footprint that can expose a lot about you, here is how to secure that data or limit data cr...
Read more