The Time Is Now: Digital Transformation in B2B Platforms
Do you know the fact that online B2B platforms can create more than $10 trillion dollars until 2025?
Yes, that's right!
In the new decade, the most significant digital transformation will be observed in B2B platforms by developing the vast ecosystem.
So, the world is going digital, its time to take your business online to survive.
The best way to survive here is by building a flexible B2B technology platform that can handle future changes.
Here, I will take you to some of the critical points and trends that will help you with digital transformation.
3 New Aspects of B2B Platform To Look Forward in 2020
The online B2B platform will work differently in contrast to the traditional one. Below given are the three ways in which online platforms differ from the traditional ones.
Shifting value
The organisations need to redefine their value to the society as the ecosystems now generate new organisation requirements. Now, consumers have lots of choices to select, so there is a need to create more value for your platform.
Trust
As everything is getting online trust will hold importance. It binds the market and participants. Applying a basic set of principles to the ecosystem will build a trust relationship. Below given image shows some critical principles for the digital B2B platform.
Non-linear growth rates
You will observe the non-linear growth rates for digital B2B platforms; thus, a scale is to be maintained for both sides of the platform. The main reason for this rapid shift rate is transferring from traditional to digital. One of the example here is AI's powerful concierge service, Amazon Alexa.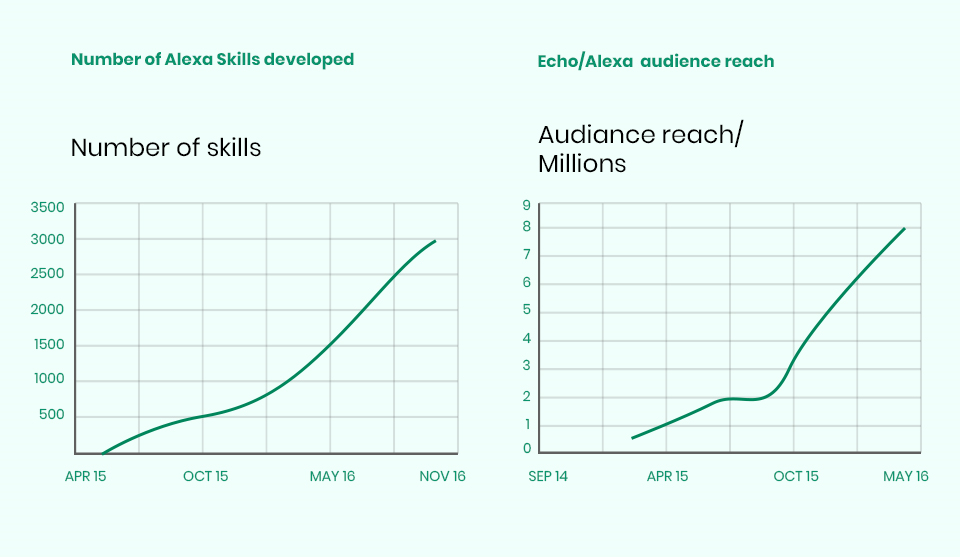 How Alexas AI is growing its reach
B2B digital transformation
So why it is important to have B2B digital transformation? I guess this question would be worrying you?
Let me clear your doubts about that. When you transform B2B to digital, you will get a quick return on investment.
How?
Here is the answer.
Customers today search for everything online before purchasing. Like products, price, value, review everything. And now, this thing even applies to the B2B too as much as that in retail. The business thinks a lot before getting to the conclusion. Also, it is even noticed that most of the companies first will complete their research and then will start the conversation.
This shows that your B2B platform must provide a satisfying user experience to get ROI.
Many B2B companies have faced a challenge on how to increase profitability without going deep dive into it. So now this is possible with the help of the B2B digital as this can increase the reach to the audience. An online platform will let the wholesalers reach an entirely new market without making many efforts.
With every passing, it is becoming easier to deliver the products to any part of the world. Hence, wholesalers can look for the potential areas where the demand for the products is.
In short, with digitisation, it will be an entirely new approach to gain ROI.
Organisation getting restructured for digital transformation
The focus of most of the organisation is to go for the latest technologies in the market. But before going for such digital transformation, some redesign in the present structure is a must.
Here the redesign in terms of customer experience, workflow and then go for reorganising the digital process. Integrating new technology is never an easy process. To achieve objective companies need to identify the proper fit for their industry.
To meet the expectations, organisations are now moving towards technologies like IoT, AI, and Blockchain while restructuring for the digital transformation.
IoT(Internet of Things) is the future of the B2B platform no matter which industry it is. IoT improves data processing, and we know most of the B2B platform possesses vast data. It has made it possible for companies to analyse and distribute the data in an approachable way.
Artificial Intelligence(AI) has three main components that will show its impact on the B2B digital transformation. The components include machine learning as a service (MLaaS), open data, and embedded intelligence. You can restructure your organisation with AI if looking for the components mentioned above.
Blockchain technologies come with a wide range of potentials for industries. For the B2B, blockchain is helpful to distribute data and encrypt files. Blockchain is suitable for the online B2B platforms who have a considerable amount of data to be managed and secure the transaction.
Hence, the above given are the are few ways in which organisations are reconstructing for the digital transformation.
Most significant B2B Marketing Trend in 2020
Above all, marketing is a core, whether it is online or offline.
The top of the list comes the same as that last year which is lead conversion. It is the primary goal of marketing, where a business looks for effective ROI. The below-given image shows some figures for the places from where the leads come.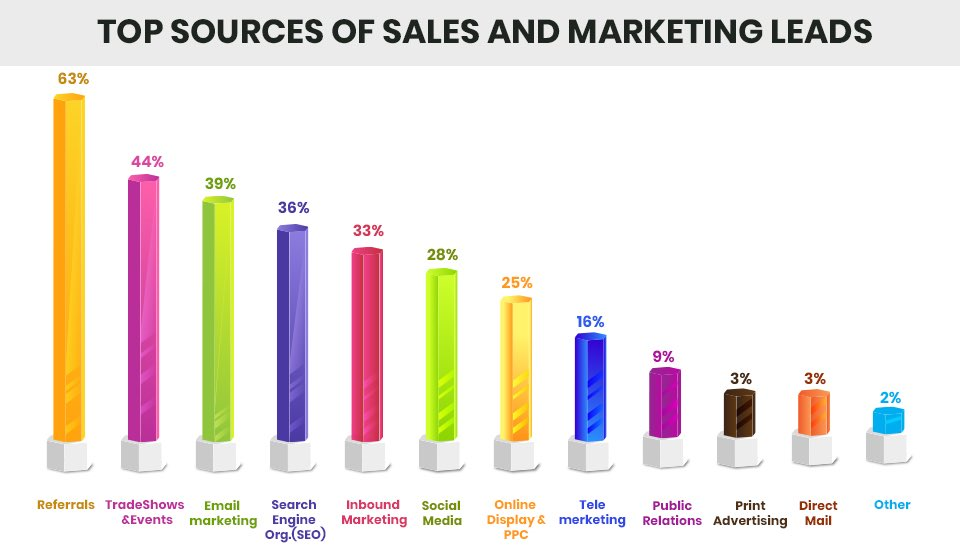 Where do high-quality B2B sales leads come from?
Personalisation is going to be the most significant trend in the upcoming year. As consumers now expect a personalised experience from the company and their website. It is the same when you are dealing with other companies too as you're stilling coping with the people.
Bonus: 3 Potential B2B Services Need Digital Transformation
Concierge services
I know you have confusion with the term and want to know first what is concierge service. It is an agency that assigns its employees to clients' chores and gets paid monthly OR hourly. Quintessentially, Oneconcierge, Pure Entertainment Group, these few are top concierge services provide.
Also, Quintessentially earned revenue of around $202.4 mn in 2019. But sad things is even though it's not part of digitisation. If we consider the ratio here, then we found that no single concierge business is focusing on digitisation. If this path follows for the next few years, then chance high to loose significant ROI.
Marketplace
I am not talking about Alibaba, Amazon here. This is for those marketplaces who were still lacking in digitisation but very good in a traditional way. One of the great examples is Zillingo. This marketplace has a fresh concept where local retailers from Singapore and global customers meet together. They also have a website and mobile application, but when it comes to trending technologies like Chatbot vs Livechat, AR, VR, IoT and much more, this was lacking.
Tax service
Each business needs to pay Tax. Here tax preparation services make a huge profit. Most of Tax preparation providers do not use digitisation to decrease the work burden and provide next-level user experience to their customers.
The parting thoughts
Moving to a B2B platform requires strategic planning and all the above points help you to get your goal.
But one thing I could surely say here is that, once you're done with complete B2B digital transformation, you can expect a good ROI.
Going digital will smoothen the overall process, as the manufactures and distributors can provide an excellent experience to the customers.
---
Summary
In the new decade, there is no wonder about the fact that technology is going to rule the world. Now, the B2B platform is even on the verge of the digital transformation. This article will give an in-depth knowledge of the impact on B2B when going for digital transformation.
About the author
Ciara McCarron is the Writer and Journalist. She loves to deep dive into the ins and outs of the technologies. She aims to share the knowledge by writing on the technicals about business, eCommerce, Startup, Enterprise IoT, AR, VR, and other Smart Technologies. To describe her in one word, She is a writer focused on Tomorrow's World.
Tell us your story
Would you like to write for nichemarket just like Ciara has? Find out how to submit a guest post and when you're ready, you can contact us.
Give your business additional exposure online
Are you a South African business owner? Then why not register on nichemarket and put your business in front of thousands of nicheseekers every month. Registering with nichemarket is easy; all you will need to do is head over to our sign up form and follow the instructions. If you require a more detailed guide on how to create your profile or your listing, then we highly recommend you check out the following articles.
Recommended reading
If you have time to spare why not dive deeper down the rabbit hole and check out these posts for help on B2B marketing.
Tags: Marketing, B2B, Guest Post
You might also like
A Man's Guide To Summer Essential Wear
We take a look at the items every man should have in their wardrobe come summertime and why these items should be part of your style this upcoming su...
Read more
Why You Need Barcodes For Your South African Business
We review the benefits of having barcodes for your South African business (Big Or Small) and why you should consider having your own barcodes set up...
Read more