Top WordPress Migration Plugins Compared
WordPress is inarguably the most popular CMS in the world. It powers more than 39.7% of the websites over the internet. Since its inception in 2003, it has evolved into a platform that can be used for anything ranging from small personal blogs to businesses with complex eCommerce requirements.
So if you are planning to move your website to WordPress from a different CMS, you are on the right track. While the end result of this migration will undoubtedly be great, the process can be a bit complex. This is where migration plugins can simplify things for you.
WordPress migration plugins are tools that help you move your site from one platform to another. All of them have similarities but have specific features that make them unique. In this post, various WP migration plugins are compared to help you opt for the ideal one for your migration process.
The FG Drupal to WordPress plugin is ideal for migrating your website content from Drupal to WordPress. The plugin works well with the latest version of WordPress and Drupal 5, 6, 7, 8, and 9. It saves the user's time by carrying out a quick migration of complex websites. The plugin offers a free as well as a paid version, and you can choose one that best fits your requirements.
The free version can migrate articles, pages, images, categories, and tags from Drupal to WordPress. The plugin is compatible with MySQL, PostgreSQL, and SQLite. You can observe a smooth transition as it modifies the internal links and posts and retains the media links seamlessly.
On the other hand, the premium version contains extra features like migrating the authors, comments, taxonomies, and other custom properties. Furthermore, you can get add-ons like meta tags, location custom fields, and domain access when you opt for the premium version by paying €39.99.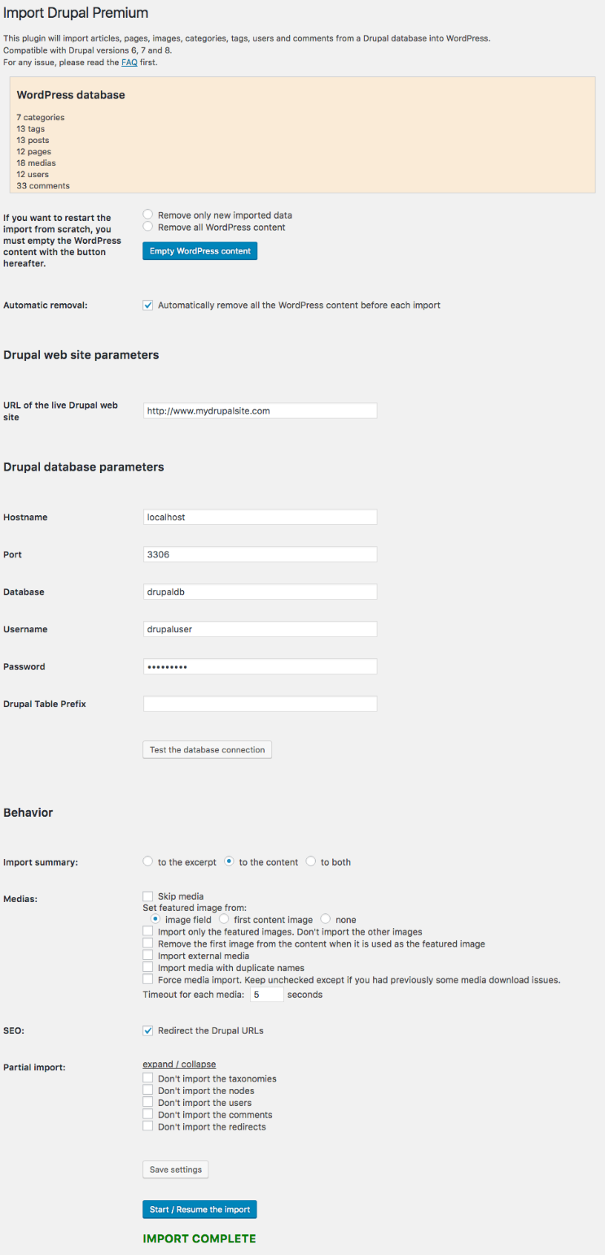 Migrate Guru makes it on this list as it is known to be the best free plugin to migrate large sites or a multisite network. The features of this plugin include one-click migration, no storage space requirement of any sort, and is suitable for sites up to 200GB in size.

The transfers conducted through this plugin do not put much pressure on your website, so there's no risk of it crashing. You receive real-time progress reports and email alerts. This is an advantage as you can know how long the process will take and whether everything is in order while your website is migrating.
If you are looking for a plugin that gives you more control over the migration process, WP Migrate DB is the one for you. But beware — it does make the entire process a little more complicated.
The plugin works by exporting your WordPress database as a MySQL data dump. Then, it automates the "find and replace" on URLs, and file paths and tackles serialized data. The last step is to save it as a SQL file. You'll need to use a database administration tool like phpMyAdmin to manually import this SQL file.
This plugin is best suited for developers and professionals who are familiar with working in the WordPress backend. You can hire a WordPress expert as it is more technical and "hands-on" than some other migrating plugins. Rather than producing an exact clone of the original site, it's a wonderful solution for individuals who want more control over migration and backups.
You can buy the pro plugin for a few additional features. A personal license supporting 12 installs costs $89, and an agency license with unlimited sites and user support costs $999.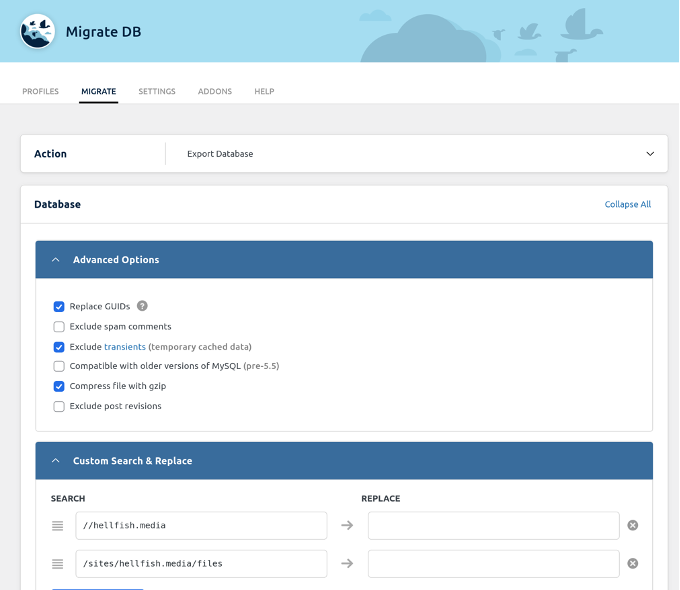 All-in-one WP Migration is the easiest to use amongst all the candidates on this list. The All-in-One WP Migration plugin was created to make the process of exporting your WordPress database, media files, plugins, and themes et al., much simpler. You can fix the broken links through the find/replace database tool once the migration is done.
The plugin bypasses webserver upload size restrictions up to 512MB (5GB in the pro version) and works with the majority of popular WordPress hosting providers, including Bluehost and WordPress VIP. WordPress migration to cloud services such as OneDrive, Dropbox, Google Drive, and others is also built-in. It is a free plugin but has a lifetime premium option available for just $69.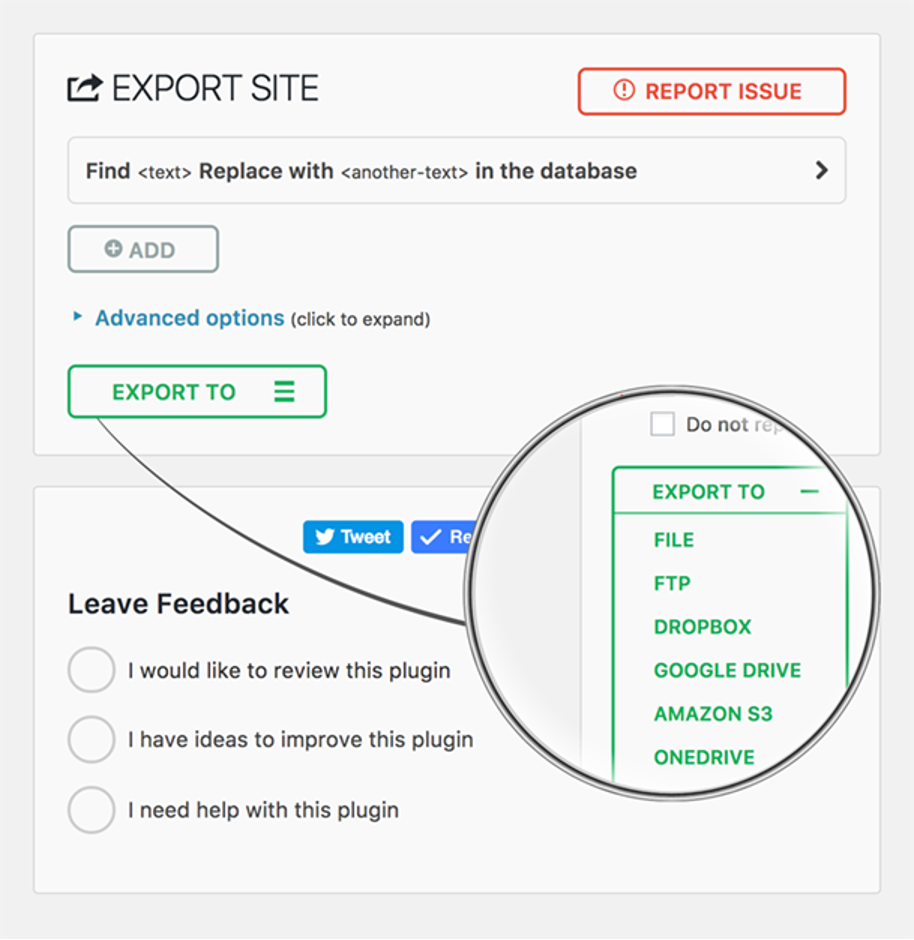 Parting thoughts
There are many reasons why people are switching to WordPress from other platforms. The vast number of functionalities that it offers, the ease of use, and the ever-expanding support community are some of the major reasons. If the arduous task of migrating your current website is holding you back, get the right support using the plugins mentioned here or by simply having an expert to drive your performance.
About the author
Lucy is a creative content writer and strategist at Marketing Digest. She specializes in writing about digital marketing, technology, entrepreneurship, and education. When she is not writing or editing, she spends time reading books, cooking and travelling.
Tell us your story
Would you like to write for nichemarket just like Lucy has? Find out how to submit a guest post and when you're ready, you can contact us.
Contact us
If you would like us to help set up your sites or want to know more about digital marketing for your business, then don't be shy we're happy to assist. Simply contact us
Are you looking to promote your business?
South African Business owners can create your free business listing on nichemarket. The more information you provide about your business, the easier it will be for your customers to find you online. Registering with nichemarket is easy; all you will need to do is head over to our sign up form and follow the instructions.
If you require a more detailed guide on how to create your profile or your listing, then we highly recommend you check out the following articles.
Recommended reading
If you enjoyed this post and have a little extra time to dive deeper down the rabbit hole, why not check out the following posts about content management systems.
You might also like
Effective LinkedIn Marketing Strategies for 2022
If you are into the B2B space or you are trying to reach high LSM users then marketing on LinkedIn is a great place to focus and start to build a val...
Read more
5 Advantages of Choosing Festival Food Catering Services
If you are planning an event soon and you are feeling the strain of planning everything, then outsourcing tasks like food to catering services is a g...
Read more