Top 10 Day Trips for 24 Hours in Cape Town
So you only have 24 hours in Cape Town, South Africa - but you want to see and do as much as possible... What now?
Well, to hopefully help you with this predicament, I've put together a list featuring my top 10 day trips for 24 hours in Cape Town.
You can attempt everything if you're brave and don't mind a fair amount of driving - or just pick a few from the list... it's entirely up to you. Either way, you are sure to have a memorable 24 hours in Cape Town with any of these day-trip ideas.
Here are my top 10 day trips for 24 hours in Cape Town:
1. Workout along Sea Point Promenade
Not only is it a popular outdoor exercise spot but the Promenade offers plenty of beautiful views too... With distant mountains on one side - and the Atlantic Ocean's gorgeous frothing waves and white horses on the other.
It is one of Cape Town's year-round attractions. What's more, it is also a great spot for families and friends to enjoy together. For those travelling with kids, there is plenty of fun for the little ones to enjoy. Children absolutely love riding their bicycles along the Promenade and playing in the outdoor jungle gyms and merry-go-rounds dotted along it.
So take a morning stroll, brisk jog - or for a more intense workout, use the excellent outdoor exercise equipment.
When you're done, grab a quick coffee to go. Some of the nearby coffee joints, like Bootlegger Coffee Company, tend to open pretty early, so you should be in luck.
Time: 30-40 minutes
Location: Sea Point Promenade, situated along Beach Road, Sea Point, Cape Town
2. Catch the Cable Car up Table Mountain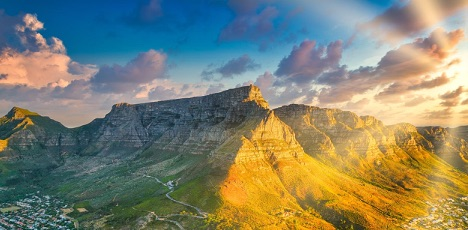 Photo by Thomas Bennie on Unsplash
If the weather is good (the cable car often can't operate in bad weather), catch a return cable car trip up (and back down) Table Mountain.
Please always check their website beforehand for possible notices and closures.
Also, keep in mind that you might have to queue at the ticket office, especially in summer - so it is best to get there early. However, what you can do is try to catch the first trip up. This normally departs around 08:30 am.
It is a bit pricey (especially if you're a local) catching the cable car - but the views and setting atop the mountain are so worth it!
This is one of the city's unmissable attractions, so if conditions are good and you have time and money to spare, aim to get this one on your list, even if it means sacrificing another day trip experience later on.
Best of all, this is a fun day trip idea for the whole family, making it especially ideal for those travelling with kids too!
Depending on how much time you have, you can spend half an hour to an hour atop the mountain. You can also hike up Table Mountain via Platteklip Gorge and Indian Venster but doing so might leave you too pressed for time.
Time: 1.5-2 hours
Location: Table Mountain Aerial Cableway, Tafelberg Road, Gardens, Cape Town.
Contact details: +27 (021) 424 8181, info@tablemountain.net
Website for Table Mountain Aerial Cableway ticket prices and other information: www.tablemountain.net
3. Snap Photos on the Beach at Camps Bay and Clifton
If you visit any of Cape Town's gorgeous beaches, let it be Camps Bay and Clifton 1-4. These beaches are found right next door to each other in Camps Bay, so it's the easiest way to soak up the Mother City's world-famous beaches, while also enjoying the same quality time by the sea.
Enjoy seeing the aqua waters, large, granite boulders, smooth, white shorelines and impressive Twelve Apostles mountain range.
Quickly admire the beauty and pose for some picturesque photos or selfies by the sea before you hop back into the car for the next leg of your journey.
Time: 15-40 minutes (depending on how long you personally want to spend there)
Location: Camps Bay, Cape Town
4. Travel to Cape Point via Chapman's Peak Drive
Travelling from Camps Bay to Cape Point via Chapman's Peak Drive can take anywhere from 1.5 hours to more - nevertheless, this drive is one of the best features in Cape Town!
Curl around heart-in-mouth corners, edged by cliff faces on your left and the beautiful ocean on your right, as you marvel at this special, world-renowned drive.
Chapman's Peak Drive, or Chappies, is famous for its man-made engineering marvels and stunning natural beauty alike. The scenery is unparalleled, and the best part is you get to pass through pretty areas like Hout Bay and Noordhoek and see more of the Cape Peninsula as you go.
Although there are a few route options from Camps Bay, I personally love taking the M65; it's one of my favourite drives.
There are picnic spots and viewpoints along Chappies so you can stop for some photos, a quick snack or even a brief lunch if you aren't feeling too pressed for time.
You will have to pay a toll fee, but the cost is minimal compared to the natural beauty and thrilling road trip experience you're in for from a visit to the mother city.
Time: 1.5-2 hours (depending on the route, traffic and stops you make)
Location: Chapman's Peak, situated between Noordhoek and Hout Bay, Cape Town.
Contact details: +27 (021) 791 8220, info@chapmanspeakdrive.co.za
Website for Chapman's Peak Drive toll fees and other information: www.chapmanspeakdrive.co.za
5 & 6. Explore the Cape of Good Hope Nature Reserve

Photo by Shashank Kumar on Unsplash
One of my ultimate travel experiences - and one I always recommend to everyone - is visiting Table Mountain National Park's Cape of Good Hope Nature Reserve.
It is home to two main attractions: the Cape of Good Hope and Cape Point. This is a place people travel from all over for the world to experience.
And when you see the amazing flora and fauna (including the famous Chacma baboons and roaming ostriches), gorgeous, secret beaches, lighthouses, The Flying Dutchman Funicular and Two Oceans Restaurant... you will understand why!
What I love about the Cape of Good Hope Nature Reserve (aside from the gorgeous setting and views) is that it is one of the most family-friendly day trips near Cape Town. Children love exploring it as much as adults. So don't worry about keeping the little occupied... it's Dora the Explorer mode all the way!
If short on time, you can explore Cape Point and the Cape of Good Hope in roughly an hour - or faster, if you just do a quick self-drive experience through the reserve.
It is, however, worth walking up to see the Cape Point lighthouse (the first, oldest one, that is - because there are two lighthouses at Cape Point). But you can just as easily catch the Cape Point furnicular if you're not in the mood for a walk,
If you wish to eat at the Two Oceans Restaurant and aren't in a huge hurry, then that's also a lovely experience. I do, however, recommend booking in advance of your visit because they are usually quite busy and you don't want to wait for a table when you're already short on time!
Once you've soaked up the beauty of the Cape of Good Hope Nature Reserve, it's time to head back to the city... and this time, you can travel back via Simon's Town!
Time: 1-2 hours (this may vary, depending on how long you decide to spend exploring the Cape of Good Hope Nature Reserve).
Location: Cape Point, Cape of Good Hope Nature Reserve, Cape Point Road, Cape Town.
Contact details: +27 (021) 178 09010, info@capepoint.co.za
Website for Cape Point entry fees and other information: capepoint.co.za
7. Treat yourself to ice-cream in Simon's Town
For the return journey, I recommend travelling through Simon's Town.
For this drive, I normally take the M4 because not only is it seemingly the fastest route - but it's also really beautiful especially as you get to enjoy more ocean views, particularly near Smitswinkel Bay.
The journey to Simon's Town can take anywhere from half an hour to an hour (depending on traffic, how much you stop to take photos etc.) - but it's well worth taking the time to enjoy.
Once in Simon's Town, why not grab an ice-cream at JB's Ice Cream Parlour (cash payments only)? It's a divine way to treat yourself after a day's exploring and driving.
Then, if you have enough time, you might even like to quickly visit the famous Boulders Penguin Colony at Boulders Beach, Simon's Town. They are adorable to see and understandably, yet another of Cape Town's biggest local attractions.
After that, it's time to get back on the road and travel to the V&A Waterfront... because no visit to Cape Town is complete without a stop (and shop) at the Waterfront.
For this, you can travel along a few different routes, and it's entirely your call which you choose. Personally, I normally like to go via the M3 - distance-wise, it will show as a bit longer on Google Maps - but it's a lovely drive especially when you pass Silvermine Nature Reserve and head down Ou Kaapse Weg (M64).
Time: 2-2.5 hours (depending on travel time, traffic and the stops you make in Simon's Town or surrounding areas).
Location: Simon's Town, Cape Town
Contact details: +27 (021) 786 2329
Website for Boulders Beach pricing and other information: www.sanparks.org/parks/table_mountain/tourism/attractions.php
8. Wander around or shop at the V&A Waterfront

The Victoria & Alfred (V&A) Waterfront is one of Africa's most highly visited tourist attractions.
Here, you can shop for local and international clothing, food, craft goods and brands; visit the nearby Two Oceans Aquarium; catch the Cape Wheel; or dine at one of the classy, harbour-facing restaurants.
With over 500 retail stores and 80 eateries, the V&A Waterfront is a destination that offers something for everyone. If you visit with kids, they will love exploring Hamley's or catching a ride on the cheerful Hamley's Express Train. While for couples and friends alike, there is so much to explore, see and enjoy together.
Because the Waterfront is generally open till 21:00 pm, you have a bit more time to shop and explore it from the inside out.
Take a walk around outside to see the harbour and the Waterfront Amphitheatre; grab a tasty bite to eat from one of the fast-food joints or restaurants, and enjoy immersing yourself in Cape Town's city life.
I recommend spending at least 30-40 minutes here - but be sure to ask for directions or follow a map because it is easy to get lost in the vastness of the Waterfront!
Time: 30 minutes - 2 hours
Location: V&A Waterfront, 19 Dock Road, Cape Town.
Contact details: +27 (021) 408 7600, info@waterfront.co.za
Website for information on the V&A Waterfront: www.waterfront.co.za
9. Drive up Signal Hill
Whether you manage to catch a breathtaking Signal Hill sunset or not, Signal Hill makes for a great spot to visit either way.
At night, it's safest to stay in your car and not linger on the mountain road too long - but it is still worth a drive up, especially to marvel at the city, glittering and twinkling down below.
You don't need to spend too long here, but it's a fitting way to cap off a beautiful day... well, almost! There's one-stop left on the list...
Time: Anywhere from 40-45 minutes (travel time from the V&A Waterfront included - but 8-12 minutes is really all you need to drive up and down Signal Hill, while also enjoying the views).
Location: Signal Hill, Cape Town.
10. Dine out in the Inner City
Before you retire to your hotel or guest house for the night, it's a good idea to grab a drink or even a meal in the Inner City.
There are a number of popular eateries, bars and nightclubs to enjoy in the city - especially in the famous Long Street. But it might be nice to find a quieter spot to enjoy a good meal before you say farewell to the city come morning.
To me, this is the perfect way to cap off 24 hours in Cape Town because if there's one thing the city prides itself on, it is our world-class food offerings and experiences.
Find a spot that tickles your fancy (an advance dinner reservation is advised), then settle down to enjoy some of the best food and drink the Mother City has to offer.
Time: 1.5-2.5 hours (depending on where you choose, opening times and how long you wish to stay).
Location: Location will vary in Cape Town-based on your personal choice.
Conclusion
These are just ten of the top 10 day trips you can hopefully squeeze into 24 hours in Cape Town.
If you don't feel like all that driving - or you prefer to just choose five items from the list, that's also a great idea. It's entirely your call, but I think most of these would be doable within 24 hours if traffic is not too bad and you don't linger longer than necessary at any given spot.
About the author
Content writer by day and blogger by night, Tamlyn Ryan passionately runs her own travel blog, called Tamlyn Amber Wanderlust, from her home base of Cape Town, South Africa. Tamlyn is a hopeless wanderer, equipped with an endless passion for road trips, carefully planned holiday itineraries and, above all else, an innate love for the great outdoors.
You can connect with Tamlyn via her website or Instagram
Tell us your story
Would you like to write for nichemarket just like Tamlyn has? Find out how to submit a guest post, and when you're ready, you can contact us.
Are you looking to promote your business?
South African travel businesses can create your free business listing on nichemarket. The more information you provide about your business, the easier it will be for your customers to find you online.
Registering with nichemarket is easy; all you will need to do is head over to our sign up form and follow the instructions. If you require a more detailed guide on how to create your profile or your listing, then we highly recommend you check out the following articles.
Recommended reading
If you enjoyed this post and have time to spare, why not check out these related posts and dive deeper down the rabbit hole that is travelling in Cape Town.
---
You might also like
How To Improve Internal Communication in the Workplace?
A review of constructive tips your management or human resources team can use to improve communication between departments or stakeholders
Read more
How to Avoid Business Name Rejection
A simple guide to help you avoid wasting time and money applying for a business name reservation and getting a rejection for that name
Read more