How To Use Googles New Video Schema
As internet connections become faster, devices become better at rendering, and web pages become more optimised, the internet has started to become a media-rich environment. Video has become an integral part of today's internet experience with sites like Facebook, Twitter and Instagram all extending their video programmings and algorithmically pushing it as it has higher engagement rates.
Apart from social media video, we have self-hosted video, alternative video hosting platforms like 3Speak, dTube, BitTube, DailyMotion, Vimeo, Wista and of course the undisputed king of video YouTube.
As video became more important to users SEO for Youtube videos and hosted videos will become increasingly important.
Google giving video search a new set of tools
Google has recently released a new set of video structured data to help users enhance video search results. The updated document highlights a few key options, such as:
How to mark timestamps on YouTube videos
How to monitor performance in Search Console
Additional structured data markups
Timestamps for YouTube videos
You can now mark up your videos to encourage Google to display timestamps alongside YouTube videos in search results which help searchers jump directly to a specific part of the video. As videos become more long-form content time stamps become important if you're talking about a range of topics and are great for a video version of podcasts or interviews.
There is no actual code markup needed to be eligible to display timestamps. Just put the timestamp in the YouTube video description.
Google recommends putting the timestamps in chronological order, putting each timestamp on a new line, and linking the time stamp to the specified point in the video.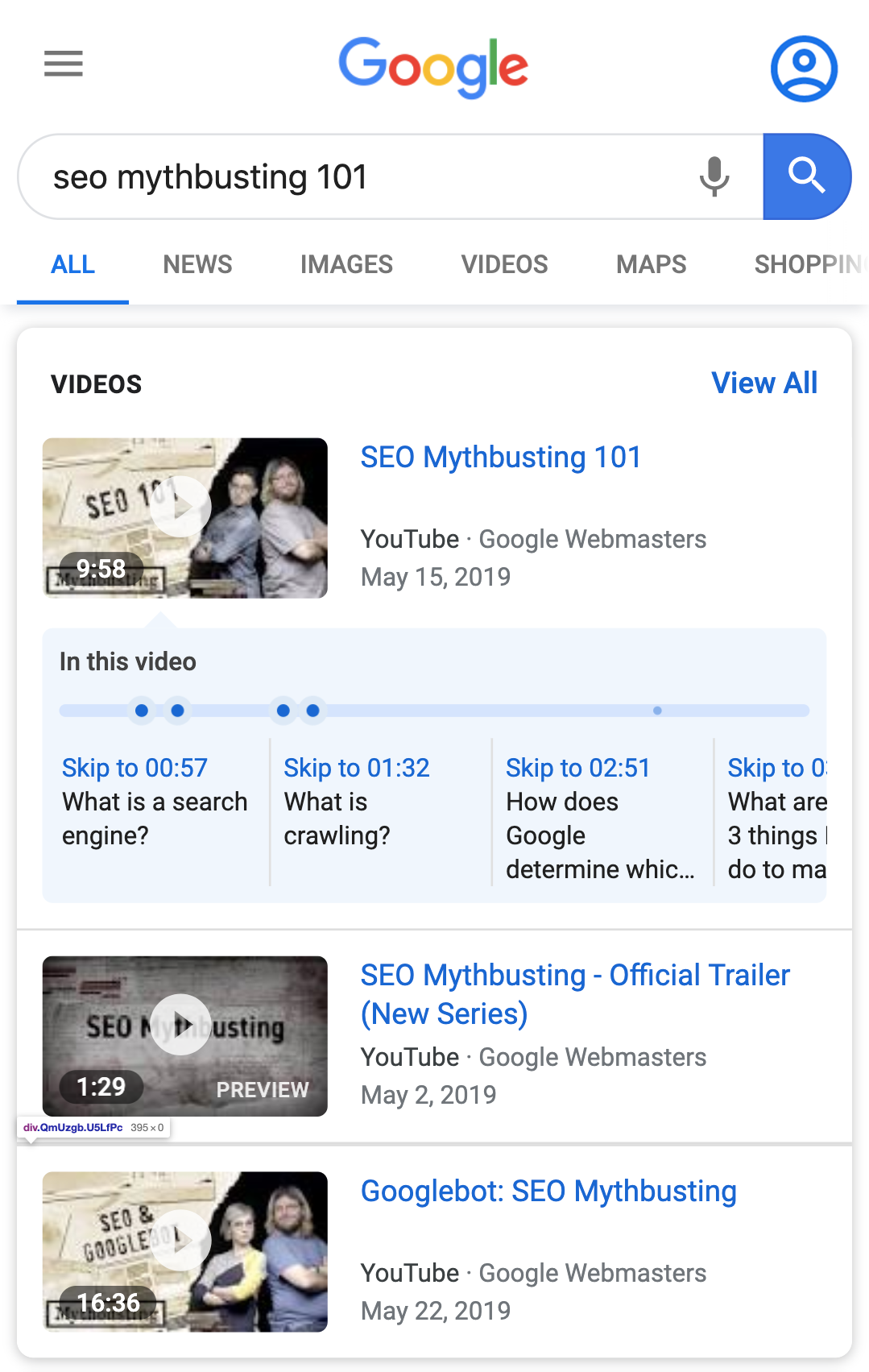 Videos report in Search Console
Google Search Console was recently updated with the ability to report on data related to videos in search results. Google's video structured data help document now contains information on how to use the report to monitor the performance of videos.
With the Performance Report, site owners can see how their videos appear in Search and Discover. The rich result status report can help site owners troubleshoot errors.
Live streaming badge
A "LIVE" badge can be shown in search results while a video is live streaming. Google's updated help document now contains information on how to do this.
Sporting events
Awards shows
Influencer videos
Live streaming video games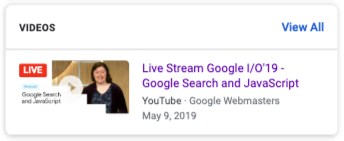 You can get a LIVE badge added to your video by marking your video with BroadcastEvent. The LIVE badge is applied to any public video that is live-streamed for any length of time.
If your video is hosted on YouTube, Google Search may automatically enable clips based on the video description on YouTube. Check out the best practices for marking timestamps in YouTube descriptions.
If your video is hosted on your web page, you can add Clip structured data to your VideoObject to help Google understand the critical points in your video.
Limited access markups
As part of this new feature release, Google is also trailing two new video markups but have only made it available to a small set of providers at this time. These video structured data markups include:
Clips
Clips will allow you to split a video the same as timestamps would but with more accuracy. Clips will enable you to add in additional text and enable the clips to act as if they are individual videos when they are still all hosted in one file.
Video host carousel
The video host carousel can be used to recommend similar videos as part of the video. These are great for video series or for related videos from creators you may have worked with or collaborations you want to promote in tandem. It's also ideal for web shows that have episodes that follow the specific theme or series.
Get more traffic from Google to your videos
Structured data markups have been great sources of additional traffic for traditional text-based search with recipes, FAQs, How To's and more all getting better representation in search. Video is still very much a wild west of discovery and why algorithmic curation on YouTube is used so heavily.
By marking up your data correctly, you can give Google & YouTube more relevance to your content and associate more keyword and intent to what you create and ultimately Improving your chances of getting more views over time.
Contact us

If you would like us to help set up your video's SEO or want to know more about digital marketing for your business, then don't be shy we' re happy to assist. Simply contact us
Are you looking to promote your business?
South African Business owners can create your free business listing on nichemarket. The more information you provide about your business, the easier it will be for your customers to find you online. Registering with nichemarket is easy; all you will need to do is head over to our sign up form and follow the instructions.
If you require a more detailed guide on how to create your profile or your listing, then we highly recommend you check out the following articles.
Recommended reading
If you enjoyed this post and have a little extra time to dive deeper down the rabbit hole, why not check out the following posts about video marketing.
Tags: Video Marketing, Schema, SEO
You might also like
10 Elements of Successful Content Marketing Strategy
A review of the top 10 elements you need to incorporate into your current and future content marketing strategies if you want to take this channel se...
Read more
DALL-E: Image Generation By Description
The Open AI developments will soon make it possible to create images en masse by describing them verbally, which will open up a host of new applicati...
Read more